St. Albert Priest Placed on Leave

By Phil Rooney
Daily Nonpareil [Council Bluffs IA]
February 3, 2007

http://www.zwire.com/site/news.cfm?newsid=17803384&BRD=2703&PAG=461&dept_id=555106&rfi=6

A Catholic priest has been placed on leave from his duties with St. Albert Schools and the diocese after allegations of sexual abuse of a former St. Albert student were made.

Bishop Joseph Charron of the Diocese of Des Moines announced the action against the Rev. Phillip Hobt Friday. Both men were in attendance during a Mass on Thursday at the high school that was part of Catholic Schools Week. A news release from the diocese did not indicate if a male or female student made the allegation.

"The victim had asked for confidentiality and we don't want to do anything in any way to identify the person who filed the report," said Anne Cox, a spokeswoman for the Diocese of Des Moines. She would only say that the claim was made "recently."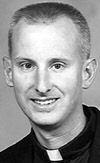 Hobt



Cox said she doesn't know where Hobt is staying.

The allegation currently rests with the Diocesan Allegation Review Committee, composed primarily of lay volunteers who investigate the credibility of allegations of sexual abuse of minors by clergy. Pottawattamie County Associate District Court Judge Kathleen Kilnoski chairs the committee, which also includes a child psychologist, police detective and an attorney.

"They'll take the time that's needed to do a thorough job," Cox said. She emphasized that the actions of the diocese have not determined if Hobt is guilty or innocent, but follow a process designed with the primary concern of protecting children. Hobt is not allowed to function as a priest while on leave.

St. Albert President Brian Osborne said he doesn't know anything specific about the accusations, but said law enforcement has been informed per diocesan policy. No charges have been issued, but a decision was made to put Hobt on leave.

Hobt has been with the school since the fall of 1995, Osborne said. Osborne said there had been no prior complaints.

"No other complaints whatsoever," he said.

Hobt, 42, taught religion and said Mass for the junior high and high school, Osborne said. Hobt also said some weekend Masses at St. Patrick's and St. Peter's Catholic churches in Council Bluffs.

St. Albert students have been told of the situation and counselors were made available and many are using them, Osborne said. Parents were informed through e-mail and a letter.

Osborne said some of the staff also could be in need of some help after hearing the news about their co-worker.

The Rev. David Fleming of St. Patrick's Catholic Church said he was shocked and saddened by the news, but he didn't know any details.

"I know the process is under way to investigate things," he said. "It's kind of sad and shocking. My prayers are with everyone involved."

The parish will provide opportunities for parents and children to ask questions, and Bishop Charron has asked that a press release be read at weekend Masses, Fleming said.

A telephone message seeking comment was left on the voicemail of the Rev. Charles Kottas at St. Peter's Catholic Church, but was not immediately returned.

Pottawattamie County Attorney Matt Wilber said the alleged incident did not occur in Pottawattamie County and therefore is not in his jurisdiction to investigate.

A phone message left at the number of a Phillip Hobt in the Council Bluffs phone directory wasn't returned. Hobt was ordained in 1992 and served for three years at St. Augustin parish in Des Moines before moving to St. Albert.

Cox said the diocese encourages people who think they may have been abused by clergy to contact law enforcement and Jo Mulvihill, who is the victim assistance advocate for the diocese at (515) 286-2031.