Too Close for Comfort
Former Priest, Sex Offender Living in Building with Day Care

By Cathleen Falsani
Chicago Sun-Times [Chicago IL]
February 14, 2007

http://www.suntimes.com/news/metro/256244,CST-NWS-expriest14.article

A former Roman Catholic priest who's a registered child sex offender has been living in a condominium above a day care center and next to an elementary school in Chicago's Uptown neighborhood since his parole last year.

John M. Furdek, 54, has lived in the 12th-floor condominium at 4343 N. Clarendon since last fall, according to public records. The Teach 21 Day Care Center is on the first floor of that building, and Joseph Brennemann Elementary School is just south of the condominiums.

The Illinois Department of Corrections, which was responsible for monitoring Furdek while on parole, approved his residence on North Clarendon before he moved in. But after the Sun-Times inquired about the former priest's living situation, the agency began planning to relocate him.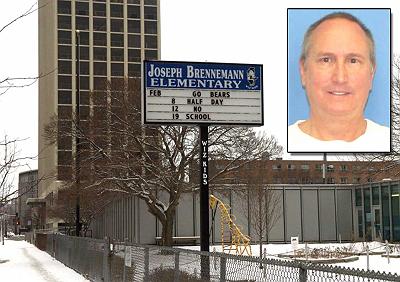 The Joseph Brennemann Elementary School is just 1 block south of the condo building where John Furdek (inset) is living.
Photo by Keith Hale/Sun-Times




SEX OFFENDERS AND THE LAW
A 2000 Illinois law forbids child sex offenders from living within 500 feet of schools unless they owned the property before the law went into effect. A 2005 law gives the Department of Corrections the ability to restrict a sex offender from living near parks, day-care centers, swimming pools or other places where minors congregate.


While Furdek was within his legal rights living in the Uptown condominium, "when our administration discovered that he was living in a unit with a day-care center in the same building, that was unacceptable," said Sergio Molina, executive assistant to the department's director. "I've given immediate orders to remove him from that site."

Also near a park

Reached by phone at the Clarendon address, Furdek — a registered sex offender in Illinois and Wisconsin — declined comment.

Illinois law forbids child sex offenders from living within 500 feet of school property. But they are exempt if they owned the property prior to when the law went into effect in 2000, as was the case with Furdek, sources said.

A 2005 law gave the Corrections Department the discretion to forbid sex offenders from living near schools, day-care facilities, parks and other locations where children congregate, but the law does not mandate those restrictions.

Furdek's condominium also is near a park and across the street from the Columbus Maryville campus, a former Department of Children and Family Services intake center, according to a DCFS spokesman.

'Boy' was really an agent

In 2003, a Wisconsin court convicted Furdek, then pastor of St. Alexander Catholic Church in Villa Park, of attempted second-degree sexual assault of a child and sentenced him to 15 years. He had been arrested at a Racine, Wis., restaurant where he went to meet a 14-year-old boy for sex.

The "boy" — with whom the priest, under the screen name "MusclePosing773," had been chatting with online for months — turned out to be an agent with the Wisconsin Department of Justice.

Furdek also once had been assigned to Sts. Peter and Paul Church in Naperville, St. Philip the Apostle in Addison, and St. Mary of Gostyn in Downers Grove. He served three years of his prison sentence and was paroled in May 2006, according to public records.

E-mail: cfalsani@suntimes.com