SNAP Offers Help to Possible Victims, Witnesses

By Patti Wenzel
The-Bee [Phillips WI]
February 14, 2007

http://www.phillipswi.com/bee/index.php?sect_rank=1&story_id=206336

David Schauer, a victim of clergy abuse while a child in Green Bay, led a small group of SNAP members while they left informational leaflets with parishioners or on their cars during Sunday mass at St. Therese of Lisieux in Phillips.

"We are in Phillips to reach out to any possible victims and/or witnesses to the misconduct of this priest," Schauer said. "We want to remove the feeling of isolation that victims often feel."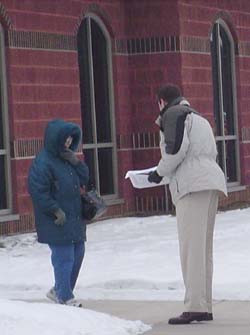 SNAP member David Schauer hands out flyers to parishioners at local church on Feb. 11.


Living with isolation Schauer said he can relate to the isolation victims of clergy abuse live with.

"I'm a survivor. I was abused by my priest in 1988 and came forward in 1990 after my mom took me to family therapy after noticing some changes in my behavior," Schauer said.

"A police report was filed, but the (Brown County) district attorney didn't want to move forward with it. But in 2003 the priest was convicted of child porn charges in Milwaukee and admitted to abusing me and others. That's when I found out the Green Bay diocese lied to me. They told me he would never be a priest again, so we never said anything.

"When I found out, I contacted Jeff Anderson and filed a lawsuit against the church."

Anderson is a Minneapolis attorney who has represented numerous alleged victims in Wisconsin. Schauer's lawsuit against the Green Bay diocese is currently being heard in the Taylor County Circuit Court.

The priest who abused Schauer and the others is currently serving 32 years in prison.

Schauer said going to a SNAP conference changed his life.

"If was the first time I felt that I wasn't alone," he said. "I knew there were others. I had heard about the things happening in Boston, but I put it out of my mind."

Peter Isely, Midwest coordinator for SNAP, said any victims or witnesses to alleged actions by Fitzmaurice in Wisconsin may be able to seek redress in the criminal courts due to a quirk in state law.

"Its quite likely that anyone abused in Wisconsin could still seek criminal charges since the statute of limitations stops running when the assailant leaves the state," Isely said.

Fitzmaurice retired from Our Lady of the North in 1999 and returned to St. Procopius Abbey. He currently resides in a northern Illinois nursing home.

Church, Benedictine respond

While SNAP members were moved to come to Phillips because of their belief that allegations against Fitzmaurice in Chicago could possibly mean there may be other victims in Wisconsin, the Catholic Diocese of Superior maintains its belief in Fitzmaurice's innocence.

In a statement provided to THE-BEE by Fr. Gerald Hagen of St. Therese, the diocese asks that "parishioners and the public be aware that no complaints of any kind were received either during Fr. Fitzmaurice's tenure in Phillips or since. Any statement that complaints were received by any Diocesan official against Fr. Fitzmaurice are denied."

Included in Hagen's document were statements from St. Procopius Abbey concerning the charges against Fitzmaurice and themselves.

"The suit...makes charges about events that were alleged to have occurred more than 30 years ago. It's critical for people to know that until these allegations were brought forth, no complaints of any kind have been received either during the time these acts were alleged to have taken place or in the subsequent 30+ years, and Fr. Terrance Fitzmaurice emphatically denies the allegations."

"When the Abbey first heard of these charges, it immediately undertook a full investigation using outside counsel and investigators. The investigation involved interviews of dozens of people from within the Order, those associated with the parish at the time in question and also many other people from the community."

"To date and after hundreds of hours of interviews and the review of all written records, we have not been able to find one independent person or independent piece of evidence that confirms these claims against the Order."

The Order's attorney, Matthew Walsh, II reiterated the previous statement in a telephone interview Feb. 9 and added his own assessment of the federal lawsuit and the plaintiff's attorney, Phillip Aaron, in a letter to THE-BEE.

"My client chose to avoid significant legal costs by agreeing to a financial settlement with three of Phillip Aaron's clients, but with the strictest of understanding that my client is innocent of the charges," he wrote.

"After the settlements, Mr. Aaron continued to aggressively market for clients and again approached the Abbey with new demands for financial payment. Only after extending its investigation and finding nothing further, the Abbey notified Mr. Aaron that independent investigators could not substantiate any of his allegations and so my client could not continue to discuss a financial settlement."

Walsh adds that when those discussions ended, Aaron retaliated by calling a press conference and filing the federal lawsuit charging racketeering, fiduciary fraud and many other offenses.

Attorneys for both sides are scheduled to appear at a status hearing in Chicago on March 22.