Judge: Priest Must Go on Sex Offender Registry

By Gary Craig
Democrat and Chronicle [Rochester NY]
February 16, 2007

http://www.democratandchronicle.com/apps/pbcs.dll/article?AID=/20070216/NEWS01/70216008/1002/NEWS

A judge has ruled that a Catholic priest who admitted to possession of child pornography must go on the state's sex offender registry when freed from federal prison in March.

The Rev. Michael Volino, 42, had argued that he was not eligible for the state registry because of a discrepancy between the state and federal child pornography laws — namely, that New York laws set younger ages for those pictured in the pornographic images to qualify as child pornography.

Volino is scheduled to be freed in early March from federal prison.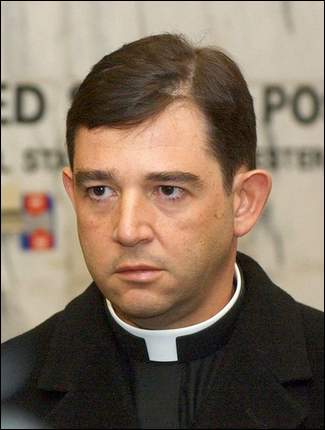 Rev. Michael Volino
Day in Photos


In an opinion signed Wednesday and made available today, state Supreme Court Justice Harold Galloway ruled that state law clearly extends to federal offenders like Volino.

E-mail: gcraig@democratandchronicle.com