Van Wert County Parish Defends Accused Priest
St. Mary Vents Grief to Bishop

By David Yonke
Toledo Blade [Van Wert OH]
February 19, 2007

http://toledoblade.com/apps/pbcs.dll/article?AID=/20070219/NEWS10/702190341/-1/NEWS

Bishop Leonard Blair traveled to a far corner of the 19-county Toledo Catholic Diocese yesterday to meet with members of St. Mary of the Assumption Parish who are reeling from their pastor's forced resignation last month over credible allegations of sexual abuse.

The Rev. Joseph Schmelzer, accused of molestation by two people, was placed on administrative leave in January, 2003, and appealed his case to the Vatican.

The Vatican's Congregation for the Doctrine of the Faith sent a letter to Bishop Blair dated Oct. 9 affirming Father Schmelzer's removal from ministry.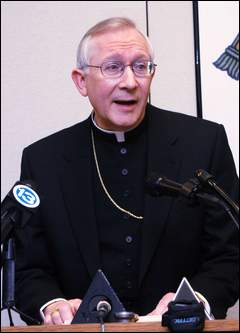 Blair
Photo by The Blade


The bishop, who asked Father Schmelzer to resign last month, wanted to meet with parishioners "because they are hurting," said Sally Oberski, a spokesman for the diocese.

Bishop Blair addressed church members' anguish from the pulpit during three weekend Masses at the 2,100-member church, 100 miles southwest of Toledo. He then met with about 250 parishioners in a closed-door, emotionally charged meeting immediately after the 10:30 a.m. Mass.

Before and after the closed-door session, held in the church's gym, a majority of parishioners vehemently expressed support for Father Schmelzer, who was pastor from 1996 until his removal.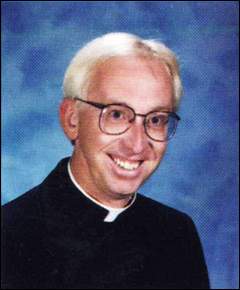 Schmelzer
Photo by The Blade


The actions by the Vatican and Bishop Blair failed to assuage the pain they felt after losing a five-year fight to keep their pastor. Many Schmelzer supporters stormed out of the meeting, while others left quietly with tears in their eyes.

"I have been in communication with Father Joe since day one. He said he'll defend his innocence until the day he dies, and I believe him," said Renette Riethman, 44, a member of St. Mary's pastoral council.

"Every one of my friends and family, they're all on Father Joe's side," said Joyce Warnement, 45.

"He's irreplaceable, as far as I'm concerned," said Pat Keber, 73.

Her husband, Ed, a 50-year member of the parish, added, "I'd say he's the best priest we've ever had."

Several said Father Schmelzer "brought this parish back to life."

Bishop Blair tread lightly on the topic during Mass, citing Jesus' command to love one's enemies and forgive others' trespasses, and using metaphors about man's sinful nature and the need to set - and constantly check - one's moral and spiritual compass to stay on course.

In the afternoon meeting, he fielded a number of pointed questions challenging the validity of the church's investigation and parishioners' feelings that church leaders "up north in Toledo" virtually abandoned them during their lengthy ordeal.

The first allegation against Father Schmelzer was made in 1992 by Jon Schoonmaker of Adrian, who renewed his case in 2002 after saying the diocese didn't live up to promises to protect others from the abusive priest. Mr. Schoonmaker, 39, said the priest touched him sexually when he was 16 and molested him when he was 19.

In a Feb. 13 letter to St. Mary's parishioners, Bishop Blair revealed for the first time that "a second allegation against [Father Schmelzer] was reported to the diocese in 2004" by an anonymous victim.

Both allegations were investigated by a team of law-enforcement experts hired by the diocese and the cases were later heard by the diocese's Review Board. Father Schmelzer and the victims testified before the panel and the bishop said he met with the priest a number of times.

Both abuse allegations, dating from 1980 and 1986, were deemed credible, the bishop said. "It's one thing when you have one accusation. It's quite another when you have a second," Bishop Blair told St. Mary's parishioners.

The bishop said although the Catholic Church believes in forgiveness, "forgiveness does not mean there are no consequences for one's actions."

Speaking of the clerical sexual abuse crisis in general, Bishop Blair told the crowd: "Whatever you may think, there are priests who did these things."

He urged them to think of the victims' welfare, not just the priests'.

The diocese will soon be ending its financial support of Father Schmelzer, who was ordained in 1977, Bishop Blair said.

The Ohio Board of Education revoked Father Schmelzer's teaching license in November.

Mr. Schoonmaker, a member of the Survivors Network of those Abused by Priests, yesterday called for the diocese to announce its decision about Father Schmelzer at all parishes and schools where the cleric has served: St. Joseph Church and Calvert High School, Tiffin, from 1977 to 1980; St. Pius Church, Sycamore, Ohio, from 1979 to 1980; St. Wendelin Church and high school, Fostoria, from 1980 to 1984; St. Clement Church, Toledo, from 1984 to 1985; St. Louis Church, Custar, Ohio, and Immaculate Conception Church in Deshler, Ohio, from 1985 to 1996; St. John Church in Payne, Ohio, from 1996-1997, and St. Mary Church in Van Wert from 1996-2003..

Claudia Vercellotti of the Toledo chapter of SNAP handed out flyers yesterday after Mass that included a letter from the diocese's Review Board chairman, dated Jan. 20, 2003, deeming the allegations against Father Schmelzer credible and recommending that the priest receive "ongoing, specialized sexual offender treatment."

Ms. Vercellotti said yesterday she understands why St. Mary's parishioners have remained supportive of their pastor.

She said it was natural for people to cling to the hope that the charges would be dismissed because the diocese downplayed the severity of the allegations, failed to be "open and transparent" about the case, and only this month acknowledged that two different accusers had come forward.

One church member who asked not to be identified said he was glad that Bishop Blair met with St. Mary's members because "we finally got some answers, even if they weren't what we wanted to hear."

Another said justice will be served, even if delayed.

"I don't know what I believe. I don't know whether to believe [the allegations] or not," said Wendy Clark, 42. "But the truth will come out," she said, pointing heavenward.

Although Father Schmelzer is barred from ministry, technically he remains a priest unless he is laicized by the Vatican.

Contact David Yonke at:
dyonke@theblade.com
or 419-724-6154.