Congregation Begins Healing Process

By Ed Gebert
Times Bulletin [Van Wert OH]
February 20, 2007

http://www.timesbulletin.com/main.asp?SectionID=2&SubSectionID=4&ArticleID=141654&TM=436.409

After an emotional weekend, the congregation of St. Mary of the Assumption Church is trying to continue the healing process following the removal of the Rev. Joseph Schmelzer as pastor three weeks ago.

Bishop Leonard Blair of the Toledo Catholic Diocese addressed the church at three weekend Masses and conducted a closed-door meeting with a group of parishioners in hopes of helping those who are hurting. Schmelzer was placed on administrative leave in January 2003 based on accusations of sexual abuse and molestation made by Jon Schoonmaker. Schmelzer resigned at the request of the Bishop Blair in January.

Speaking from his home in Michigan, Schoonmaker told The Times Bulletin he was relieved to learn that the diocese had finally disclosed that another person had made similar credible accusations against Schmelzer. "That's been a huge weight for me," he said. "So, to finally hear about it was a great moment of healing for me. I mean, I know there are others, I've talked to others, I've prayed with others. I've gotten on jets to fly around the country to meet with other victims. But no one would come forward."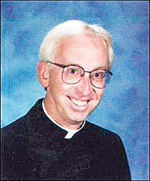 Schmelzer


Schoonmaker stated that he knew of six other people who claimed to be sexually abused by Schmelzer, but not all of them wanted to go through the church's review board process. "They just won't even acknowledge it without you putting yourself through hoops," Schoonmaker said.

The two accusations against Schmelzer have each been deemed credible by Review Board of the Diocese of Toledo. In a letter dated Jan. 20, 2003, the board chairman wrote that the allegations by Schoonmaker against Schmelzer were indeed credible, and that "the Board, considering the risk that the Rev. Schmelzer presents to the members of the Church, and the community at large, recommends that the Church monitor the Rev. Schmelzer and encourage him to participate: 1) in on-going, specialized sexual offender treatment; 2) in on-going spiritual direction; and 3) in a monitoring and accountability system that is financed by the Church and overseen by an independent ecclesiastical board."

The congregation at St. Marys is left trying to make sense of the accusations against their beloved priest. Despite the presence of more than one credible accusation, there is still vehement support for Schmelzer among many in the parish, and Schoonmaker said that he completely understands why that is.

"I absolutely understand," he exclaimed. "Who could blame them? They have not ever had the complete truth. But it shouldn't be the victim's responsibility to speak the truth when church officials know the truth."

Schoonmaker pointed out that he takes no joy in what the people of St. Marys of the Assumption are going through. He shared, "I pray for them everyday. I am so sorry that they have been misled, that the diocese did not feel it was important enough to give them the truth so they could make a decision to support or not support him knowing the truth. I feel so bad for that community."

E-mail: egebert@timesbulletin.com