New Canaan Judge Named to Lead High Court

By Brian Lockhart
The Advocate
February 21, 2007

http://www.stamfordadvocate.com/news/local/scn-sa-justice—-judicialnominee2feb21,0,7617482.story?coll=stam-news-local-headlines

Hartford — A year after elevating former state Superior Court Judge Chase Rogers to the state Appellate Court, Gov. M. Jodi Rell has nominated the New Canaan resident as chief justice of the Connecticut Supreme Court.

"Judge Rogers has proven herself a compassionate and reasoned jurist as well as an effective administrator," Rell said in a statement issued yesterday. "As the state's highest court and the rest of the Judicial Branch continue to grapple with issues of transparency, accessibility and accountability, the Supreme Court needs thoughtful, dynamic leadership. I believe Judge Rogers brings the intellect, temperament and vision needed in this time of change."

Despite the praise, Rogers is Rell's second choice for the job. Rell, a Republican, last year withdrew the nomination of Supreme Court Justice Peter Zarella after a controversy erupted over outgoing Chief Justice William Sullivan's interference with the confirmation process.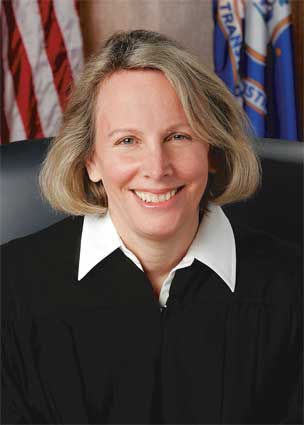 Chase T. Rogers, 50, of New Canaan, has served on the appeals court since February 2006. She was first nominated to the state Superior Court by former Gov. John Rowland in 1998 after more than 14 years with the Stamford law firm of Cummings & Lockwood.
AP photo


Sullivan is scheduled to testify today in the joint Judiciary Committee's investigation of his actions.

Chase would be the state's second female chief justice. Ellen Peters was nominated to the court by Gov. Ella Grasso in 1978 and served as chief justice from 1984 to 1996.

For more than 14 years, Rogers, 50, was a law partner at Cummings & Lockwood in Stamford.

She was appointed by former Gov. John Rowland to the Superior Court in 1998, serving first in Bridgeport and Waterbury before taking over Stamford's litigation docket in 2001.

In that capacity, she ruled in many high-profile cases. Her decisions included ordering Cardinal Edward Egan, of the Archdiocese of New York, to answer questions under oath in a sexual abuse case involving a former Stamford priest; confining Stephen Ferenz, a mentally ill Greenwich man who stabbed his mother to death on New Year's Eve 2003, to 40 years in a maximum security mental health facility; dismissing lawsuits opposing construction of Target department store in downtown Stamford; and allowing Norwalk to seize the Maritime Motors Chevrolet dealership along lower West Avenue for the Reed Putnam redevelopment.

Last March, Rogers was confirmed by the General Assembly as an appellate judge, receiving votes of 34-1 in the Senate and 139-1 in the House.

Rell yesterday said she was confident Rogers' nomination as chief justice would be well-received by the Judiciary Committee, which will schedule confirmation hearings, and by the full legislature. The legislature has 30 days to act after it receives the official nomination.

Rogers could not be reached last night for comment.

State Sen. Andrew McDonald, D-Stamford, a Judiciary Committee co-chairman, said that "anybody who has practiced with her ... can attest to her keen intellect."

McDonald is a litigation partner with Pullman & Comley LLC in Stamford.

But McDonald also said Rogers will face more scrutiny than during last year's confirmation hearings for her position on the appellate court.

"It is true we went through this process with her not very long ago. But it is important to understand that this confirmation is very different," McDonald said. "Everybody who sits on the Supreme Court has to be a great jurist. But the chief justice has to be a great administrator as well. There are extraordinary responsibilities that accompany leading an entire branch of government."

McDonald noted that, with the retirement age for chief justices set at 70, Rogers could serve for two decades.

"There was a question of whether (Rell's nomination) was going to be a short-term strategy or a long-term strategy," McDonald said. "And typically when people were talking about a long-term strategy, Chase Rogers' name came up most frequently."

McDonald anticipated Rogers would face some criticism for her "lack of seniority" but believes "most people . . . would look at the sharpness of one's legal mind rather than the length of one's service."

State Attorney General Richard Blumenthal, a Democrat from Greenwich, issued a statement praising Rogers' "superlative intellect, integrity and character."

"I've known Judge Chase Rogers since our careers briefly overlapped at Cummings & Lockwood in the early 1980s," Blumenthal said. "I've admired her excellent work as an advocate and public servant."

State Rep. John Hetherington, R-New Canaan, called Rogers "an outstanding choice."

McDonald and Hetherington said Rogers is an unaffiliated voter. Asked whether fellow Republicans might be upset with Rell for not choosing one of their own, Hetherington said he believes his peers "will generally support this."

"I think everyone who is thoughtful about this will realize we really have to have a judiciary that is above partisanship (and) the taint of scandal or impropriety," Hetherington said.

Zarella last year asked Rell to withdraw his nomination after state lawmakers learned Sullivan, his predecessor, had delayed release of a ruling in an effort to help Zarella win nomination.

Zarella had voted with the majority on the Supreme Court in a decision that kept certain court records secret, and Sullivan feared that vote could hurt Zarella's chances of being confirmed.

Sullivan, who as a senior justice still hears cases, was suspended for 15 days by the Judicial Review Council for unethical conduct.

"Our investigation is a precursor to deciding whether we'd initiate impeachment or removal proceedings against him," McDonald said. "(Rogers') nomination has no bearing on our inquiry into Justice Sullivan's conduct. That's a separate proceeding."

A Connecticut native, Rogers graduated from Stanford University in 1979 and earned her law degree from Boston University School of Law in 1983. She has served as a presiding judge for juvenile matters in Bridgeport, in the regional Child Protection Session in Middletown, the Complex Litigation Docket in Stamford and as presiding judge for civil matters in the Stamford-Norwalk district.

She is married to Edward O'Hanlan, a partner with the law firm Robinson & Cole in Stamford. They have two teenage children.

The Associated Press contributed to this story.