Two Jesuit Priests Named in $5 Million Sex-Abuse Suit

By Ashbel S. Green
OregonLive [Oregon]
February 27, 2007

http://blog.oregonlive.com/breakingnews/2007/02/two_jesuit_priests_named_in_5.html

A $5 million lawsuit filed today in Multnomah County claims that two Catholic priests repeatedly molested a Beaverton girl in the mid-1960s.

The suit against the Oregon Province of the Society of Jesus, also known as the Jesuits, names the Rev. James E. Poole and the Rev. Frank Duffy.

The plaintiff, who is not named in the suit, said the priests abused her during visits to her family home.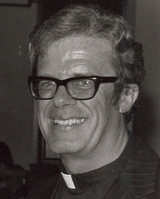 Rev. James E. Poole


The plaintiff, who was born in 1958, attended St. Mary of the Valley School and St. Cecilia Church at the time.

The suit claims that Jesuit officials moved Poole to Oregon without restrictions even though they knew that he had had numerous inappropriate sexual contacts with girls in an Alaskan boarding school.

The Oregon-based Jesuit province, which covers Oregon, Washington, Idaho, Montana and Alaska, is separate from the Portland Archdiocese and reports to superiors in Rome outside the Vatican.

The province issued the following statement: "We take all claims of this nature very seriously and we will investigate them to the fullest extent. It is important to know that those who have come forward in these matters are not our enemies or our opponents; but our sisters, for whom we desire healing and compassion. We pray that together we may find a just solution for all those involved, as well as for all the faithful who have been shaken by these allegations. The Society of Jesus remains committed to the path of pastoral openness and justice, which alone can bring about true healing."

The Portland Archdiocese, which in 2004 became the first Catholic diocese to seek bankruptcy protection because of priest-abuse litigation, recently proposed a $75 million plan to settle more than 160 remaining claims against it.

Poole lives in an assisted-living center in Spokane, according to news reports. Half a dozen other women have accused him of sexual abuse, mostly in remote Eskimo villages in Alaska.

Duffy, who died in 1992, was a Jesuit novitiate at the time of the abuse, according to the suit. He later worked at St. Luke's church in Woodburn from 1968 to 1970 and at Mount Angel Abby.

He had previously been accused of molesting three girls, including 6- and 7-year-old sisters. The Portland Archdiocese spent nearly $450,000 settling those claims in 2003.