Catholic Priest Accused: Tale of Obsession
Victim Recalls Being Beaten, Dragged by Hair, Sexually Assaulted

By Brian Haynes
Review-Journal [Las Vegas NV]
February 28, 2007

http://www.reviewjournal.com/lvrj_home/2007/Feb-28-Wed-2007/news/12857681.html

It seemed like a harmless crush at first.

Michaelina Bellamy said she hoped it would go away, but over the next few months, it only grew stronger.

He confessed his love for her and showered her with gifts and meals. But for Bellamy, a successful singer who loved music and God, it was a romance that would never be. The man who yearned for her was a Catholic priest.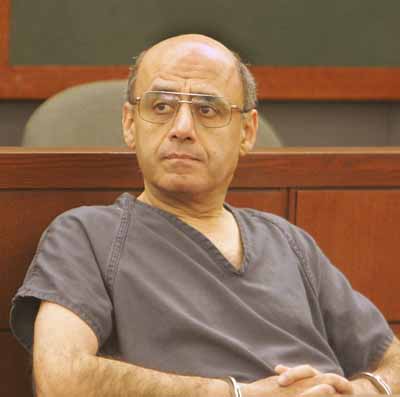 The Rev. George Chaanine sits in Las Vegas Justice Court during his preliminary hearing Tuesday on attempted murder, sexual assault and other charges. Chaanine is accused in an attack on Michaelina Bellamy in the offices of Our Lady of Las Vegas Catholic Church.
Photos by Gary Thompson


Soon, what appeared to be harmless love became an obsession, one that left Bellamy beaten and bloodied on the floor of a church office, fighting for her life as the man she once respected squeezed her throat.

"He tried to kill me," Bellamy said Tuesday from the stand in Las Vegas Justice Court.

Her statement came during tearful, sometimes defensive, testimony at the preliminary hearing for the Rev. George Chaanine, who spent six days on the run after the Jan. 26 attack at Our Lady of Las Vegas Catholic Church. He was captured outside Phoenix after traveling through at least three states.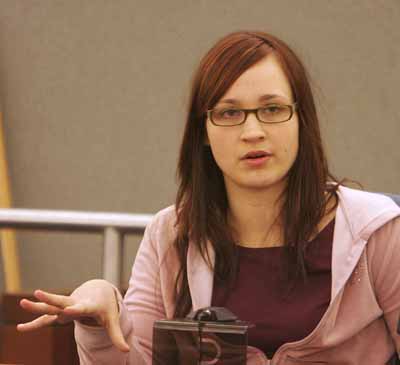 Jacquelyn Veith testifies Tuesday in Las Vegas Justice Court during the preliminary hearing for the Rev. George Chaanine, accused of attacking Veith's mother, Michaelina Bellamy. Veith said Chaanine obsessed over her mother and said he would send her to heaven.


"He's not a priest. He's a predator," said Bellamy, who made the sign of the cross as she walked into the courtroom.

The 54-year-old singer once enjoyed fame in the cast of Folies Bergere and toured with headliners such as Engelbert Humperdinck, but her career was struggling late last year. She was still singing at the church, a job she had held since the late 1990s, but she hadn't had an industry job in 14 months, she said. She sold her piano to the church to make some cash, and she split her time living with two of her daughters in Las Vegas.

One of those daughters, Jacquelyn Veith, was struggling herself. She had quit her $8-an-hour job, and her husband could find only sporadic work as a laborer. Money was tight, and they had a mortgage and two young children.

Hoping to find a new job, Veith accompanied her mother to the church in September and asked Chaanine, 52, whether he could help. The priest, who came to the church in mid-2005 and had served as its administrator since June, hired Veith on the spot at $15 an hour. She started the next day doing accounting work.

Besides the job, Chaanine gave Veith money to help her pay the mortgage, bills and other expenses, and he treated her to lunch every day, Veith testified.

Before long he shared a secret with Veith, telling her he was in love with Bellamy, she said.

"I told him, 'It would never happen,' " Veith said. "He said, 'Patience, patience. It's just a matter of time.' "

In October, Chaanine hired Bellamy as the church's event coordinator. Bellamy knew of his feelings and dismissed them, but the priest wasn't going to give up, Veith said.

"Gradually, over a period of time, Father George wasn't going to leave her alone," she said. "He was just obsessed. He was in love with her. In his mind, she was his girlfriend, and they were meant to be together."

Bellamy couldn't believe a priest was lusting after her.

"He's a priest," Bellamy said. "He's not supposed to make a confession that he loves someone."

Bellamy was disgusted, her daughter testified, but they both needed the jobs and were afraid to upset Chaanine. They continued to accept his gifts and frequent meals. Bellamy said the priest would buy her shoes, clothes and groceries.

Terence German, a former Jesuit priest who worked in the Vatican and sued the Roman Catholic Church 13 years ago for ignoring sexual and financial improprieties, said he wasn't surprised by how Bellamy and Veith reacted.

The public doesn't "realize how much force the administrative priest has over any job," said German, a current Las Vegas resident who has observed the unfolding case. "You can be out of there if you don't do what the priest wants. ... People like that are just afraid."

Bellamy said she tried to ignore the growing tension, hoping it would go away.

"The more I stayed away, the more he pushed," Bellamy said.

Two days before the attack, Chaanine suggested Veith take a weekend vacation to Disneyland and paid for the family trip, Veith said.

"He said, 'I was going to send your mommy and myself to heaven,' and he did the gun thing," Veith testified, making a gun motion with her hand and holding it to her head. She told her mother about his remarks, but they did not report them to authorities.

On the afternoon of the attack, Bellamy was alone at her computer in the church office. During her few months working in the office, she always knew when Chaanine was close because she heard his shoes squeak, she said.

She didn't hear the shoes squeak that afternoon. The first thing she heard was the crash against her head, she said. She felt three blows and blood streaming down her head.

She spun around and saw Chaanine, his hands wrapped around the throat of the wine bottle, raising it ready to strike again, she said.

She pushed him away. He grabbed her hair and hit her in the back, she said.

"I'm being pulled down the hallway screaming, 'Help me! Help me! Help me!' " she said, her fist pounding the desk in front of her.

He put his hand under her shirt and fondled her breasts, she said.

She fought back.

"I grabbed him by his nuts and twisted," she said.

She broke free and ran to the door, but in her confusion fumbled with the latch. He grabbed her again and continued the assault, she said.

"I bit him," she said. "I bit him so hard. It was the foulest taste."

Chaanine kept throwing blows and fondled her genitalia before throwing her to the ground and choking her, she said. She began to pray.

"I just knew I was going to die," Bellamy said.

Chaanine suddenly stopped and told her to give him 15 minutes, she said. He was going to kill himself.

Bellamy ran outside and found help.

"God saved me," she said.

She received 20 staples in her head and suffered a broken hand in the attack. Bellamy said she still takes medication for back, neck and hand pain.

"I didn't do this to him, and he knew I didn't do this to him. He did this to himself. I didn't go after him," a defiant Bellamy said when public defender Jeff Banks implied there was more to the relationship.

His colleague, public defender Scott Coffee, said many questions remained in the case.

"Other than the physical evidence, there are questions about everything else," Coffee said. "The relationship will help answer some of those questions."

Despite the questions raised by Chaanine's lawyers, Justice of the Peace Douglas Smith sent the case to District Court for trial.

His arraignment is scheduled for March 15. Chaanine will face charges including attempted murder, sexual assault and battery.

"It is sad for me to tell a man of God that I'm binding him over for attempted murder," Smith said. "There's a sense of sadness for the system and for God."