S.D. Catholic Diocese Files for Bankruptcy

By Mark Sauer
Union-Tribune [San Diego CA]
February 28, 2007

http://www.signonsandiego.com/news/metro/20070228-9999-7n28diocese.html

After four years of legal wrangling in the clergy-abuse scandal, attorneys for Bishop Robert Brom filed for Chapter 11 protection last night, making San Diego the largest Roman Catholic diocese in the nation to declare bankruptcy.


In a brief electronic filing just before midnight, the diocese said it had assets of more than $100 million and estimated debts of more than $100 million.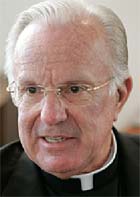 Bishop Robert Brom


Brom's action halts the first trial, set to start today, of about 150 lawsuits alleging sexual abuse of children by 60 priests in incidents dating back decades.

Brom said in a statement: "We put money on the table that would have stretched our financial capability to the limit, but demands were made which exceeded the financial resources of both the diocese and our insurance carrier."

The bishop, who said filing for bankruptcy was "not a cop-out," added that the decision to avoid court was made "because early trial judgments in favor of some victims could so deplete diocesan and insurance resources that there would be nothing left for other victims."

Brom concluded that the diocese, which has nearly 1 million members, remains committed to "reach out with pastoral concern and care to victims of sexual abuse and their families, and to promote healing and reconciliation with them."

Plaintiffs' attorneys, who filed most of the cases in 2003, expressed outrage at the filing. The diocese and plaintiffs' attorneys failed to reach a settlement during two days of negotiations before a Los Angeles judge. Yesterday, some accused the diocese of negotiating in bad faith with a callous disregard for the victims of clergy abuse.

"(The bankruptcy) is nothing more than a cynical attempt to stop the truth from coming out," said John C. Manly, whose Orange County firm represents 18 of the San Diego plaintiffs.

"It is ironic that a Catholic bishop would be allowed to seek bankruptcy protection in an attempt to deny justice to hundreds of children raped by priests," Manly added.

Terry Giles, an attorney for Nicki Rister, whose case was to have begun this morning, characterized the diocese's final settlement offer – delivered at 10:30 a.m. yesterday – as "nonexistent."

"While they will talk about numbers, they won't say how the victims would be paid, when they would be paid, nor what the collateral on the settlement would be," said Giles, who practices in Texas and California.



Overview

Background: Since 2003, more than 150 people have filed lawsuits against the Diocese of San Diego alleging they were sexually abused by priests in incidents dating back decades.

What's changing: The diocese plans to file for Chapter 11 bankruptcy protection, halting several scheduled trials in which plaintiffs' attorneys vowed to provide graphic testimony regarding abuse and cover-ups by church officials.

The future: The bankruptcy process could take years to play out; meanwhile, some of the abuse cases may proceed to trial.

In 32 years of practice, Giles said, he had "never seen such bad faith in negotiations. This is the only diocese in the country who destroyed records of their criminal priests in order to protect them.

"They are so afraid that, through a trial, we will finally explain to the public what was going on, they are going to hide behind this cowardly act of bankruptcy and try to make it sound like we're being greedy," Giles said.

"If I were a Catholic in San Diego, I'd be embarrassed."

San Diego follows bankruptcy-protection filings by dioceses in Tucson, Portland, Ore., Spokane, Wash. – all in 2004 – and Davenport, Iowa, which filed in October.

Tucson has emerged from bankruptcy, and settlement agreements in Portland and Spokane are awaiting final approval. The process here could last years.

As part of the bankruptcy filing, Brom said, the diocese will present to the court "an accurate statement on available diocesan assets and we will propose a comprehensive plan for compensating the victims and hearing their cases."

At the same time, the bishop continued, "we will be disclosing the names of those accused . . . as well as the extent of their abuse, and we will verify that no known abuser is functioning in ministry."

Neither side would reveal specific offers exchanged in the negotiations.

But diocese attorney Micheal Webb said the diocese offer was "a staggering amount of money."

The amount, Webb said, was "the highest offer any diocese has made in terms of absolute dollars. It was the final offer, it was everything we were able to muster."

Plaintiffs' attorneys, however, accused Webb of putting a positive spin on the offer.

Last year, the Archdiocese of Los Angeles settled 45 of more than 500 pending cases for $60 million, or an average of about $1.3 million apiece. In 2004, the Diocese of Orange County settled 90 abuse claims for $100 million – $1.11 million apiece.

A source close to the San Diego negotiations said yesterday that the San Diego diocese's offer was "hundreds of thousands of dollars lower per case than what we saw in Orange County."

Giles said plaintiffs understood that the diocese did not "have proper insurance, and we were willing to discount the settlement below the average in California to take that into account. But this negotiation was a total fraud – they had bankruptcy in mind from the start."

Webb countered that "filing for bankruptcy was regrettable." He said the two sides were far apart in negotiations last week but that yesterday "the diocese came up (in its offer) a lot."

In a pastoral letter to parishioners released at Masses over the weekend of Feb. 17, Brom suggested that the diocese may have to file for bankruptcy protection.

Besides the Nicki Rister case, three other sex-abuse suits had been scheduled for trial between now and June 1.

Rister, now 53, was the only victim alleged to have been molested by the Rev. Patrick O'Keeffe. The priest, who lives in Ireland, coaxed her into having sex when she was 17, according to her lawsuit.

The other three cases set for trial accuse priests of being serial pedophiles:

Edward Anthony Rodrigue, a defrocked priest who was released from state prison in 2006 after serving eight years for molesting a disabled boy, was accused of sexually abusing 22 children.

The late William Kraft, monsignor of St. Therese parish in Del Cerro for many years, was accused of regularly molesting a boy for five years, beginning at age 11, and trying to rape him at the church in 1969. The plaintiff is one of several to name Kraft.

The late Rev. Franz Robier was accused of molesting many youngsters, including four orphaned sisters from Germany in the 1950s, at a San Diego orphanage operated by Catholic Charities.

Sixty other cases have been released from a stalled mediation process and are awaiting trial dates.

Though the trials have been "stayed," or suspended, for now, a bankruptcy judge overseeing the Chapter 11 reorganization process could order the trials to go forward in the coming months.

Responding to the diocese's bankruptcy filing, a spokeswoman for a victims' advocacy group said Brom's main concern was not money, but not revealing dark church secrets.

"This is a morally corrupt move by a self-serving bishop who's afraid to face tough questions about his coddling and concealing pedophile priests," said Mary Grant of Long Beach, who represents an advocacy group, Survivors Network of those Abused by Priests.

"We asked Brom to disclose his diocese's wealth, consult with parishioners and let just this one trial go forward. He ignored all three requests."

Staff writer Greg Moran contributed to this report.

Mark Sauer: (619) 293-2227; mark.sauer@uniontrib.com