New Accusations on Priest Who Fled to Mexico

By Sam Shane
CBS 13 [California]
March 1, 2007

http://cbs13.com/local/local_story_060014644.html

(CBS13) We will call him John Doe. "It started with some groping with Beltran," said John Doe

20 years ago he says he was an alter boy for father Gerardo Beltran.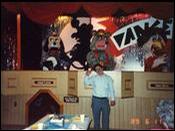 Beltran pictured here at a Chuck-E-Cheese restaurant


We had a lot of pornographic movies.

He says he was about 12 years old and Beltran was a grown man.

"Then the showers started happening," said John Doe.

Now 32 years old for the first time he is telling the story of how he says Gerardo Beltran molested him.

"You know, being there with him, having an erection and you know we're in the shower," said John Doe.

John Doe says he will file a police report next month alleging Father Beltran molested him as a young boy in Orland California. He decided to go public after seeing our CBS 13 investigation on Gerardo Beltran a fugitive priest.

The Background:

Beltran is a former Sacramento priest now on the run. He faces criminal charges of molesting young girls in Sacramento in the early 90's. A CBS 13 investigation revealed that Beltran has been hiding out in the tiny village of Igualita, Mexico for nearly a dozen years.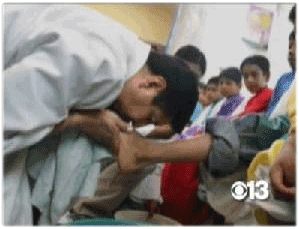 CBS 13 Uncovers New Accusations On Priest Who Fled to Mexico


The people of Igualita told us numerous stories of how they believe Beltran continues to molest children there.

Our investigation also revealed that 15 years after filing charges against Beltran the Sacramento county district attorney's office, headed by Jan Scully, has still not filed the necessary paperwork with federal authorities to have Beltran arrested by Mexican police and extradited back to the United States.

Since our stories first aired on February 5th and 6th, Scully wrote a four page letter criticizing our report and mailed it to Bruno Cohen, the General Manager of CBS 13. Scully said our report "Resorted to false information, rumor and innuendo. She also said portions of our story were "without merit and not accurate, or fair." She also said the D.A.'s office has been working with the United States Justice Department to complete the necessary paperwork for Beltran's arrest since June 2005, when it learned that Beltran had potentially been located in Mexico.

Then Scully posted the letter on her Agencie's web site.

We wanted to talk to Scully on camera to better understand her accusations and to find out if she could report any progress in the Beltran case. We received this response which said "the letter speaks for itself; we will have no further comment."

This brings us to the letter Scully wrote, that says:

"While channel 13 claimed they had found Beltran, he was not in your story."

The Facts:

One week before we flew to Mexico, A CBS 13 producer placed a phone call to Igualita Mexico and personally spoke to Beltran. Beltran's name is engraved on the front of the only church in Igualita. More than a dozen people who live Igualita confirmed to us, on-camera and off-camera, that Beltran has been living there and saying mass there for more than a dozen years.

Scully also writes none of statements about Beltran's alleged conduct in the village of Iqualita, Mexico made by the people of that village appear to be reliable. Margarito Leon Merino chief of police in Igualita told us that not only is Beltran suspected by many in Igualita of molesting children there for years, but that villagers were so concerned they tried to meet with their bishop to have Beltran removed from their village, but the bishop refused to meet with them.

Then there's Juan Leon Aviles, the Assistant Police Chief who told us that he and others in Igualita believe Beltran impregnated his daughter when she was 17-years-old.

Jan Scully says their stories are not reliable.

On the third page of her letter, Scully says she declined our initial request to be interviewed for the Beltran story because it would be, in her words: "Unethical for a prosecutor to improperly share information about a pending criminal case with the public."

Yet, they posted a letter with detailed facts on the status of the Beltran case on their web site.

The local D.A.'s have to do more:

Sacramento attorney Joseph George has sued the Catholic Church on behalf of victims of priest abuse.

Do you think the Sacramento county district attorney's office has been aggressive enough in pursuing these cases?

"The short answer is no. I think that law enforcement throughout the state, throughout the United States and throughout the world has had a very cozy relationship with the Catholic Church for centuries. And I think we're just beginning to try to make an in-road in those relationships," said George.

"The fact is, we need to get him back here," said John Doe.

John Doe says he's willing to do what it takes to get Beltran and other fugitive priests back in the United States.

"We need to make sure they know we're not gonna go away, that we want to stop him. And it's not just Beltran. I'm sure there's more situations like this," said John Doe.