CNN to Air Calvert Hall Sex Abuse Story

By Ron Cassie
The Examiner
March 9, 2007

http://www.examiner.com/a-608834~CNN_to_air_Calvert_Hall_sex_abuse_story.html

Baltimore - To Pat Goles, it was divine intervention. His son Michael had faced the Baltimore Catholic community's damnation after making sexual abuse charges in 1993 against popular Calvert Hall chaplain "Father Jeff" Toohey. Then, in 2004, his son, who remained troubled and unvindicated, got a phone call from a man only several blocks away in Atlanta. He had just come forth with similar allegations.

The second man, CNN Headline News anchor Thomas Roberts, was a previous Toohey victim. Roberts talks extensively on camera for the first time about the sexual abuse he suffered at Calvert Hall on "Anderson Cooper 360" Monday night.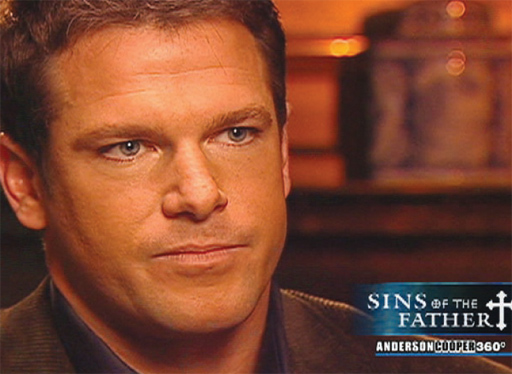 For the first time on camera, CNN Headline News anchor Thomas Roberts discusses his sexual abuse at the hands of Calvert Hall chaplain "Father Jeff" Toohey. The interview airs Monday night on CNN's "Anderson Cooper 360."
Photo by Courtesy CNN


In an hour-long segment, Roberts, 34, discusses the abuse — emotionally at times — which he said took place from 1987 to 1990. He reveals the struggle to overcome the psychological damage, including a suicide attempt, and the decision to ultimately come forward and press charges with Goles.

"It's probably the worst place you can be in your life," Roberts says at one point in a preview reviewed by The Examiner. "There's shame. There's self-hatred, self-doubt. Every mixed-up emotion you can have, and you don't feel you can talk to anybody."

Toohey pleaded guilty to abusing Roberts in February 2006 and was sentenced to five years in prison, but served less than 10 months before being released into home detention.

After his parents split up when he was in seventh grade, Roberts says he slowly withdrew, struggling in school and failing to get into the high school of his choice, Calvert Hall. His mother, Michelle, brought her son to Toohey for guidance. The priest got him a placement at the Towson private school.

Roberts kept his secret to himself for a decade and a half, even as Michael Goles was vilified publicly for his accusations.

"I still couldn't stand up for this kid," Roberts says.

But eventually he did, asking for Goles' name and phone number from the Archdiocese of Baltimore.

And last year, both men testified in Annapolis in support of legislation that would extend the statute of limitations to file civil claims against sexual predators. That right ends when the victim turns 25. Senate Bill 575, introduced this year, would create a one-year window of opportunity for victims to file civil lawsuits.

"The call from Thomas changed Michael's life," said Pat Goles, a Catholic deacon in Bel Air. "It changed both their lives. We believed Michael all along, but now they both knew someone else believed them, too, and understood what they had been through."

rcassie@baltimoreexaminer.com