Seeking Closure
When S.D. Diocese Filed for Bankruptcy, Woman Lost Day in Court over Sex-Abuse Case That Tore Her Family Apart

By Mark Sauer
Union-Tribune [San Diego CA]
March 11, 2007

http://www.signonsandiego.com/news/metro/20070311-9999-lz1n11sauer.html

He was tall, physically fit, with dark hair and blue eyes, a real charmer with an Irish accent. The high school girls nicknamed him "Father Hot Stuff."

This description of former Roman Catholic priest Patrick O'Keeffe emerged from interviews and from a court document filed a few days before the Diocese of San Diego declared bankruptcy last month.

The 40-page document was filed in Superior Court on behalf of Nicki Rister, who said she was a lonely 17-year-old senior in 1972 when O'Keeffe began a sexual liaison with her after she transferred from Arizona to a Catholic high school in California, where O'Keeffe was the church pastor.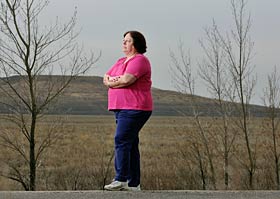 Nicki Rister said she was sexually abused in 1972 when she was 17 by the Rev. Patrick O'Keeffe. Her case against the San Diego diocese was hours from trial when it was suspended last month.
Photo by SCOTT LINNETT / Union-Tribune


The document provides a look at testimony from a variety of alleged victims that Rister's attorneys had planned to bring forward in the trial of her lawsuit against the Roman Catholic Diocese of San Diego. (The San Diego Union-Tribune does not identify victims in such cases without their consent.)

The trial, the first of about 150 cases pending against the diocese alleging sexual abuse by priests, was suspended indefinitely when church officials sought bankruptcy protection just hours before it was scheduled to begin.

Jury verdicts and settlements of cases involving sexual abuse by clergy in California have ranged from about $1.1 million to $1.5 million per case.



OVERVIEW

Background: The Roman Catholic Diocese of San Diego is facing about 150 lawsuits alleging sexual abuse by 60 priests from the 1950s to the '90s. Four cases were approaching trial when church officials filed for Chapter 11 bankruptcy protection on Feb. 27, suspending the process. The first case, that of Nicki Rister, would have begun Feb. 28. Rister has alleged she was sexually abused as a teenager in 1972 by the Rev. Patrick O'Keeffe, then pastor of her church. O'Keeffe has since been removed from the priesthood. San Diego is the fifth U.S. Catholic diocese to seek bankruptcy protection in the face of numerous clergy sexual abuse lawsuits. The diocese and plaintiffs' attorneys were unable to reach a settlement over several years of mediation.

What's happening: Lawsuits ready for trial will wait while the bankruptcy proceedings play out in federal bankruptcy court. The diocese's liabilities and assets will be assessed. It could take a year or longer before decisions are made on payments to abuse victims and their attorneys.


Bishop Robert Brom said he decided to file for Chapter 11 bankruptcy protection because "demands were made which exceeded the financial resources of both the diocese and our insurance carrier."

Rister said in an interview that O'Keeffe took an extraordinary interest in her, leading to a months-long liaison. It began, she said, with her being taught by O'Keeffe to perform oral sex, and progressed to intercourse, once, in the priest's bedroom at the church rectory, according to the court document.

"He told her many times how much he loved her. He had promised her that he would leave the church and marry her," the document says.

Titled "Plaintiffs' Omnibus Facts," the document was a response to motions filed by the San Diego diocese seeking to limit testimony presented on behalf of Rister. Superior Court Judge John Einhorn had not ruled when the trial process was halted.

Now 52, Rister said O'Keeffe's behavior left her with severe psychological scars and an abiding anger that led her, 35 years later, to a court of law.

The case, she said, also tore her family apart.

Her father, who had befriended O'Keeffe and became a priest himself after her mother died, did not speak to her for years after she disclosed her secret to him in 1992.

Her three older sisters, who never knew O'Keeffe, according to Rister, called her a liar and filed court declarations to that effect after her lawsuit was filed four years ago.

Leaving the country

O'Keeffe, who has been defrocked, is back in his native Ireland.

He moved there shortly before authorities in San Bernardino County charged him in July 2002 with 15 felony counts of child abuse; Rister was listed as the victim.

Those charges were dismissed in July 2003 after the U.S. Supreme Court struck down a 1994 California law which had extended the statute of limitations in cases charging sexual abuse of children.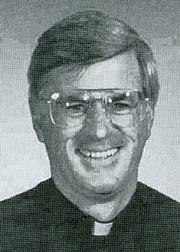 O'Keeffe was forced to retire from the priesthood in 1994.
2002 San Bernadino diocese directory


Church leaders and attorneys representing the diocese did not respond to messages seeking comment on the allegations made by Rister and other women about O'Keeffe.

An attempt to contact O'Keeffe for this story through his attorney in Ireland was unsuccessful.

O'Keeffe, who is in his early 70s and still draws a church pension, was a monsignor when the San Bernardino diocese forced him to retire from the priesthood in 1994 after settling a lawsuit (for an undisclosed amount) with a woman who claimed that while O'Keeffe was having an affair with her, he was also molesting her young daughter.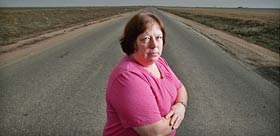 Nicki Rister, now 52 and living in Colorado, says she carried the secret of abuse at St. Adelaide's in San Bernardino for 17 years, telling only her husband. The area was part of the San Diego diocese until 1978.
Photo by SCOTT LINNETT / Union-Tribune


In April 2002, he was teaching religion at a Catholic girls school in Orange County when the criminal allegations involving Rister surfaced and he was fired.

Rister's attorneys argued that O'Keeffe's transfers from one parish to the next fit a pattern of church officials banishing abusive priests to outlying parishes.

Rister, according to her court brief, was by no means the only student to catch the priest's eye:

More than a dozen girls and young women, the document says, were either abused or seduced by O'Keeffe at churches in San Diego and San Bernardino counties from 1958 to 1992. Other lawsuits involving O'Keeffe have been filed.

Rister's attorneys also say in their document that church officials deliberately destroyed records from O'Keeffe's personnel file relating to sexual abuse allegations, a charge that diocese attorneys deny.

"I cried and cried on the day I found out about the bankruptcy," said Rister, who has been married for 25 years and is the mother of two grown children.

She said the feeling brought back the day last spring when she traveled to Ireland and confronted O'Keeffe at his deposition, only to hear the ex-priest claim he did not remember her, though he remembered her father.

Yet letters sent to Rister from O'Keeffe in 1990, which are included in the court document, suggest he once remembered her well. In them he asked her to "Pray for me; forgive yourself. You were the victim."

"I am so disappointed that I am not going to get my day in court," Rister said last week. "It's the only way my sisters are ever going to believe what truly happened to me."

Several accusations

Patrick J. O'Keeffe was born in Kilkenny, Ireland, in 1934. He worked in his family's publishing business growing up.

O'Keeffe, who was ordained for the San Diego diocese in 1959, was first assigned as associate pastor at St. Rose of Lima Church in Chula Vista.

There he "used his power and authority as a priest to molest anyone he desired and really saw children and teenagers as his own sex objects to abuse for his pleasure," according to the court document.

A woman testified that at O'Keeffe's request, a nun would pull her off the playground and send her to the rectory to clean O'Keeffe's office, according to the court document.

O'Keeffe instead had the girl, who was about 12 at the time, sit on his lap as he fondled her while he masturbated, the document says.

The court brief includes summaries of similar testimony from the depositions of several other women who said they were either abused as school girls by O'Keeffe, or suffered with their fathers and siblings upon realizing their mothers had affairs with the priest.

The secret she carried

Nicki Rister, who lives in a small Colorado town, said that except for telling her husband, she carried her secret of abuse at St. Adelaide's in suburban San Bernardino for 17 years. The area was part of the San Diego diocese until 1978.

In 1989, Rister said in an interview, she saw a report on ABC-TV's "20/20" program about the growing number of lawsuits and claims regarding sexual abuse by Roman Catholic priests.

That prompted a letter, Rister said, in January 1989 to Bishop Phillip Straling of the Diocese of San Bernardino outlining her liaison with O'Keeffe. She wrote that she now felt "secure and brave enough to tell you about it."

"The exact dates are easy to pin down, as I kept a diary of our affair," she said in her letter. "He felt free to call me at home and tell me he loved me, and did so often. My parents thought it was great for me to have such a good rapport with my priest. Little did they know what went on."

Rister, who said she has always referred to O'Keeffe as Pat, further wrote that she was naive, lonely and in love with the priest and that "made it hard to resist his desires."

"The lasting effects of this love affair have been much worse than I ever expected," she wrote. "I no longer trust priests and have no desire to return to the church on a regular basis. ... I should have spoken out sooner, but I never did because it would have killed my folks."

The liaison began, according to the court document, when O'Keeffe asked her to come to the school office in the evenings to do some typing for him. Kisses and hugs progressed to oral sex ("15 or so incidents") and intercourse on one occasion when Rister was still 17.

In his March 2006 deposition taken in Ireland, O'Keeffe admitted he was Rister's pastor and he had warm memories of her father and mother, the court record shows.

But he denied again and again having any kind of sexual relationship with Rister, said Steven Rubino, one of her attorneys.

Included in the court filing, however, is an October 1990 letter from Rister to O'Keeffe, in which she wrote: "I should hate you for what you have done to me. Using me for your own physical needs and then going on your way, leaving me to cope with the guilt."

O'Keeffe's return letter to Rister is also cited in the court document:

"I am devastated. I did not walk away, I was sent away, punished, sent to be 'cured,' ashamed and refused these major dreams," O'Keeffe wrote. "... I can't make you forgive me, but I wish I could."

Rister's attorneys said many of the revelations in their court brief surfaced just weeks before the trial was to start when a judge forced the San Bernardino diocese to release its file on O'Keeffe.

"Twenty years of records are just missing from the (San Diego) diocese's files on O'Keeffe," the attorneys note in their brief.

They cite testimony by the Rev. Steven Callahan, current vicar general for the diocese, in which he admits destroying a batch of priest documents in 1993 and 1994.

But Micheal Webb, lead attorney for the diocese, said Callahan only destroyed files of priests who had been dead at least 10 years. O'Keeffe's file was intact, Webb said, and in San Bernardino.

"They (the plaintiffs) have tried to make this a pattern of conduct of destroying these documents, which it absolutely was not," Webb said in a brief interview. "It was just Father Steve cleaning out files in compliance with (church laws) that he had been advised of."

Plaintiffs' attorneys countered that files for other accused priests, including the Rev. William Kraft, who died in 2001, and ex-priest Anthony Rodrigue, who is still alive, have also been purged of incriminating documents.

"This falls into why they didn't want this case tried," said Rubino, an attorney for Rister's. "We would have showcased all of this type of behavior."

'He's a man, too'

Rister said she and her five siblings were raised in a "very strict" Catholic household, where the parish priest was revered.

After her mother died in 1985, Rister said her father, who had attended a seminary as a young man, decided to become a priest.

"Dad was good friends with Pat," she said. "I believe I told my dad about our relationship in December 1992. Why, I don't know. I just felt I needed to tell him."

She revealed her long-kept secret over the phone during one of their regular conversations between her house in Colorado and his in Arizona:

"He got quiet for a minute. Then he said, 'He's a man, too. He has feelings.' That just floored me," Rister said. "I knew I had lost my dad. He had chosen the church over me. I was devastated."

Rister said she patched things up and spoke with her father again near the end of his life in 2002, but they never mentioned O'Keeffe. Rister's father, the Rev. Frank Budai, died at age 87.

When her older sisters learned of Rister's accusations regarding O'Keeffe, she said they condemned her as a liar. They made their opinions official in legal declarations filed on behalf of the San Diego diocese.

Her oldest sister has since died.

One sister, Karen Turner, 60, who lives in Colorado, said she remains convinced Rister's accusations against Patrick O'Keeffe are false. An attempt to reach Rister's other sister was unsuccessful.

But Leonard Budai, who at 64 is Rister's oldest surviving sibling, vouches for Rister's veracity.

"I have no reason to believe that Nicki is not telling the truth," said Budai, who was also deposed for his sister's lawsuit.

"One of the things Pauline (their deceased sister) said on her death bed was, 'Tell Nicki I shouldn't have said that stuff (about her lying); I knew it wasn't true.' "

Rister said she told her husband, Gordon, about O'Keeffe seven years after their wedding.

"My husband has been so supportive – he went with me to Ireland for Pat's deposition last year," Rister said. "And his family has backed me up far more than my own family ever did.

"Our kids – Jenny is 24 and Michael, who is in the Army and just finished a tour in Iraq – are very supportive as well."

Of the 150 men and women who have filed suit against the San Diego diocese, nearly 90 percent have done so anonymously, according to their attorneys. Why did Rister decide to be named?

"Why not go public with this?" she said. "I am telling the truth."


---

• Staff writer Sandi Dolbee contributed to this report.

Mark Sauer: (619) 293-2227; mark.sauer@uniontrib.com