Archdiocesan Warning on Clergyman Urged
Group Says New Church Should Know of Allegations of Sex Abuse

By Marie Rohde
Milwaukee Journal Sentinel
March 15, 2007

http://www.jsonline.com/story/index.aspx?id=578277

A group of survivors of sexual abuse by clergy is calling on Archbishop Timothy Dolan to release the record of an excommunicated priest who is scheduled to be ordained as a bishop in a church he started near Dousman.

In July 2004, Dolan announced that S. Joseph Collova may not function as a Roman Catholic priest because he was one of 43 priests named by the church as having been implicated by credible evidence of abuse.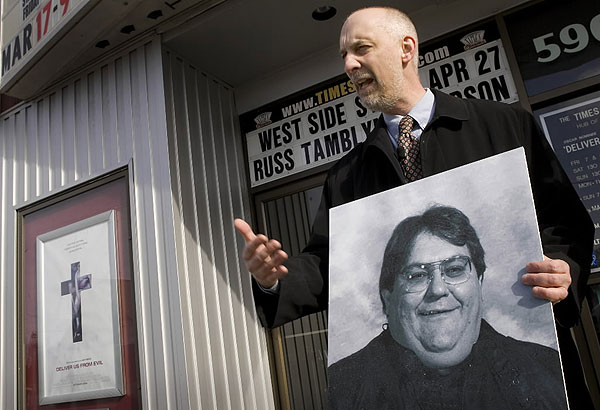 Peter Isely, regional director of the Survivors Network of those Abused by Priests, holds a photo of S. Joseph Collova during a news conference Thursday. The survivors group said at its conference at the Times Cinema that Collova's new church should be warned that the Milwaukee Catholic Archdiocese had found Collova implicated by credible evidence of abuse. Collova was excommunicated in 2004.
Photo by Tom Lynn


"We call on Archbishop Dolan to protect those who could be abused by this man and to alert the community to the danger he presents," said Peter Isely, regional director of Survivors Network of those Abused by Priests. "Father Collova's story is emblematic of the problem in the state of Wisconsin."

Kathleen Hohl, a spokeswoman for the Milwaukee Catholic Archdiocese, said Collova was excommunicated by Dolan after publicity when Collova joined another denomination and formed a church.

The survivors group called on Dolan to go further. It wants him to release Collova's record, appeal to the leaders of Collova's new church not to ordain him as bishop and to publicly warn Catholics in the Dousman area.

Hohl said Dolan has asked the archdiocesan victims assistance coordinator to develop a plan to deal with the issues. She said some of the points are already being addressed.

Collova joined and left two other dissident Catholic denominations after his departure from the Roman Catholic fold.

He was ordained by the Milwaukee archdiocese in 1976 but has not been allowed to participate in the active ministry since 1994. He is now in his late 50s.

In 1993, a man in his middle 20s sued Collova and the archdiocese, saying that Collova had assaulted him hundreds of times between 1980 and 1987 when the plaintiff was between 14 and 21 years old. The case was dismissed because the statute of limitations then required that such legal action be taken within two years of reaching adulthood..

Shortly after Collova was named on the archdiocesan list of 43 men, he was accepted as a priest in the Independent Evangelical Catholic Church in America, which has six parishes and about 250 members. He started a mission church in a social hall attached to the trailer park in the Town of Sullivan, where he lived.

His affiliation with that denomination lasted less than a year. According to that denomination's Web site, Collova was suspended on April 25, 2005, and he resigned the next month.. Bishop James Wilkowski said there were no allegations of abuse.

"There were no allegations of sexual misconduct," said Wilkowski, who added that he investigated Collova for 18 months before accepting him as a priest. "I never believed that the allegations brought against him in Milwaukee were credible."

For a short time, Collova was affiliated with another dissident Catholic church, the Independent Catholic Christian Church, based in Pennsylvania. In January, after less than a year, he left that denomination, according to Bishop Timothy Cravens.

"He is starting his own church," Cravens told a reporter. "He has a completely different view, and that's all I'm going to say."

Collova did not return messages left at two numbers seeking comment.

Collova's church is called the St. Edith Stein Independent Catholic Church in Dousman, according to a Web site about independent Catholic churches. The Web site referred to Collova as "bishop-elect" of the church.