Prosecutors Say Sex Offender Has Violated Terms of Probation

By Leah Thorsen
St. Louis Post-Dispatch [Edwardsville MO]
March 15, 2007

http://www.stltoday.com/stltoday/news/stories.nsf/illinoisnews/story/5C1228D7C86F045E8625729F000ECC85?OpenDocument

A former Metro-East Lutheran High School teacher convicted of sexually abusing a student disputed on Wednesday a prosecutor's claim that his probation should be revoked for not completing sex-offender counseling. A court hearing was scheduled for next week to decide the matter.

The offender, Michael Vonderohe, who taught art at the private school in Edwardsville, pleaded guilty in 2004 to abusing a 17-year-old girl and was sentenced to three years of probation. He was ordered to give up his teaching certificate and register as a sexual predator on the state's sex offender registry.

Vonderohe also was ordered to undergo sex-offender counseling, although court documents don't give details about what type of counseling he must take part in.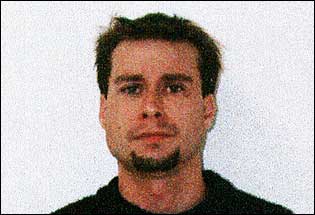 Michael R. Vonderohe



In a motion filed last month, Madison County Assistant State's Attorney John Fischer said Vonderohe had not undergone the court-ordered therapy and should be re-sentenced.

A hearing to determine whether his probation should be revoked had been scheduled for Wednesday, but it was postponed one week to give Vonderohe time to hire an attorney.

"I have been taking therapy," Vonderohe, 29, said before leaving the courtroom. He declined to comment further.

Vonderohe and the girl kissed, and he rubbed her back and fondled her, authorities alleged. They met at the school, her house, Vonherohe's house and his car. She told her parents about the relationship in November 2003.

In a 2005 request for clemency, Vonderohe claimed that the girl had lied about the sexual abuse, and that he agreed to plead to the charge because the girl would only have "to cry and receive sympathy from the jury, and I would immediately receive seven to 14 years in prison."

He also wrote that the "so-called therapy" he was ordered to take was not necessary, and that he did not want to take part in it.

"This type of treatment or any sexual treatment is irrelevant to me," he wrote. Vonderohe is seeking a pardon to his conviction. No decision has been made on whether clemency will be granted.

Vonderohe lives in Dallas City, Ill., about 60 miles north of Quincy near the Iowa border, according to the state sex offender registry. Court records say he is married and has a daughter.

The student he pleaded guilty to molesting filed suit in September against Vonderohe, Metro-East Lutheran and the Lutheran Church-Missouri Synod. That case is pending.

Contact: lthorsen@post-dispatch.com | 618-659-3640