Another Alleged Victim of Beltran Comes Forward
Hector Rubio Saw CBS13's Stories on Beltran and Says Beltran Abused Him As Well

By Sam Shane
CBS 13
March 21, 2007

http://cbs13.com/local/local_story_081000515.html

(CBS13) Sacramento — A CBS13 investigation of a fugitive priest has brought another victim forward.

Father Gerardo Beltran is accused of molesting two young girls in Sacramento then fleeing to avoid prosecution. CBS13 tracked Beltran to Igualita, Mexico. After seeing our stories, a third victim says he can remain silent no longer and says he wants to bring Gerardo Beltran to justice.

We first introduced you to Hector Rubio last month, only then we called him "John Doe". Today, in a press conference with the survivors network for those abused by priests, Hector came forward, telling the world that he too had been abused by Father Gerardo Beltran.


---
RELATED:
New Accusations On Priest Who Fled To Mexico
CBS13 Continues To Investigate A Fugitive Priest

---

"I have a responsibility to make sure that we get Beltran back here, that he faces his charges, that we stop him. He's not going to stop," said Rubio.

Hector Rubio was an alter boy at St. Dominic's Catholic Church in Orland in the 1980s. Gerardo Beltran was one of his priests.

"Oh yeah, very nice guy, very friendly, very charismatic. He'd talk to you, made you feel like a million bucks," said Rubio.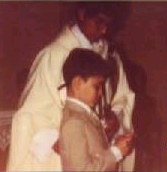 Another Alleged Victim of Beltran Comes Forward


Rubio says Beltran was a trusted friend, a man of God.

"It wasn't just on Sundays, it would be dinners. The altar boys would get together. He'd visit my parents. He was really close with us," said Rubio.

Over time, he says Beltran's actions moved from trips to Chuck-E-Cheese to pornographic videos and sexual molestation.

"We had like wrestling matches, I remember a couple times inside his room -- his bedroom was separate from his office -- and on the bed there'd be wrestling. The pool parties. There'd be wrestling there and the showers," said Rubio.

Hector says other priests knew about the abuse but did nothing. Instead, Gerardo Beltran was moved to the athedral of the Blessed Sacrament in Sacramento where he was accused of abusing Esperanza Yanez and her sister.

"He just basically laid me on the bed, he caressed me and everything. I just kept looking up to see, hoping someone would come up, thinking 'what's taking so long?'," said Yanez.

Beltran fled to Mexico, where he's been for the last 15 years. The district attorney's office has not completed the process for extradition and he continues to practice as a Catholic Priest in Mexico. A representative of the Sacramento Diocese says it is now up to Mexican authorities and the Mexican church to get him back to face charges.

Hector Rubio says he tried to forget what happened.

"If I would've said something maybe I could've prevented but I didn't, I moved on," said Rubio.

We tracked Gerardo Beltran to Igualita, Mexico. His name is carved into the village church. Village leaders told us he'd allegedly been abusing young children there for over a decade, and may have fathered a child. Leaders in the village even went to their local bishop to have Beltran removed from their church.

"They asked the bishop to remove him and the bishop wouldn't receive them, wouldn't do it. He didn't listen to them," said the villagers.

After seeing our story, Hector Rubio says he could no longer remain silent. In the coming weeks he plans file a police report in Orland. Today, he filed this lawsuit against the Catholic Diocese in an effort, he says, to get both the church and the Sacramento county district attorney to act.

"It saddens me that the church didn't do enough and that the D.A. doesn't do anything else," said Rubio.

The Sacramento Diocese says they're offering Rubio counseling to deal with his abuse. Rubio lives in another state so will file a police report in the coming weeks through his attorney. He feels so strongly about bringing Gerardo Beltran to justice that he told CBS13 that he would go to Igualita himself to confront Beltran if it would help.