Pedophilia Claims Rock Local Parish

By Ron Cassie
The Examiner [Ellicott City MD]
March 27, 2007

http://www.examiner.com/a-639568~Monsignor_ousted_by_pedophila_claims.html

Ellicott City — Shock and disbelief. That's what parishioners of a Howard County Catholic church are expressing over the ouster of a monsignor accused of being a pedophile.

At a meeting following Sunday masses, Archdiocese of Baltimore officials met with Our Lady of Perpetual Help parishioners and announced two creditable accusations of pedophile abuse had been made against Monsignor Richard Smith, 67.

In a news release Monday afternoon, the archdiocese said the alleged abuse occurred in mid to late 1960s while Richard Smith was a priest at Shrine of Our Lady of Perpetual Help parish in Woodlawn. The church has been known as St. Gabriel since 1997).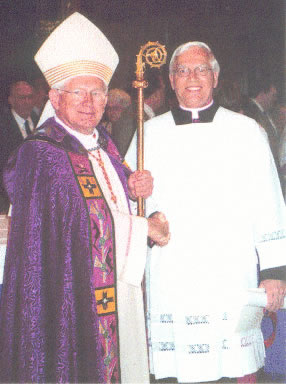 Cardnial William Keeler, left, poses with Monsignor Richard E. Smith in this 2004 photo.


"One woman alleges she had a series of sexual encounters over a course of months in 1967 when she was approximately 15-16 years old," the archdiocese said in its written statement. "Another woman has indicated that she and then-Father Smith had one inappropriate sexual interaction sometime in 1966 or 1967 when she was about 15 years old."

Smith was informed of the allegations, the archdiocese said, and he admitted to some of the allegations, but couldn't recall other details.

Laura Randazzo, one of several hundred parishioners who attended Sunday's meeting, described the congregation's response as "shock."

"People were in disbelief at first, asking questions like, 'Are you sure it is the right Smith?'" Randazzo said. "Everyone was very saddened."

Sean Caine, a spokesman for the Archdiocese of Baltimore, said the first woman who came forward had believed Smith had left the priesthood until she recently saw his photograph in the Catholic Review.


After contacting the archdiocese, the woman provided officials with the name of the second woman, a high school friend who she suspected had also been abused as a youth member at Shrine of Our Lady of Perpetual Help in Woodlawn.

Caine said the incidents were immediately reported to the appropriate civil authorities and that Smith has been removed from ministry. Smith's abilities to function as a priest have been removed, Caine said.

Smith currently is living under the archdiocese's care at an undisclosed location while he is being evaluated.

The archdiocese said that counseling assistance has been offered to those affected in the parish community.

Smith was ordained a priest in 1966. In addition to serving at Shrine of Our Lady of Perpetual Help in Woodlawn in 1966 and 967, he also served at St. Bernard in Baltimore in 1967; St. Mary in Cumberland from 1968 until 1973; St. Mark in Fallston from 1973 until 1978; St. Jane Frances de Chantal in Riviera Beach from 1978 until 1983; St. Clare is Essex from 1983 until 1987; Our Lady of Sorrows in Owensville from 1987 until 1996; St. Elizabeth Ann Seton in Crofton in 1996; and Our Lady of Perpetual Help in Ellicott City from 1996 until this week.

The Baltimore Archdiocese said anyone who has knowledge of any child sexual abuse should come forward and to report it to law enforcement authorities.

"If clergy or other church personnel are suspected of committing the abuse, we ask that you also call the Archdiocesan Office of Child and Youth Protection Hotline at 1-866-417-7469," the church said in its statement.

Two years ago this month, the 2,000 family member Roman Catholic Church celebrated the opening of the Monsignor Richard E. Smith Parish Center at a Mass led by Cardinal William Keeler.

Contact: rcassie@baltimoreexaminer.com