More Allegations Surface against Ousted Monsignor

By Ron Cassie
The Examiner [Maryland]
March 30, 2007

http://www.examiner.com/a-647225~More_allegations_surface_against_ousted_monsignor.html

Howard County — Previous allegations of child sexual abuse by Monsignor Richard Smith, former pastor at Our Lady of Perpetual Help in Ellicott City, were made by an Anne Arundel County man in May, according to the victim's mother.

Smith was recently removed from his duties after two women accused him of sexually abusing them as teens about 40 years ago.

The alleged incidents now coming to light took place when Smith served at St. Jane Frances de Chantal Church in Riviera Beach, from 1979 until 1983.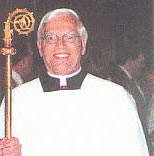 Monsignor Richard Smith was ousted from his church after claims of sexual abuse surfaced.


Archdiocese officials maintained Sunday in a meeting with parishioners, and Monday in a phone interview, that they were unaware of any previous allegations of sexual impropriety ever made against Smith.

Archdiocese spokesman Sean Caine did not return phone calls or respond to direct e-mail inquiries Thursday asking if any previous allegations were ever made or if they received calls from child protective services concerning Smith. Instead he issued this statement:

"We publicly disclose information about credible allegations of child sexual abuse to protect children, to find other victims so we can provide outreach and healing, and to assist parents in speaking to their children about abuse. Generally we do not discuss rumors or personnel histories which are not related to helping parents speak with their children or to helping child abuse victims come forward."


Last May, prior to the recent allegations involving two women who said they were molested as teenagers – some of which the Catholic priest has acknowledged – the accuser, now in his mid-30s, married with children, came forth with his story to family members and later to members of Greater Baltimore Survivors Network of those Abused by Priests, according to people familiar with the allegations.

In an interview with the victim's mother Thursday, she said she initially approached the Anne Arundel County rape crisis center on May 21 for guidance on counseling her son. The mother was immediately told she needed to report the charges to Anne Arundel child protective services, which she did, and then quickly received a follow-up phone call from Howard County child protective services. They told her they would investigate because the priest now worked there.

"I asked them how I would know what the outcome was — if the priest was going to be charged, or at least removed, and the woman told me just to read the newspaper," the mother recounted.

After her son came forward, his mother recalled an incident of severe rectal bleeding her son suffered during that period that required treatment. The doctor said it was a rectal tear. Her son recently told her it was from Smith's abuse.

"My son told me that Smith used to taunt him over and over again, 'You can tell, but no one will believe you. You can tell, but no one will believe you.' "

Members of the Howard County Catholic Church, including parishioner Lee Hoke, are still in shock over the ouster of their pastor, met at Rockburn Elementary School Wednesday night and expressed their belief that the Archdiocese intentionally had misled them with carefully worded answers at Sunday's meeting announcing Smith's removal.

"Until the church starts pursuing criminal charges against these predators – rather than leaving it up to the victims, who are traumatized," Hoke said, "they are not going to regain anyone's trust."

Contact: rcassie@baltimoreexaminer.com