Archmere Grad Tells of Sex Abuse by Priest
Jury to Decide Damages in Civil Suit against the Rev. Edward Smith

By Beth Miller
News Journal
March 30, 2007

http://www.delawareonline.com/apps/pbcs.dll/article?AID=/20070330/NEWS/703300351

Wilmington — Navy Cmdr. Kenneth J. Whitwell took the stand Thursday in U.S. District Court and told a panel of six jurors what no Delaware jury has heard before: He told them how he was sexually abused by a Catholic priest as a student at Archmere Academy.

Whitwell, 39, of Stafford, Va., described almost three years of sexual abuse — hundreds of incidents including fondling, oral and anal rape — by the Rev. Edward Smith, who was a religion teacher, an English teacher and campus minister at Archmere from 1982 to 1984. The abuse started, Whitwell said, when he was a 14-year-old freshman.

Smith never responded to Whitwell's civil lawsuit. When Smith failed to appear in court in January, Judge Sue L. Robinson ruled that he was in default, allowing the case to go directly to a jury to determine damages.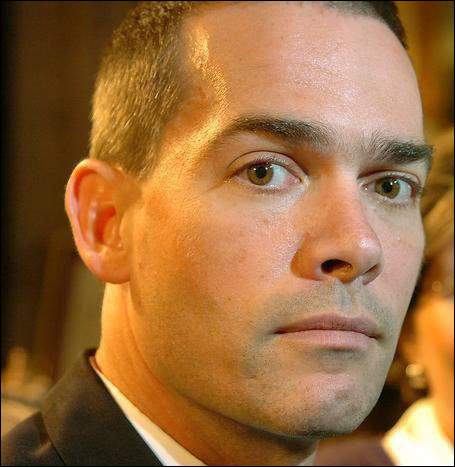 Navy Cmdr. Kenneth J. Whitwell testified Thursday that he was sexually abused as a 14-year-old freshman by Archmere Academy's Rev. Edward Smith.


It is the first time a claim of sexual abuse by a priest has reached a Delaware courtroom because the state's statute of limitations — the time in which a criminal charge or civil claim can be made — has expired in so many other cases. That is why Robinson dismissed Archmere Academy, the Norbertine religious order Smith is part of, and the Catholic Diocese of Wilmington from this case.

Jurors heard details of the abuse from Whitwell and heard about the effects it had on him from his wife, Amy, and mother, Joyce Casey. Today, psychiatrist Dr. Carol Tavani is expected to testify before the jury begins deliberations.

With no one at the defense table, Whitwell's attorneys, Tom and Steven Neuberger, had free rein in choosing jurors and no one to object to their questions or witness' answers. Robinson warned before the start of the day that she would dismiss the jury if attorneys' statements crossed the line and became inflammatory or prejudicial.

Whitwell spent almost four hours on the stand.

He described Smith as charismatic — "a young, cool priest" who had lots of cash and a fondness for Italian shoes, expensive watches, gold chains and Polo cologne. Almost immediately, Smith drew in the shy, stuttering Whitwell as a special companion. Whitwell said Smith would have him come to his office to move boxes and just hang around.

"He built me up in front of my fellow students as someone who was gaining his attention," Whitwell said.

Soon Smith was keeping the boy after school, taking him for something to eat, giving him a ride home, meeting his family and staying for dinner. Smith often stayed while the four Whitwell boys were doing homework to talk to their mother, whose marriage was about to end.

Bringing a priest home made Whitwell feel special there, too, he said.

"What is better than having a priest think you're something special?" he said. "Grade school teaches you the importance of the priest. He is God's representative on earth. He is God's right-hand man. God communicates to us through priests. They are chosen by God to do this unbelievably special thing here on earth."

Smith bought gifts for all the Whitwell boys, but he lavished them on Ken — football jerseys, ski equipment, a snowmobile. His mother refused, though, to let Smith buy Ken a car for his 16th birthday, Whitwell said.

Eventually, Smith had Whitwell over to the priory, where the Archmere priests lived on campus. There, Whitwell testified, he got drunk with priests as they enjoyed happy hour and dipped into a liquor-stocked refrigerator.

Priests and several school officials, including the headmaster, saw Whitwell leaving Smith's room at the priory late in the evening, he testified. On another occasion, several priests were with him when he was drinking and watching a movie, that involved nudity, with Smith, Whitwell said.

Asked by Steven Neuberger whether any of the priests — including Archmere Headmaster the Rev. Joseph McLaughlin and Dean of Students the Rev. Michael Collins — raised concerns or protested the boy's presence in the priory, Whitwell said they did not. Nor did Smith's priest friends object when the boy slept in Smith's room during trips to a New Jersey shore beach house.

Archmere officials issued a statement Thursday which says a potential appeal of the case limited their reply and focuses solely on Smith. It does not respond to Whitwell's statements involving other priests specifically named in his testimony.

"By his failure to appear to defend the lawsuit, Fr. Smith has effectively admitted the allegations against him. Archmere is profoundly sorry that one of its students was abused by a faculty member," the statement said. "It goes without saying that any abuse of a student by a teacher is contemptible, and when the abuser is a priest it is particularly despicable. Archmere sincerely apologizes to Kenneth Whitwell, and pledges to the Archmere community that we are doing everything we can to make sure that our students remain safe."

The abuse started, Whitwell said, in December 1982 when the priest fondled him while he was helping to wrap Christmas presents. Whitwell said he was stunned, embarrassed and confused, but Smith assured him that it was normal and a proper way to express God's love.

Whitwell said the sexual abuse continued and escalated from then until just before his senior year in the summer of 1985. Whitwell said Smith sexually abused him in Delaware and during trips to Pennsylvania, New Jersey, Wisconsin and Vermont.

Whitwell said the abuse squelched all other relationships and alienated him from normal activities. He finally refused to accompany the priest on a trip one summer day in 1985, and the abuse ended the same day. Smith, though, later made a similar attempt on a younger brother of Whitwell's, who punched the priest and left the South Philadelphia area where they had been drinking, Whitwell said. When that brother told Whitwell's mother, she asked Whitwell if Smith had tried such things with him. Whitwell denied he had.

Later, though, when his marriage was failing, Whitwell said he got help from a military psychiatrist who helped him understand the impact of the abuse on his life and urged him to confront his abuser. Whitwell decided to do so in part to expose Smith's abusive past and protect others from him.

In 2004, Whitwell confronted Archmere officials, who referred him to the Norbertine priory in Middletown, where Smith still lives. He went to speak to the head of the priory and encountered Smith as he waited for the superior to arrive. Later, in his superior's presence, Smith did not deny the acts Whitwell said he had done, but claimed he, too, had been abused and told Whitwell he had lost a great deal when the relationship ended.

"He said, 'I'm sorry for what I did to you. I didn't mean for any of that sexual stuff to happen, but I love you,' " Whitwell said. "If he's sorry, why isn't he here telling you [the jury] how much he's sorry?"

Amy Whitwell testified that her husband has been plagued by nightmares, has difficulty with intimacy, and is afraid to trust their two sons to the care of others. She said she grieves for him.

"But if he can be a spokesman for the people who can't speak, this is the best place to be," she told jurors.

Contact Beth Miller at 324-2784 or bmiller@delawareonline.com.