Foley Abuse Case Settled for $550,000
Lawsuit Stems from Priest's Tenure As Fire Chaplain

By Elizabeth Hamilton and Dave Altimari
Hartford Courant [Connecticut]
March 31, 2007

http://www.courant.com/news/local/hc-foley0331.artmar31,0,4920988.story?coll=hc-headlines-home

The Archdiocese of Hartford agreed this week to pay $550,000 to a man who accused the Rev. Stephen Foley of using his position as Hartford County fire chaplain to sodomize him when he was a 14-year-old parishioner in Windsor Locks.

Foley, who has been accused of abuse by at least 11 men since 1993 and was removed from public ministry in 2002, is still affiliated with the county fire organization he belonged to when the alleged assault occurred. He now holds the title of "chaplain emeritus" of the group, according to board members.

The organization, which now goes by the name of Hartford County Fire Emergency Plan, was formed in 1969 as the Hartford County Mutual Aid Association. Foley was its first chaplain, said one of the group's original presidents, Chester J. Haber. Part of the group's mission is to provide mutual aid for member fire departments.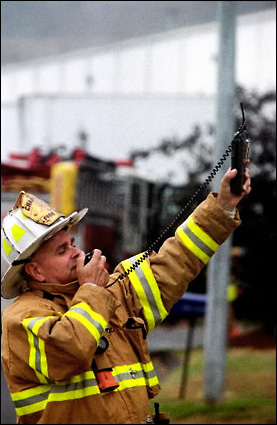 STEPHEN FOLEY, a former fire and police chaplain, uses his radio at a Manchester fire in 2001.
Photo by RICK HARTFORD


The current president of the group is Windsor Locks Fire Chief Gary Ruggiero. Haber said Ruggiero sent an e-mail to the board of directors Friday criticizing the newspaper for publishing a story last Sunday that exposed Foley's continued use of a police-equipped Crown Victoria with flashing lights, sirens and scanners.

The archdiocese, in response to that story, ordered Foley out of St. Thomas Seminary in Bloomfield, where he has lived since 1993, and told him to get rid of the car.

Ruggiero also reportedly wrote that he talked to Foley after the priest was ordered Tuesday to move out of St. Thomas Seminary and, Haber said, expressed the opinion that this was a "rotten" deal for Foley.

Friday, Ruggiero sent The Courant an e-mail saying he has instructed that Foley's name be removed from the website.

"Father Foley has been appointed Chaplain Emeritus for the Hartford County Fire Emergency Plan by the Plan's Board of Directors several years back," Ruggiero wrote. "Father had been a very active part of the Hartford County Fire Emergency Plan serving as Chaplain, Director, and for many years also as a Hartford County Fire Emergency Plan Coordinator. Father served the County in these capacities listed since probably the late 1960's and did an outstanding job for us.

"I have been informed that our County website was still listing Father Foley as our Chaplain. I've instructed our webmaster to correct the Board of Directors listing."

Foley has a long history with the Windsor Locks Fire Department, dating from 1975 when he was assigned to St. Robert Bellarmine Church. Several of the lawsuits against him stem from his time there, when he ran the CYO basketball program and allegedly took teenage boys to fire and accident scenes in a car equipped with flashing red lights and sirens.

The lawsuit that was settled Monday, brought anonymously by John D. Doe in 2002, alleged that Foley lured the boy into a relationship with him in 1978. A mediation brief written by the plaintiff's lawyer, Robert Reardon, describes how Foley worked his way into the boy's life.

"In addition to serving as an assistant pastor, Foley also worked with the Hartford County fire department as a fire chaplain. This position earned Foley much esteem in the eyes of the young parishioners at St. Robert's, including the plaintiff."

The sexual abuse took place on a weekend when the boy and his friend accompanied Foley to a home on Cape Cod, which Foley said was owned by his aunt, the brief said. Foley gave the boys alcohol before and during dinner, got them drunk, and then took the boy to bed with him.

"Foley took the plaintiff with him into his own bedroom and got into bed with him in his underwear," the brief says. "He then proceeded to fondle the plaintiff, perform oral sex on him and sodomize him."

This is the ninth complaint the diocese has settled against Foley since 1993. Two lawsuits remain unresolved.

The diocese will not comment on how much money it has spent settling complaints against Foley, but the total is clearly in the millions. Reardon said the diocese has paid out $1.4 million in the past three months alone, settling complaints brought by two of his clients.

"I know that my client is very pleased that he can bring closure to this horrible experience at a young age and finally move on," Reardon said Friday.

The mediation session leading to the settlement was scheduled weeks ago and was not related to The Courant's story about Foley, he added.

The Rev. John Gatzak, spokesman for the church, said the archdiocese does not comment on individual settlements, but that church officials "attempt to work with victims and the court system to settle these claims amicably."

John Coelho, who serves as secretary for the county fire association, and Haber both said Foley stepped down as their acting chaplain about five years ago, about the same time the first lawsuits were filed against the priest.

"He's been staying away," Coelho said. "I think his lawyer and the church told him to step down and keep a low profile."

Haber explained it a bit differently, however.

"People came to us and asked why he was still with our organization - so we asked him to step aside," Haber said.

They both said Foley stopped attending organization events, including the annual memorial service for fallen firefighters, when he resigned. The last time Haber saw him was two years ago in Denver at an International Association of Fire Chiefs conference, he said.

But neither board member could explain why Foley was given an honorary title and continues to be listed on the organization's website as the "county chaplain."

"I don't get it. It's unbelievable," Reardon said. "It just boggles your mind that this has gone on this long and nobody has put their foot down. I think some of them just refuse to believe it."

Coelho said it was stunning to learn about the lawsuits against Foley in 2002.

"I never saw [Foley] do anything wrong," Coelho said. "He's always been respectable. I think a lot of this has been a surprise to a lot of people."

Contact Elizabeth Hamilton at ehamilton@courant.com.