Chronology of abuse suits involving Portland archdiocese

The Oregonian
April 13, 2007

http://blog.oregonlive.com/breakingnews/2007/04/chronology_of_portland_archdio.html

Here is a chronology of major events in the abuse cases involving the Archdiocese of Portland:
1938: Earliest known date of alleged priest abuse in Archdiocese of Portland.
1983: The Rev. Thomas Laughlin convicted of two misdemeanor counts of abusing altar boys at All Saints Church in Northeast Portland.
1999: A lawsuit accusing the Rev. Maurice Grammond of sex abuse begins an avalanche of sex-abuse litigation against the archdiocese.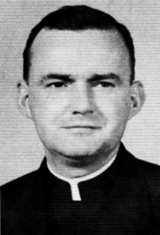 Thomas Laughlin
February 2004: Archbishop John Vlazny announces that the archdiocese and its insurers had paid $53 million in settlements, a figure at the time that was second only to amount spent by the Archdiocese of Boston.
July 2004: The Archdiocese of Portland seeks bankruptcy protection rather than go to trial in a case seeking $125 million in punitive damages.
December 2005: Bankruptcy judge rules in 10 test cases that parish and school property could be sold to pay off priest accusers.
August 2006: Mediation of all cases begins
December 2006: Mediators announce that the parties have reached a tentative $75 million settlement plan that pays priest accusers and protects parishes and schools.
April 2007: Bankruptcy judge approves plan