Priest Gets 30-Day Jail Term for Fondling Teen

By Sam Hemingway
Burlington Free Press
May 1, 2007

http://www.burlingtonfreepress.com/apps/pbcs.dll/article?AID=/20070501/NEWS01/705010313/1009/NEWS05

St. Albans — A Lyndonville priest was sentenced to 30 days in jail Monday for inappropriately touching an 18-year-old parishioner in early 2005 after a night of drinking at a restaurant and pool hall in Quebec.

The Rev. Stephen Nichols, 47, pleaded guilty to a misdemeanor count of engaging in a lewd act and agreed to undergo sex-offender counseling as part of a plea deal worked out between his lawyer and the state Attorney General's Office, which prosecuted the case.

"I have had the unfortunate duty to preside over several prosecutions of teachers on abuse charges and I imposed punishment where there was a betrayal of trust," Judge Ben Joseph said before issuing his sentence. "A priest is in a similar position of trust."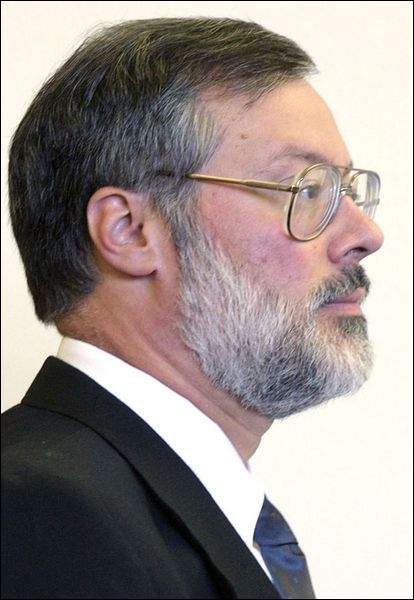 The Rev. Stephen Nichols
File photo


Nichols, in response to a question from Joseph, told the judge he preferred to be called Stephen Nichols than Father Nichols. He made no statement to the court but answered "Yes, your honor," when asked by Joseph if he was guilty of the lewd acts charge.

The alleged victim in the case did not attend the hearing. In a statement read in the courtroom by Amy Farr, a victim's advocate, he said the incident and the resulting investigation had "tainted the last two years with stress and uncertainty." The Burlington Free Press does not publish the names of alleged victims of sex crimes without their permission.

Bishop Salvatore Matano, head of the state's Roman Catholic diocese, attended Monday's hearing. He said afterward that Nichols' actions had harmed the church and the community as well as the victim.

"It is a grave, grave tragedy that we have to endure," Matano said somberly as he stood outside the courtroom. "I am sure for Father Nichols that this is a devastating moment." He said Nichols is on a paid leave from his priestly duties but declined to say what Nichols' future status with the church will be.

About 40 supporters of Nichols, most of them parishioners of St. Elizabeth Church in Lyndonville, were also in the courtroom to watch the proceedings, some wearing large white-and-black buttons that read "I believe in Father Steve."

"I'd say the scales of justice went the other way today," said Ken Hayes of Lyndonville, one of the button-wearing parishioners. "I know Father Steve is innocent. He was forced into making a plea bargain."

Hayes said he would be comfortable having Nichols back in the pulpit at St. Elizabeth Church once he is released from jail. Hayes was also critical of how the diocese had handled the case.

"I feel the diocese didn't support him well enough," Hayes said. "It was a accusation with no proof, one word against the other."

According to a police affidavit, Nichols first befriended the alleged victim in 2003 at the Caledonia County Fair. The teen told Nichols he was interested in converting to Catholicism and the two became friends.

In February and April of 2005, Nichols took the teen to Canada for dinner and drinks, the affidavit said. During the second trip, the teen became inebriated and vomited twice. Later that night, the two ended up at a home in Richford that Nichols co-owns with another priest.

Nichols twice fondled the teen during the hours that followed and offered to perform a sex act upon him but was rebuffed by the alleged victim, according to the affidavit.

The investigation into the incident did not begin until August 2005 and was triggered by an anonymous call to the diocese, which hired a private investigator to determine whether the caller's claims were true.

Four months later, the diocese alerted police to the allegations about Nichols after he provided information to the diocese that caused it to conclude that he had been "less than forthright" about his behavior with the teen.

Nichols was arraigned on a felony lewd and lascivious charge on Sept 12, 2006, and released on his own recognizance after pleading not guilty.

Cindy Maguire, chief of the Attorney General's criminal division, said Monday that the state went along with the plea bargain because the alleged victim was reluctant to go through a trial.

In his statement read to the court, the alleged victim made mention of the impact of the investigation on him. "I was embarrassed by investigators contacting many of my friends and family, people who were not involved and not aware of the incident," he wrote.

Maguire said she believed the teen was referring to the diocese's and Nichols' investigators, not the state's. She said Joseph rejected a plea deal last week that would have allowed Nichols to avoid having to serve time in jail.

"He was adamant that there had to be jail time and there had to be a guilty plea," Maguire said of Joseph.

Joseph is the presiding judge in 25 pending civil cases in Chittenden Superior Court involving claims that priests molested altar boys years ago.

Contact Sam Hemingway at 660-1850 or e-mail at shemingway@bfp.burlingtonfreepress.com