Alleged Victim: 'I'm Crying Inside'

By Dave Wedge
Boston Herald [Worcester MA]
May 3, 2007

http://news.bostonherald.com/localRegional/view.bg?articleid=198222

Like many victims in the priest sex-abuse scandal, Mike Chesnis has been suicidal, battled depression and struggled to overcome the intense trauma of having his innocence stolen allegedly at the hands of a man of the church.

"Wearing a priest uniform is automatic authority - automatic trust," said Chesnis, speaking publicly for the first time about his alleged molestation by retired priest John Szantyr. "I feel very betrayed. Part of me hasn't grown up yet. I'm crying inside."

Chesnis said he lived silently with shame and humiliation for years, the seeds of which were planted in the rectory of Our Lady of Czestochowa in Worcester in 1986 and 1987, which is when, he alleges, Szantyr courted him with kindness and molested him.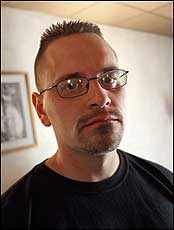 Mike Chesnis says he has lived silently with the shame and humiliation of being sexually abused by a priest whom he trusted.
Photo by John Wilcox


"This man altered my life," Chesnis said. "I felt shame. I was suicidal."

Chesnis, 33, served in the military but was discharged because of mental health issues. He's also been on disability and lived in homeless shelters. These days, he has returned to his faith and serves as a live-in church caretaker.

"I consider it a miracle that I've come back to faith," he said. "I thank God that I'm still alive."

After sex-assault charges were filed against Szantyr in 2003, several other alleged victims came forward, including Michael Hodgkins, who alleges Szantyr molested him in 1967, when he was 13.

Although Hodgkins, 54, gave prosecutors a deposition, no charges were filed because the statute of limitations had run out.

Asked why he waited so many years to file a complaint, Hodgkins said: "He was a very charismatic man. I was scared to death. Who was going to believe me? This was the ultimate holy man."

Contact: dwedge@bostonherald.com