P.I. on Ex-Priest's Case: Wheelchair 'Absolute Farce,' Accuser Says

By Dave Wedge
Boston Herald [Worcester MA]
May 3, 2007

http://news.bostonherald.com/localRegional/view.bg?articleid=198249&forma

Fed up with four years of delays in the case of an accused pedophile priest who claims he's ill and not competent to face trial, one of the alleged victims hired a gumshoe who nabbed the supposedly debilitated holy man walking and driving on his own.

The sex-assault case against retired Worcester priest John Szantyr has been continued multiple times since 2003 - most recently last Friday - amid ongoing questions over his physical condition and mental competency.

A doctor's report from 2005 said the 76-year-old Szantyr, who has reportedly appeared in court in a wheelchair, couldn't stand trial "due to his deteriorating physical condition and his emotional and mental condition" and because he suffers from "rapidly advancing Parkinson's disease and strokes," records show.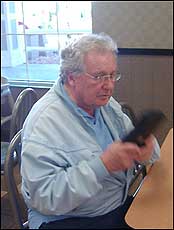 Alleged sex-abuse victim Michael Hodgkins shot this photo of accused ex-priest John Szantyr at a rest stop.


But a private investigator hired by Michael Hodgkins, one of Szantyr's alleged victims, spotted the priest twice last week walking without any help, driving on his own to and from church and smoking and yakking on a cell phone, a report obtained by the Herald shows.

"I really want to resolve this (case) while he's still alive," said another alleged victim, Mike Chesnis, who claims he was molested by Szantyr as a boy in Worcester in the mid-1980s. "I feel he needs to be exposed for who he really is."

Szantyr's lawyer, Ed Ryan, who is seeking to have the charges dismissed based on the doctor's findings, downplayed the controversy.

"The case ought to have been dismissed long ago," Ryan said. "He's incompetent to stand trial and whether or not he needs a wheelchair is irrelevant."

Reached at his Connecticut home last night, Szantyr said, "I'm sorry, I'm not going to give you any information."

A Worcester District Court judge last Friday ordered a new competency evaluation and the case was continued to Aug. 20.

"There's nothing we can do now other than get another expert to give an opinion on his competency," said Tim Connolly, spokesman for Worcester District Attorney Joseph Early. He added that the number of continuances is "a concern."

Attorney Wendy Murphy, an advocate for the victims, said of the dispute, "The system has to find a way so that the truth is known about this man's condition."

The controversy came to a head Sept. 12, 2006, when Szantyr reportedly appeared in court in a wheelchair and a doctor testified that he suffered from Parkinson's and a neurological disorder. After the hearing, Hodgkins spotted Szantyr walking at a rest area.

"I just thought it was an absolute farce. He sat in his wheelchair in the courtroom with his head slumped forward," Hodgkins recalled. "They said his brother and his sister had to feed him and dress him and he had trouble getting around the house. I was so disgusted."

Hodgkins, who claims Szantyr molested him in 1967, snapped pictures of him at the rest stop and was so infuriated that he hired a Connecticut private eye to trail the retired priest.

Chesnis, 33, said hopes the explosive report will help him attain justice.

"I'm ready to deal with this. I'm ready to go to trial," he said. "This man refuses to acknowledge what he's done."

Contact: dwedge@bostonherald.com