Reilly's Inaction Drives the 'Faithful' to Call for Change
Priest's Confession Pushes Lay Activists to Voice Outrage

By Joe Wojtas
The Day
May 13, 2007

http://www.theday.com/re.aspx?re=e6c3e8ba-d54c-4a0f-8ff3-d2a2fd76fe9d

East Lyme — Up until July 20, 1998, Holly and Jay Carbonneau believed their close friend, the Rev. Richard Buongirno, when he told them he had not molested a boy from their church.

But that was the night Buongirno, in the midst of what Holly Carbonneau described as a nervous breakdown, confessed that he had indeed molested the boy when he was 9 and again as a high school student.

That confession, delivered in their home, led the Carbonneaus to develop a close friendship with the victim and to join the local chapter of Voice of the Faithful, the national organization founded by Catholic lay people upset about the church's response to the priest-abuse crisis. Its goals are to support those molested by priests, support priests who live by their vows and promote structural change in the church. The organization says it does not promote reforms such as allowing priests to marry and ordaining women.

Today, as leaders of the local chapter, the Carbonneaus are vocal critics of the steps taken by the Diocese of Norwich to protect children, calling it window dressing that many churches in the diocese have refused to implement.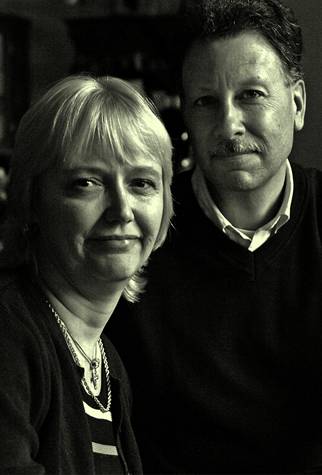 Leaders of the local chapter of Voice of the Faithful, Holly and Jay Carbonneau of East Lyme
Photo by Dana Jensen


"The church's response to these problems has always been very corporate," Jay Carbonneau said. "Circle the wagons, call the attorneys and spin. I want something more than IBM from my church. I always wonder if any of these bishops ever ask themselves what Jesus would do."

Holly Carbonneau, who was working as a wedding photographer, got to know Buongirno in the early 1990s when he was assigned to St. Matthias Church in East Lyme. She and her husband became good friends with the priest, who she said was always friendly and quick with a joke. She became a Catholic while Buongirno was assigned to the church.

The Carbonneaus said Buongirno was a frequent guest at their home for Sunday dinners and that their children, especially their youngest son, became enamored with the priest. They said they now believe Buongirno was grooming their son to be his next victim.

It was also at St. Matthias that Buongirno was accused of repeatedly molesting the 9-year-old boy, known only in court documents as John Doe, in the priest's bedroom at the rectory. Court records show that Buongirno first met the boy when he was a 7-year-old altar boy at a church in Portland and became close friends with the boy's family at a time when the boy's father was ill.

The boy's mother filed a complaint against Buongirno with the state Department of Children and Families in 1991, and the Rev. Daniel P. Reilly, the bishop of Norwich, was notified. Diocesan attorney Joseph T. Sweeney said the complaint was never substantiated by the DCF. Court records show that Reilly told another church official the complaint was a "false alarm," and the diocese did not investigate further.

In 2003, Buongirno and the diocese each paid $350,000 to the boy to settle the lawsuit he brought against them.

Court records also show that in March 1994, a man who had learned Buongirno had become a priest contacted the diocese to say that when he was between 16 and 18, Buongirno had sexually abused him. That alleged abuse occurred before Buongirno was ordained in 1984 at age 40. The man told Monsignor Thomas R. Bride, the diocese's vicar general, that he feared Buongirno would hurt other young boys. Bride assured him that the diocese would never allow Buongirno to be involved with children again, according to court records.

The Carbonneaus said Buongirno told them that he and Reilly then met with the man and that during that meeting, Buongirno gave the man a check for $40,000.

Buongirno, who now lives in Wallingford, did not return phone messages.

Reilly sent Buongirno to the Institute of Living in Hartford, a mental-health center where the diocese has sent sexually abusive priests for treatment. Buongirno told the Carbonneaus he was going there because he was burned out.

Court records show the diocese never told the Institute about the DCF investigation involving the 9-year-old. After Buongirno completed several months of treatment, Reilly assigned Buongirno to churches in Cromwell and Middletown, where the pastors were not told about the accusations against Buongirno but said later they often saw Buongirno bring young boys into his room.

"This is what gets Voice of the Faithful so furious," Jay Carbonneau said. "You have the classic case of Reilly knowing and nothing was done."

Diocesan officials have said the Institute for Living told them Buongirno was not a threat.

•••••

At Xavier High School in Middletown in 1997, Buongirno would meet up again with the boy he had allegedly abused years earlier in East Lyme. According to court documents, he began buying him gifts and helping him select a college. The boy said Buongirno then began molesting him in the rectory, in Buongirno's parents' home and in his car. Buongirno told the teen their relationship was "blessed by God."

In 1998, the Rev. Daniel Hart, who succeeded Reilly as bishop in 1995, ordered Buongirno back to Connecticut from South Dakota after he discovered the priest was in the midst of taking the boy on a cross-country trip as a graduation present. Hart removed Buongirno from his ministry and reported the incident to police. Buongirno was arrested in 1999 and charged with sexually assaulting the boy in East Lyme and Middletown. The New London State's Attorney's Office later determined it could not prosecute the case because the statute of limitations to bring charges had expired.

When Buongirno returned, he went to stay with the Carbonneaus for a few days. They said Buongirno painted the victim as a troubled youth who was a liar.

Then, on July 20, 1998, Buongirno began acting very strangely, alternately yelling at the Carbonneaus' three children and breaking down in tears.

"He had the equivalent of what I would call a nervous breakdown," Holly Carbonneau said. "He confessed to me that he had molested this kid. I can't begin to tell you the shock."

"Up until then we thought the victim was lying, making it all up," Jay Carbonneau said.

At that point, the Carbonneaus feared Buongirno may have been molesting their 9-year-old son. Their son, however, told them that Buongirno had never touched him inappropriately.

Holly sent an e-mail to the parents of the youth Buongirno had admitted molesting. The Carbonneaus said they felt used by Buongirno. They said they then befriended the alleged victim and supported him throughout the lawsuit, the settlement and his therapy. They also sent the alleged victim to a lawyer they knew who referred him to New London attorney Robert I. Reardon Jr., who handled his case.

Today, the victim lives in Colorado, according to the Carbonneaus.

"Does he still struggle? Yes, he still has nightmares," Holly said. "You just ache for a kid like that. I don't know if he'll ever find an inner peace."

•••••

In 2002, the Carbonneaus began attending local meetings of Voice of the Faithful, which has focused on protecting children from sexual abuse by priests.

Jay Carbonneau said the current bishop of Norwich, the Most Rev. Michael Cote, has met with the group just once since then and has not responded to requests to meet again. Cote has banned the group from meeting in any churches in the diocese.

In 2002, in response to the priest-abuse crisis, U.S. bishops drafted a document to protect children called the Safe Environment Programs. It established an office to help dioceses create an education and training program for children, parents, clergy and educators, to ensure the safety of children as they participate in church activities. The training program involves the prevention, identification, response and reporting of sexual abuse. The program also implemented background checks for those who have regular contact with children in the church.

Carbonneau said he would like to talk to Cote about his group's contention that the diocese has not enacted the Safe Environment Programs. He said a survey of 10 parishes in the diocese found that just one was following the procedure for handling complaints.

"We don't think there's any commitment to this program," he said. "With the right leadership and priority it would get done."

Diocesan spokesman Michael Strammiello said that external audits completed in 2003 and 2005 showed the diocese was in full compliance with its Safe Environment policies. The diocese is awaiting the 2007 report.

He said Cote met with Voice of the Faithful in 2003 and appointed several representatives to attend some of the group's meetings. He said the diocese has made it clear that church pastors and the bishop's delegate for the Safe Environment Programs are available to discuss the program with the group and with all parishioners.

Strammiello said Voice of the Faithful is not allowed on church property because it is not sanctioned by the diocese.

"The Diocese does not recognize the Voice of the Faithful organization as part of its existing and very active structure for lay participation in the Church," he said in an e-mail response to a reporter's question. He would not say why the group is not sanctioned.

In a letter to Catholics in the diocese in February, Cote said that while the allegations of priest abuse and settlements have received considerable publicity, the great amount of time, energy and resources spent in recent years to ensure safe environments in eastern Connecticut are seldom mentioned.

He said child advocates are now in place in almost every parish and school in the diocese.

Cote said a comprehensive screening policy for those who work and volunteer in the diocese has been implemented and that a code of conduct for appropriate behavior and how to address instances of inappropriate behavior has been established.

He said the task of all those involved in the effort, from pastors to parishioners, has been enormous "and their accomplishments are substantial."

Jay Carbonneau said he is convinced the church's leadership will have to change before the church's approach to its problems changes.

"This generation of leaders is like-minded — very conservative and afraid of new ideas," he said. "They have a different view than the people in the pews. We want to be part of the church. We shouldn't have anything to fear from discussing ideas ...."

Contact: j.wojtas@theday.com