Jury Rules Priest Sexually Abused 2 Boys
Jury Clears Michael Sprauer of a Third Accusation

By Alan Gustafson
Statesman Journal
May 17, 2007

http://www.statesmanjournal.com/apps/pbcs.dll/article?AID=/20070517/NEWS/705170339

Portland — A jury concluded Wednesday that the Rev. Michael Sprauer of Salem sexually abused two teenage inmates at the MacLaren Youth Correctional Facility in the 1970s.

In a landmark civil trial verdict, the Multnomah County jury awarded $695,000 to Robert Paul Jr., 49, of Salem, and $690,000 to Randy Sloan, 49, of Aumsville, for past suffering, future counseling and punitive damages against the priest.

The jury cleared Sprauer of sexually abusing a third former MacLaren inmate — Norman Klettke Jr., 44, of Portland.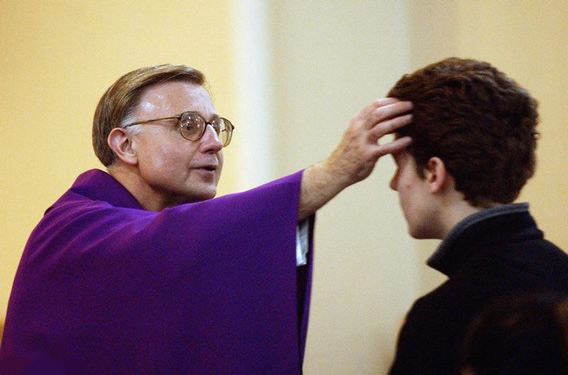 Sprauer



Paul bowed his head and cried as the verdict was read in a Portland courtroom.

"I proved that he was a child molester. I proved that I was not lying," Paul said later.

"The truth came out, and that's what I wanted."

Sloan said he felt vindicated and relieved by the verdict in the first sex-abuse lawsuit against a Catholic priest to go to trial in Oregon.

"I feel like I've been wrung through a wringer," he said.

Sloan called Sprauer a coward for skipping the verdict, announced late Wednesday afternoon.

"He's never going to say he's sorry," Sloan said. "He can't even face us."

Sprauer's attorney, Thomas Cooney Sr., did not explain why Sprauer was not in court when the verdict was read.



What's next

A glitch in jury paperwork prompted Multnomah County Circuit Court Judge Marshall Amiton to put off until today his acceptance of the jury's verdict in the sexual abuse trial of the Rev. Michael Sprauer. The judge called for the jury to reconvene at 9 a.m. today.



Capping a two-week trial, 10 of the 12 jurors found that Sprauer sexually abused Sloan and Paul. The panel concluded that the priest abused each plaintiff three times.

During trial testimony, Paul said that Sprauer molested him in the chaplain's office at the state-run juvenile corrections facility in Woodburn. He told the jury that he tried to report the abuse to a MacLaren staff member but was met with disbelief and hostility.

According to Sloan, Sprauer twice molested him during visits to his detention cell. He said the chaplain became incensed when Sloan refused to give him oral sex.

Several months later, Sloan said, Sprauer sexually abused him again while taking him to his sister's funeral. On the way to Aumsville, he said, Sprauer pulled off to the side of the road and forced him to provide oral sex.

The jury, in siding with Paul and Sloan, rejected Sprauer's witness-stand denials of the sexual abuse accusations leveled against him by the two men.

However, the jury exonerated Sprauer of the sex abuse charges made by Klettke.

Paul, Sloan and Klettke are the first of 15 former MacLaren inmates to bring to trial their accusations against Sprauer, a well-respected priest currently assigned to St. Joseph Parish in Salem. Six more lawsuits are pending against Sprauer in Marion County.

Daniel Gatti, a Salem attorney representing Sprauer's accusers, said he was gratified by the verdict.

"The jury, finally, will give my clients some justice, and, hopefully, some closure," he said.

The verdict, delivered during the second day of jury deliberations, holds Sprauer and the state financially liable for damages.

The state, which employed Sprauer as chaplain at MacLaren in the 1970s, was negligent in failing to protect Paul and Sloan from the abusive priest, according to the jury.

The monetary damages awarded Paul and Sloan included $100,000 in punitive damages. Sprauer is solely liable for such damages.

Gatti said it was the first time in his 35 years as a lawyer that any of his clients had been awarded punitive damages.

"I'm very proud of this jury, and very proud of my clients," he said.

Contact: agustafs@StatesmanJournal.com or (503) 399-6709