Salesianum Sex Abuse Case Will Proceed
State Supreme Court Rejects Appeal by Former Principal

By Beth Miller
News Journal [Delaware]
May 25, 2007

http://www.delawareonline.com/apps/pbcs.dll/article?AID=/20070525/NEWS/705250368/1006/NEWS

The Delaware Supreme Court on Thursday refused to hear an appeal that might have stopped a civil jury trial against the former principal of Salesianum School.

The appeal was filed on behalf of the Rev. James W. O'Neill, the school and the Catholic Diocese of Wilmington, all of whom have been sued by a Wilmington man who alleges O'Neill sexually abused him while he was a student at Salesianum.

Eric Eden, formerly Eric Mazzetti, filed the suit in 2004, alleging abuse he said occurred during the 1980s. The state's two-year civil statute of limitations would have barred such a suit, but Eden's attorneys, Thomas and Stephen Neuberger, successfully argued that his case should be heard because he had repressed memories of the abuse and therefore could not have met the requirements of the statute.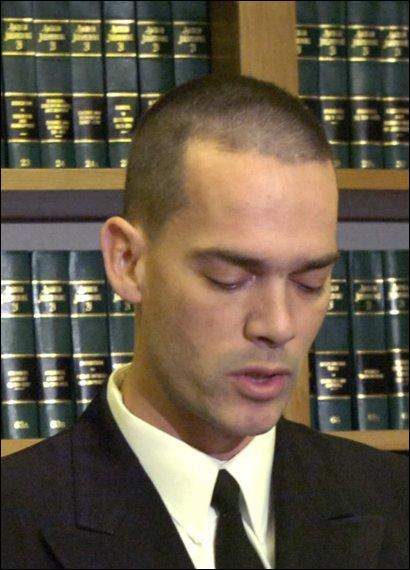 Eric Eden says a priest at Salesianum molested him 900 times.



Eden says his memory was triggered in 2002, when accounts of child sexual abuse by priests and subsequent cover-ups became a national scandal.

The repressed-memory issue was complicated by Eden's claim that he told his parents about some of the abuse in 1985. He alleges that his parents confronted church and school officials and that the Oblates of St. Francis de Sales, who run Salesianum, made an agreement that O'Neill would be removed from youth-related ministry, sent for treatment and have no further contact with the Mazzettis. In exchange, they would not report the allegations. They later learned that O'Neill worked in a Philadelphia-area school and pastored a church in North Carolina.

After pretrial testimony by a psychiatrist who said Eden suffered from traumatic amnesia, Superior Court Judge Calvin L. Scott Jr. ruled in December that the abuse Eden reported to his parents in 1985 was barred by the statute of limitations, but that more than 900 other incidents alleged between 1976 and 1985 were not barred. The facts about those allegations had yet to be determined, Scott said, and he ordered the case to proceed.

Defense attorneys asked Scott to reconsider his decision and, after he denied the request, they appealed to the Supreme Court, which Thursday refused to hear the appeal.

Eden's attorney Thomas Neuberger saw the decision as pivotal.

"As Judge Scott has ruled, the precedent is now firmly set for any victim of traumatic amnesia. If such amnesia can be proven, such amnesia stops the statute of limitations and allows the victim to go to court against the perpetrators of childhood rape and their enablers," he said.

O'Neill's attorney, Francis Trzuskowski, said he was not surprised by the ruling.

"It's a discretionary matter," he said. But the case still may not reach trial, he said, if the judge dismisses the case after the fact-finding period known as "discovery."

Mark Reardon, who represents Salesianum and the Oblates of St. Francis de Sales — the order to which O'Neill belongs — also thinks the court will dismiss the case at the end of discovery. Reardon said no evidence of abuse has been produced.

"The plaintiff claims he waited 17 years to come forward because of repressed memory or traumatic amnesia," Reardon said. "For somebody who says he was molested 900 times until the age of 17, that sounds like a reach. We think the court will agree that that is junk science."

Stephen Neuberger disagreed.

"This is the last thing standing between them and getting out of a trial," he said. "This was their last hope."

Scott has set July deadlines for depositions in the case to be completed and has set a trial date for October 2008.

Contact Beth Miller at 324-2784 or bmiller@delawareonline.com.