Court Overturns Ex-Priest's Sex-Abuse Conviction
Justices Decide Judge Made Errors

By Peter Smith
The Courier-Journal [Kentucky]
May 25, 2007

http://www.courier-journal.com/apps/pbcs.dll/article?AID=/20070525/ZONE10/705250417

He was ousted from the priesthood and sentenced to 10 years in prison after a Bullitt County jury decided he sexually abused two young boys.

Now, after serving nearly four years in prison, Daniel C. Clark must get a new trial or be set free, the Kentucky Supreme Court ruled yesterday.

In a 5-2 decision, the court overturned Clark's conviction on two counts of first-degree sexual abuse of two Bullitt County boys whose family he had befriended.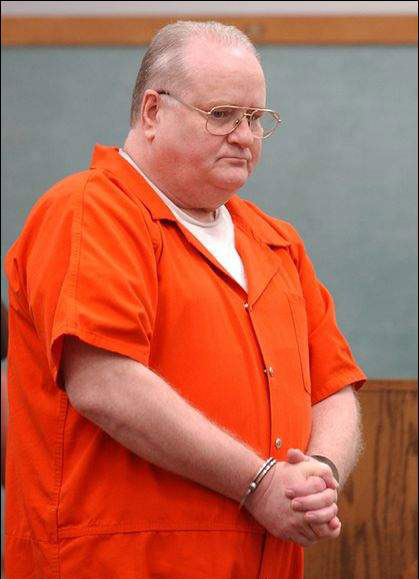 A Bullitt County prosecutor said he'll review whether to have a retrial for Daniel C. Clark, left.



The justices decided that Bullitt Circuit Judge Thomas Waller had erred by giving improper instructions to the jury and allowing a man victimized by Clark more than a decade earlier to testify at Clark's trial.

The prosecutor who gained Clark's conviction said he'll review whether to try the case again.

"I'm going to have to meet with some folks on this, the victims' family, to see where we're going to go from here," said Bullitt County Commonwealth's Attorney Mike Mann.

At Clark's trial in 2003, the two boys testified that between 1999 and May 2002 Clark repeatedly fondled their genitals.

Kentucky law considers such action first-degree sexual abuse — a felony — for victims younger than 12. But for juveniles 12 and older, it is second-degree sexual abuse, a misdemeanor.

The justices said Waller's instructions to the jurors were "seriously flawed" because he did not give them the option of considering a charge of second-degree sexual abuse involving the older boy.

The justices said the abuse could have occurred after the older boy turned 12 in November 2001.

The prosecution's "inexplicable failure" to clarify the time frame in the indictment "led to a situation in which the victim was unable to testify conclusively about when the abuse occurred, leaving the jury to speculate as to (when) the abuse ... happened," according to the majority opinion, written by Justice John D. Minton Jr.

The court also said Waller erred in allowing a previous victim of Clark, whose case led to a 1988 conviction of the priest, to testify in the 2003 trial. In 1988, Clark pleaded guilty to first-degree sexual abuse and second-degree sodomy and was sentenced to three months in jail and five years' probation.

He continued to minister with some restrictions until 2002, when Roman Catholic bishops tightened rules to bar abusers from all ministry.

The earlier victim's testimony was "prejudicial" because it didn't show a similar pattern of criminal behavior, the majority ruled.

The court said Clark molested the earlier victim in his capacity as a priest, whereas he was a family friend of the two Bullitt County boys.

But Justice Will T. Scott, in his dissent, said Clark's methods were similar in each case, even if he wasn't using his position as a priest to befriend the Bullitt County boys.

"Although his title may have been different, his position of power and influence in relation to each victim remained the same," Scott wrote. "As both a priest and a family friend, (Clark) placed himself in a position where young boys looked up to him, trusted him, and sought his counsel and advice. This … should not be discounted simply because the wolf changed its clothing."

The court unanimously agreed on one point — that it had no choice but to dismiss Clark's contention that the trial judge improperly prevented the jury from seeing a videotape of the alleged victims being interviewed by a social worker because the tape no longer exists.

Clark's lawyer, David Lambertus, had wanted to introduce the tape to show the boys contradicting their later testimony.

"We have tried diligently to find the tapes so that we could view them but have been unable to do so," the court said.

Lambertus declined to comment and would not indicate whether he would seek to have Clark released until a new trial can be held.

Clark is imprisoned at the Kentucky State Reformatory in La Grange.

Brian Reynolds, chancellor and chief administrative officer for the Archdiocese of Louisville, declined to comment on the court's decision.

But he said he didn't expect the Vatican to reconsider its decision to oust Clark from the priesthood because Clark admitted guilt in his 1988 trial.

Clark was accused in 19 lawsuits against the archdiocese, including one filed on behalf of the Bullitt County boys. The archdiocese eventually settled all the cases.

Vince Grenough of the group Voice of the Faithful, which advocates for victims of sexual abuse by priests, said he hopes Mann prosecutes the case again and the court's decision draws attention to the group's push for legislation to make all types of sexual abuse of children a felony.

Felonies have no statute of limitations in Kentucky, whereas misdemeanors can be prosecuted only within 12 months of their occurrence.

Another advocacy group, the Survivors Network of those Abused by Priests, issued a statement saying, "Our hearts ache for these brave victims who did everything society asks crime victims to do."

Of the five current or former priests in the archdiocese who were convicted, Clark is the only one so far to appeal to the state's highest court.

Louis A. Miller is serving a 30-year prison sentence after pleading guilty and has since been ousted from the priesthood; the ailing Rev. Vincent Scherzer is under a five-year term of house arrest; and the Rev. James Hargadon died in 2005, a year into an eight-year sentence.

Bruce Ewing, a former priest in the archdiocese who left the ministry years ago, was sentenced to five years' probation earlier this month after being convicted on a charge of third-degree rape in Jefferson Circuit Court.

Reporter Peter Smith can be reached at (502) 582-4469 or psmith@courier-journal.com