Sex Abuse Victim: 'Nothing Has Changed'
Priest Scandal | Church Urged to Fix Problems As It Settles 14 Cases

By Susan Hogan/Albach
Chicago Sun-Times
May 30, 2007

http://www.suntimes.com/news/406202,CST-NWS-priests30.article

As the Archdiocese of Chicago opens its wallet to pay millions of dollars more in sexual abuse claims, a priest's rape victim lamented, "Nothing has changed."

Keith Laarveld, 33, of Hoffman Estates, urged officials to solve the problem of predatory priests. He said he fights off suicidal thoughts nearly every day as a result of being raped by a priest.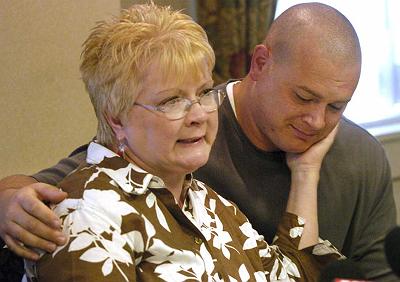 Keith Laarveld, 33, of Hoffman Estates is joined by his mom, Kathy, as he talks about being abused as a child by a Catholic priest.
Photo by Rich Hein/Sun-Times


He's one of 14 people involved in a $6.65 million settlement announced Tuesday naming a dozen archdiocesan priests. The first incident of abuse happened in 1962, and the latest in 1990. It's part of an overall $51.8 million in abuse settlements involving 214 claims.

"We're not just talking about the archdiocese's egregious actions in the past, but what's happening now," said attorney Jeff Anderson of St. Paul, Minn., who with Marc Pearlman of Chicago represented all of those in the settlement.

They're offering to work pro bono for any victim of a Chicago priest. And they're suing to force the archdiocese to disclose the names of all predatory priests.

The archdiocese says priests credibly accused of molesting children are listed on its Web site.

Not listed is the Rev. Daniel McCormack, who is now facing criminal charges involving the abuse of several boys in Chicago parishes.

Four priests involved in Tuesday's settlement resigned from ministry: Joseph P. Kissane, Robert E. Mayer, Joseph Fitzharris and Vincent McCaffrey. Three were laicized, or defrocked: Peter McNamara, Leonard Kmak and William J. O'Brien.

Kmak has since died as have Robert Charles Becker and Ken Ruge. Robert D. Craig, Walter E. Huppenbauer and Norbert J. Maday are no longer in ministry.

'People have to speak up'

Laarveld said he was molested from ages 8 to 12 by Vincent McCaffrey, who testified to hundreds of sex crimes involving dozens of kids, before being sent to prison.

With his attorneys and 58-year-old mother by his side, Laarveld spoke at the news conference to announce the settlements.

He talked for just over one minute before being overcome with emotion.

"The archdiocese won't change its ways if we don't make it change," he said afterward. "By no means is this over. People have to speak up."