Tuchman: Retired Priest Questioned about 1960 Murder

By Gary Tuchman
CNN
May 30, 2007

http://www.cnn.com/2007/LAW/05/29/tuchman.btsc/

Editor's note: In our Behind the Scenes series, CNN correspondents share their experiences covering the news and analyze the stories behind events.

Phoenix, Arizona (CNN) -- It's fair to say John Feit was surprised to see us.

We met the 74-year-old retired priest in a grocery store parking lot in Phoenix. We had some questions, and he isn't the kind of person to grant interviews, at least not on the topic we wanted to talk about: Murder.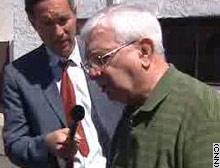 CNN's Gary Tuchman questions retired priest John Feit in a Phoenix, Arizona, parking lot.


Specifically, we were interested in asking him about the slaying of Irene Garza, a crime that a Texas police department is convinced Feit committed. But Feit has not been charged, and he may never be.

In that Phoenix parking lot, I asked Feit if he murdered Garza.

"Interesting question," Feit replied. "Answer is no."

On the day before Easter 1960, Garza, a 25-year-old schoolteacher and former Miss All South Texas Sweetheart, went to a church in McAllen, Texas, for confession. Garza, the first Hispanic drum majorette at McAllen High School and the first college graduate in her family, was a devout Catholic. The priest who received her confession was Father John Feit.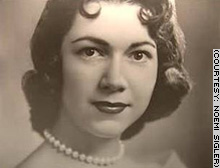 Irene Garza disappeared in 1960 after going to Feit for confession; her body was found in a canal.


Garza was not seen by her friends or family after leaving for the church. It was a major story in Texas when it happened. People were worried and scared. Then it got worse. Garza's body was found in a canal.

Her death certificate stated she was raped, beaten on the head, and suffocated. The main suspect in her death back then was the same person police say is the main suspect today: Feit.

I asked Officer Juan Trevino of the McAllen police cold case squad if there's any doubt in his mind that Feit committed this killing. "No," he said.

Trevino said a lot of evidence points to Feit.

When Garza's body was recovered, a 1950s vintage Kodak slide viewer was found near her body. Receipts showed the slide viewer was bought by Feit. The priest agreed to take lie detector tests. He failed them.

Interest in Feit intensified when police discovered that a few weeks before the slaying, Feit had been accused of attacking a woman in a church in a nearby city. The 20-year-old victim said she was leaning on the communion rail in the empty church when she was assaulted by Feit. He was arrested and charged but a mistrial was declared in that case. Feit did not go through a second trial. He pleaded no contest and was fined $500; he was given no prison time.

While waiting for resolution in the Garza case, Feit was sent to a monastery in Missouri where he got to know a monk named Dale Tachney. After 40 years of silence on the Garza case, Tachney, no longer a monk, made a startling statement in 2002.

"I was part of the cover-up for all these years," Tachney said.

He said he was told by the head of the Assumption Abbey Monastery in Ava, Missouri, that Feit was a murderer and that it was his job to counsel him. He said that in 1963, Feit acknowledged to him that he suffocated Garza and disposed of her body.

"I asked him one time, 'Why are you here and not in prison?' And he said, 'I was protected by the church authorities ... I believe I was protected by the legal authorities,' " Tachney said.

Tachney said that after about six months of treatment, church authorities believed it was safe for Feit to leave the monastery in Missouri. That was the last time Tachney saw him. Tachney has cooperated with police since disclosing his information.

Also in 2002, a different priest, Father Joseph O'Brien, who used to be close friends with Feit, broke his silence, telling police he believed Feit killed Garza.

Police reopened the murder case after Tachney and O'Brien told their stories.

District Attorney Rene Guerra was initially hesitant to bring the case before a grand jury, but after a public outcry, he called a grand jury in 2003.

His presentation of the case proved controversial. Guerra decided not to ask Tachney or O'Brien to testify. Instead, he played tapes of interviews they did with police. He also did not request that Feit testify. The district attorney said he has not been interested in talking to Feit.

"If I make him a target," Guerra told me, "he's got the right to tell me go to hell."

In 2004, the grand jury decided not to indict Feit. Just over a year later, O'Brien died.

Garza's family is angry at what they regard as a halfhearted prosecution effort. Garza's first cousin, Lynda de la Vina, believes the local Catholic Church has been holding up Feit's prosecution all these years.

"I still believe fundamentally it's because it's a church issue," de la Vina said. The district attorney said the church has nothing to do with how he has handled the case.

Back in that Phoenix parking lot, I ask Feit what he thinks of the former monk's claim that he admitted to Garza's murder.

"I think he's demented," Feit said.

And what about the claims of O'Brien, his old friend?

Feit gave his answer in Latin. When asked for the translation, Feit said, "Look it up." The translation, we later found, is "Only speak good of the dead."

Before we said goodbye to Feit, I ask him one final question: "This family has suffered for almost five decades. Anything you want to say to the family?"

Feit wasn't interested in answering that question. He put his groceries in his car and slammed the trunk in anger. The interview was over.