Priest Accused of Child Porn

By Jordan Carleo-Evangelist
Albany Times Union
May 31, 2007

http://timesunion.com/AspStories/story.asp?storyID=593884&category=REGIONOTHER&BCCode=&newsdate=5/31/2007

Albany -- A 50-year-old Roman Catholic priest from Columbia County has been charged with using a popular file-sharing program to download child pornography, authorities said.

The investigation into the Rev. Raymond Ethier, who had been serving as pastor of St. John Vianney in Philmont, began after Canadian authorities tipped off the federal Department of Homeland Security, authorities said.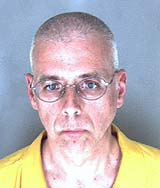 Rev. Raymond Ethier


Ethier was ordered released from Albany County jail on $50,000 bond Wednesday afternoon after answering to charges in federal court that could send him to prison for 5 to 20 years.

Ethier was arrested Tuesday by agents from the Department of Homeland Security, State Police and Hudson police. According to court papers, he admitted to downloading pornographic movies and photos depicting young children.

U.S. Immigration and Customs Enforcement, an arm of Homeland Security, zeroed in on the priest after receiving a tip from Canadian authorities working on an unrelated case, said Assistant U.S. Attorney Thomas Spina Jr.

The tip said that in May 2006 a Canadian individual had chatted online with someone using the handle "nudistdude23" who claimed he was sexually abusing his 12-year-old stepdaughter and 14-year-old stepson, according to court papers.

Fearing children were in danger, Canadian authorities notified ICE -- an agency that often deals with foreign law enforcement, Spina said.

U.S. authorities then traced that online handle through records from Yahoo and Verizon, linking it to an account held by Ethier, according to the felony complaint filed in U.S. District Court.

The conversation itself was not a crime. But on May 10, authorities visited Ethier's home. The priest turned over his computer and spoke to investigators, allegedly admitting he "engaged in sexually explicit conversations with other individuals on the Internet and that these conversations sometimes involved children," according to the complaint.

"However," the complaint continued, "he indicated that these conversations were merely fantasy in nature and that he has never abused a minor."

Investigators combing through the priest's computer recovered videos of boys between the ages of 9 and 16 engaged in sex acts as well as other pornographic images, the complaint said.

Ethier allegedly admitted to using the file-sharing program LimeWire to download the videos, as well as receiving the photos via Yahoo from someone he told investigators he believed was in Europe.

Bishop Howard J. Hubbard put Ethier on administrative leave soon after the Albany Roman Catholic Diocese learned of the priest's arrest, said spokesman Ken Goldfarb.

In a statement, Goldfarb said Ethier will not be able to "function as a priest, perform sacraments or wear clerical garb." Further, the statement said the diocese has never received any complaints against the man.

Ethier will be monitored electronically and is forbidden from using the Internet and from having contact with anyone under 18 years old. U.S. Magistrate Judge Randolph F. Treece also ordered he surrender his passport.

According to the diocese, Ethier was ordained in 1985 and served as pastor of two parishes that were combined in August 2005 -- Sacred Heart in Philmont and Holy Cross in West Taghkanic. Together, those parishes are now known as St. John Vianney in Philmont and had most recently been celebrating Mass in a space provided by a nearby Lutheran church.

Ethier has served at St. Mary's Church in Oneonta, Corpus Christi Church in Ushers and Our Lady of Victory Church in Troy, the diocese said.

"The allegations against Father Ethier are very serious and very troubling," Hubbard said in a statement, pledging the diocese's full cooperation with the criminal probe. "We pray for Father Ethier and for his family, friends and parishioners."

Carleo-Evangelist can be reached at 454-5445 or by e-mail at jcarleo-evangelist@timesunion.com.