Defrocked Priest Accused of Abuse Dies before Trial

By Christopher Haraden
Hull Times
May 31, 2007

http://www.hulltimes.com/default.asp?sourceid=&smenu=1&twindow=&mad=&sdetail=550&wpage=1&skeyword=&sidate=&ccat=&ccatm=&restate=&restatus=&reoption=&retype=&repmin=&repmax=&rebed=&rebath=&subname=&pform=&sc=1907&hn=hulltimes&he=.com

The 82-year-old defrocked priest facing multiple sexual abuse accusations died this weekend at his Hull home, just days before a judge was expected to schedule trial on charges he raped an eight-year-old altar boy in Plymouth in 1991.

Hull police and fire crews were called to the Manomet Ave. home of Anthony J. Laurano at 11:52 a.m. Sunday, after his sister, Gloria, dialed 911 and said her brother was not breathing.

Laurano's funeral was held in East Boston this morning [Thursday], the same day he was scheduled to appear in Brockton Superior Court for another pretrial conference on the rape charges.

Laurano was suspended from the priesthood after he was arrested in April 2005 in the Plymouth case. One year later, he was arrested again when prosecutors charged that he molested a 30-year-old mentally challenged man in Hull between January 2002 and April of 2006.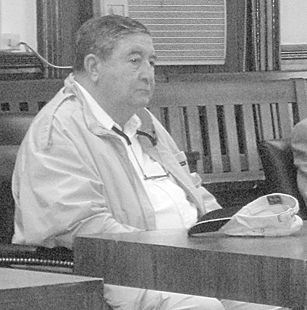 Anthony Laurano in court in 2006



In addition to the charges in Hull and Plymouth, Laurano was among 17 priests named in a sex abuse suit filed against the Archdiocese of Boston in January 2005. He is accused of molesting an 11-year-old boy while assigned to Sacred Heart Parish in Roslindale in 1968.

On March 22, Pope Benedict XVI defrocked Laurano, or removed him from the priesthood, and severed his financial support from the church.

The former priest's accusers said they are disappointed that they never got their day in court.

"We were scheduled for this Thursday, and were hoping for the third and final date to be set for Laurano's trial to start," said the mother of the Plymouth man, now 24, who says the priest abused him one week before his First Communion. "Now, I have to decide whether it is worth it to attend and hear that they have to dismiss these charges as Laurano has died. How sad and unjust this whole nightmare is."

"I'm heartbroken. I've been kind of living of vicariously through [the Plymouth man], because I was not able to take Laurano to court," said the Rev. James Moran, a Massachusetts native who was removed from his job after publicly speaking out about Laurano. The Washington, D.C.-area priest said Laurano raped him in 1970, when Moran was an intern preparing for ordination into the priesthood.

Moran, who works part-time in a Virginia crisis center, said he stays in contact with other of Laurano's alleged victims. Moran has been vocal about his experiences and this week blasted the newspapers that used the titles "Reverend" and "Father" in the defrocked priest's obituary, and that Laurano's family suggested that "remembrances in Father Anthony's name" should be made to Children's Hospital in Boston.

"I am appalled that in his obituary you allow him to be listed as 'Rev.' and that the term 'Fr. Laurano' is to be used in donations to Children's Hospital," Moran wrote to The Boston Globe. "He raped children … you or the undertaker should have known better. It's a disgrace."

Although criminal prosecution of Laurano is no longer possible, three of the former priest's accusers – including the Plymouth man – will continue pursuing a civil lawsuit for damages against the Roman Catholic Archdiocese of Boston and Laurano's estate, Boston attorney Carmen Durso said Wednesday.

Durso said he represents three of Laurano's alleged victims – one who says the priest abused him in the 1950s – and in 2005 settled claims against the archdiocese by two other people who also claim to have been abused by Laurano.

"I can assure you, the last thing people ask me about is how much money are they going to get. The first thing they ask is, 'What can I do about this guy?" Durso said. "The client's number-one objective was to see a criminal conviction."

Anthony Laurano in 1983. [Photo from the film 'Hand of God,' courtesy of Zingerplatz Pictures]

In court papers, the Plymouth man said Laurano heard his first Confession, a Catholic sacrament, then brought him into a side room at St. Mary's Church in Plymouth, where two incidents of rape took place. The man told investigators that he did not return to the church until eight years later, when he attended services at which Laurano was present, and began remembering details of the incident.

In April 2006, while awaiting trial in the Plymouth case, Laurano was arrested on the new charges of abusing the mentally-challenged Hull man, prompting a Brockton judge to increase the priest's bail, which he posted, then returned to Hull.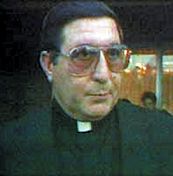 Anthony Laurano in 1983.



In court last year, Assistant District Attorney Christine Kiggen said Laurano is accused of exposing himself to the man and of four counts of indecent assault between 2002 and 2006.

In his 57-year career as a priest, Laurano was never officially assigned to Hull's Catholic parish, but one local parishioner this week said Laurano had officiated at Masses and led a Bible-study group at St. Ann's Church. The motorcycle-riding priest's activity in Hull predated the abuse claims, said the woman, who asked that her name not be published.

Laurano's notoriety has grown in the years since the priest sex-abuse scandal in the Boston archdiocese first came to light. A documentary by Salem filmmaker Joseph Cultrera entitled "The Hand of God" was broadcast earlier this year on PBS. Cultrera's brother, Paul, said he was abused by another priest in Salem.

The film includes footage of Laurano, who in 1983 was the pastor at St. Mary's Italian Church in Salem, and what Cultrera called Laurano's "arrogant" statements about the priesthood:

"The man of God should not be accepted by a community. He should be revered. He should be feared. He should be listened to, you know? No father is ever accepted by the children. I'm a man set apart. I'm somebody different, you know, and when you're different, you got to watch out for them."

Cultrera told the Times that some parishioners in Salem harbored suspicions that Laurano was stealing money from the church and misappropriating bingo receipts. He said some of St. Mary's parishioners believed Laurano bought a Rolex watch and his house in Hull with money he allegedly took from the church. The suspicions were reported to the regional bishop, Cultrera said, but Laurano was never charged with any financial wrongdoing.

Durso said he would meet with his clients soon to determine the next step in the civil case, which likely will wait until the probate court takes action in Laurano's estate.

Ruth Moore of Hull, a member of the Survivors Network for those Abused by Priests, has followed the Laurano case closely, and said she saw the former priest doing his grocery shopping in town as recently as Thursday.

"Our group will continue to expose the evil truth about Laurano, as well as other predators, and stress the role the Archdiocese played in creating this mega monster as well as other serial predators," she said.

Moore, who works to support survivors of clergy abuse, said she is also promoting "legislation that allows victims of sexual abuse to hold predators accountable for their crimes."