Waiting Decades to Break the Silence

By Mark Sauer
The Union-Tribune [San Diego, CA]
June 3, 2007

http://www.signonsandiego.com/news/metro/20070603-9999-1m3victims.html

It took Cheryl Outhier nearly 50 years to come forward with her account of being sexually abused by the late Rev. Franz Robier at Holy Spirit Roman Catholic Church in San Diego.

She is among more than 150 people who have sued the Diocese of San Diego since 2002 for sexual-abuse incidents dating back decades.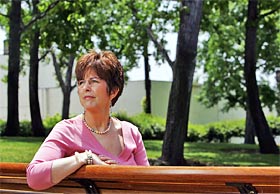 A priest began sexually abusing Cheryl Outhier when she was 8. Outhier is one of more than 150 people who have sued the Diocese of San Diego for incidents dating back decades.
Photo by K.C. Alfred


But psychologists and researchers say most people who were sexually abused as children never reveal what happened, much less file a lawsuit and risk reliving the experience in open court.

Rodrigo Valdivia, chancellor of the San Diego diocese, said: "Victims of sexual abuse, both in the church and in all of society, do not come forward until many years after they have been abused. Professionals tell us this is a common trait."

An 8-year-old in 1955, when the abuse began, Outhier said Robier threatened to harm her and her mother if she ever revealed what he was doing.

"For so many years I did not want anybody to know," said Outhier, now 60. "There was the shame and the guilt. I thought I was his only victim and that nobody would believe a girl against the word of a priest."

Two dozen others were victims of Robier, who died in 1994 and is one of 38 priests whom the diocese listed on its Web site as having "credible" allegations against them. The first scheduled trials were indefinitely suspended when the diocese filed for bankruptcy protection Feb. 27.

The average age of all sexual-abuse victims in the country is 12; the average age of disclosure for abuse victims is 42, said A.W. Richard Sipe. "But the overwhelming number of abuse victims never report it. A priest in Portland admitted molesting at least 300 victims; only 30 came forward."

Sipe, of La Jolla, is a psychotherapist and former Benedictine monk. He began counseling abusive priests in the 1960s and works now as a consultant on behalf of victims.

People absorb and react to abuse in different ways, psychologists say.

Variables affecting the depth of emotional trauma, and the decision to reveal the crime and seek help, include the age and relationship of the victim and of the perpetrator, and the egregiousness of the abuse, with fondling on the opposite end of the scale from rape or forced oral copulation.

"The age differential and the power differential make a big difference," Sipe said. Along with the Rev. Thomas Doyle and ex-monk Patrick Wall, he wrote the 2006 book "Sex, Priests and Secret Codes: The Catholic Church's 2,000-Year Paper Trail of Sexual Abuse."

Being abused by a priest, teacher or other authority figure is a betrayal that can cause trust issues lasting a lifetime, Sipe said.

"People often don't understand the kind of harm this abuse does," he said. And few realize that "the molestation of children is the most common sexual activity that there is."

Deciding to sue

Outhier said she was reluctant to sue when allowed to belatedly do so in 2003 because of a change in state law. Dredging up memories was terribly painful, and she was wary about the reaction of her staunchly Catholic mother.

But then she saw other victims come forward. Learning that diocese officials knew Robier had abused children, and still kept moving him among parishes without warning parents, made her angry.

"I didn't set out to maliciously go, 'I'm going to sue and get money out of them,' " Outhier said. Rather, she came to believe an accounting by church officials was long overdue.

"Only once we've owned up to what was done in the past can we hope to move forward with a clean slate of things," she said. "In our system, the tort (civil lawsuit) process is the way that is done."

Outhier said that through years of psychotherapy, she realized how many lifelong shortcomings – like her inability to stand up for herself, or to fully engage and trust people, including her late husband – all relate to her childhood abuse.

"I don't know if you can put a high-enough price on the innocence lost back then and what we have gone through in the 50 years since," Outhier said. "I know it's hard for people who have not gone through this to understand."

Robier is accused of molesting at least 24 girls from 1955 to the early 1960s while at 11 churches in San Diego, Riverside and San Bernardino counties.

Attorneys for plaintiffs such as Outhier say lawsuits and million-dollar-plus judgments are the only means available to provide accountability and justice after decades of secrecy and emotional injury. Plaintiffs' attorneys typically collect about 40 percent of any settlement.

"We've had many empty apologies and empty promises (from church officials)," said San Diego attorney Mike Zimmer, who represents Outhier. "When the institution is forced to put money behind an apology, that tends to make sure this won't happen again."

Psychotherapist John Dubay, a former priest practicing in upstate New York who has treated victims of clergy abuse for more than 20 years, said he understands the quest for justice. But he contends that "healing is not a litigious relationship."

"A person whose soul has been stolen by a priest cannot regain that soul with any amount of money," Dubay said. "Compensate them with a million dollars and they become a rich person whose soul has been stolen."

Compensating victims

In coming to grips with the scandal of widespread abuse of children by priests and other clergy, Roman Catholic officials in the United States have acknowledged the devastating effect on victims and vowed to put an end to abuse.

Admonishing a group of bishops in October in Ireland, Pope Benedict XVI said: "It is important to establish the truth of what happened in the past, to take whatever steps are necessary to prevent it from occurring again. Above all, (it is important) to bring healing to the victims and to all those affected by these egregious crimes."

San Diego Bishop Robert Brom declined to be interviewed for this article. He has sent parishioners several letters outlining the church's intent to "compensate all of the victims of sexual abuse as fairly and equitably as our resources will allow without crippling our ability to accomplish the overall mission of the church."

In an e-mailed statement, diocese Chancellor Valdivia said:

"In the past five years, the Diocese of San Diego has dealt with over 40 adults molested as children. Bishop Brom has met once or more with 26 of them and continues to invite any who wish to meet directly with him to do so, and if not with him, with his Victims Assistance Coordinators.

"Over 20 (victims) have accepted professional counseling and 30 have received financial compensation. The Diocese of San Diego remains committed to continue these efforts to promote healing and reconciliation with victims of sexual abuse and their families."

The impact of the sexual-abuse lawsuits on the diocese remains to be seen. Church officials have said a string of multimillion-dollar judgments in the first few trials in San Diego, had they gone forward, could have crippled its ability to "justly compensate" all local victims of sexual abuse by priests and other clergy.

Its Chapter 11 filing, which made San Diego's the fifth and largest Roman Catholic diocese to file for bankruptcy, has set up a legal battle over whether 98 local parishes are separate entities or part of the diocese estate.

That issue, which could take years to resolve, would determine how much money is available for settlements.

Plaintiffs' attorneys have filed court papers showing that the average settlement per case in about 240 California clergy-abuse cases was more than $1.4 million. The diocese so far has offered a settlement pool of $95 million, or an average of about $633,000 per local case.

Mark Sauer: (619) 293-2227; mark.sauer@uniontrib.com