Naperville Pastor Cleared of Sex Abuse Allegations

By Paige Winfield
Naperville Sun [Naperville, IL]
June 5, 2007

http://www.suburbanchicagonews.com/napervillesun/news/413853,6_1_NA05_BENNETT_S1.article

After spending months under a dark cloud of a sexual abuse charge, the Rev. Richard Bennett is in the clear.

The pastor of Holy Spirit Catholic Community in Naperville was accused 13 months ago of sexually abusing an 11-year-old on one occasion in 1975.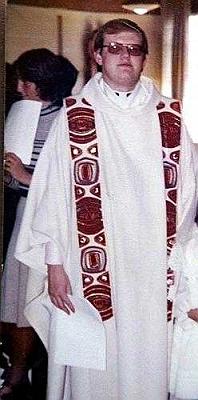 A young Richard L. Bennett is shown. Bennett was ordained in 1972 and has served at St. Dennis in Lockport (1973 to '75); St. Pius X in Lombard (1977 to '79); St. Raphael in Naperville (1980 to '87); and Sacred Heart in Joliet (1988 to '98). He was assigned to Catholic Community Wheatland Church in 1999, which became Holy Spirit Catholic Community in 2001.
Photo by Al Podgorski / Chicago Sun-Times




TIMELINE April 27, 2006 - 43-year-old Tim Greco files a lawsuit that two priests of the Roman Catholic Diocese of Joliet sexually abused him beginning when he was 11 years old in 1975. Richard Bennett is one of the accused, along with the Rev. Philip Dedera.

May 2006 - Bennett denies the allegations during a church service at Holy Spirit Church at 111th Street and Book Road in Naperville, where he is pastor.

October 2007 - A DuPage County Circuit Court judge dismisses the charges against Bennett. Greco appealed the ruling but failed to follow through. The appeal's statute of limitations has since ended.

Two weeks ago - The diocese frees Bennett from supervision.

Last weekend - Bishop J. Peter Sartain of the Joliet Diocese issues a statement commending Bennett for his endurance amid the charges


In April 2006, Arizona resident Tim Greco, 43, filed a civil lawsuit claiming Bennett, now 60, had molested him once after discovering him in the shower with a priest in the rectory of St. Pius X Church in Lombard.

After a DuPage County Circuit Court judge dismissed the charges last October, Greco appealed the ruling but failed to follow through. The appeal's statute of limitations has since ended. The diocese freed Bennett two weeks ago from supervision. The Roman Catholic Diocese of Joliet had immediately placed him under supervision after the lawsuit was filed.

This weekend, Bennett expressed his gratitude before his congregation at Holy Spirit.

"The past two-and-one-half years have been a difficult journey, from November of 2004 when the allegations first surfaced against me until the recent resolution of the case," Bennett said. He has maintained his innocence of the accusations and has refused to partake of any settlement with Greco.

Diocese officials said they reviewed Greco's allegations from the outset and found they were not credible. But as the lawsuit proceeded, they kept Bennett under supervision, although he was allowed to continue his usual duties as pastor.

"The diocese has a safety plan so a person is more or less monitored, but he is still in ministry," said Doug Delaney, executive assistant to Bishop J. Peter Sartain of the Joliet Diocese.

Sartain also issued a statement last weekend commending Bennett for his endurance amid the charges.

"All of us are very happy for Fr. Bennett and full of admiration for him for the way he has continued his priestly ministry under very trying circumstances," Sartain said.

Linda Foster, a member of Holy Spirit since its inception nine years ago, said she was in "total shock" when she first heard of the charges against Bennett.

"Having known him and seen him in action, this just came out of the blue," she said. "Where did this come from?"

Foster said there was never any doubt in her mind that the charges were false because of the character she knows Bennett to posses.

"This is an unusual priest," she said. "He is a priest with great vision, with long-term vision. He has demonstrated what it means to be a man of faith in all aspects. He's truly trying to live the word of God in his life."

Paige Winfield at 630-416-5275: pwinfield@scn1.com