Experiments
Brother Mueller Began Using Ether and Deception on Students at His First Teaching Assignment

The Pueblo Chieftain [St. Louis MO]
June 18, 2007

http://www.chieftain.com/metro/1182171110/1

St. Louis - Harry Suda Jr. wasn't yet a student at St. John Vianney High School when he met Brother William Mueller in 1963.

Suda, now 56, was a seventh-grader but was familiar with most of the Marianist Brothers at Vianney because one of his older brothers was a student-athlete there, and another was in the novitiate on his way to becoming a Marianist.

Suda's first impressions of Mueller were favorable.

"(Mueller) was always looking out for the little guys ... protecting the freshmen because (he) didn't want the juniors, seniors picking on them. That was always kind of his role," Suda said during a deposition in one of the lawsuits accusing Mueller of abuse.

For decades, Suda believed he simply had reciprocated for Mueller's protection by assisting the brother in his quest for a master's degree in psychology. But over time, Suda realized Mueller had subjected him to more than an innocent academic experiment.

"I didn't really think anything of it," Suda testified. "You know, I mean, I was very trusting of him, I guess, and (of) all of the brothers. Unfortunately, a lot of us were in those days."

Vianney was the first school where Mueller had been assigned as a teacher after taking his perpetual vows as a Marianist in 1962. Court records show that the head of the Marianist order in the Midwest at the time, Provincial Rev. J. Glennon McCarty, was aware of an improper meeting between Mueller and a high school boy in 1958. McCarty's familiarity with the situation is documented in a letter dated April 1960.

That wasn't enough to deter Marianist leaders from assigning Mueller to teach at five all-boys high schools during the next three decades. Dozens of his students from those schools have come forward with allegations of abuse that range from macabre to perverse.

Suda has testified and told police in the St. Louis suburb of Kirkwood, Mo., that Mueller had abused him on three occasions during his freshman year at Vianney in the winter of 1965 and the spring of 1966. Although Suda admitted he doesn't think Mueller sexually abused him, he still expressed a sense of being violated by Mueller's behavior.

In October 2005, a classmate of Suda's, James Sasser, also 56, told Kirkwood police that Mueller had subjected him to bizarre experiments during the same time span when Suda said he was abused by Mueller.

Like Suda, Sasser did not allege sexual abuse by Mueller. The classmates' accounts of Mueller's behavior were eerily similar. Both said Mueller convinced them to participate in experiments by telling them it was important to his pursuit of a master's degree in psychology.

Brother Stephen Glodek, the current provincial of the Marianists in the U.S., has testified that Mueller was never enrolled in a graduate program for psychology. Mueller's accusers have testified that he employed the same ruse to convince students to submit to him for almost 25 years.

Mueller demanded discretion from the boys: Nobody was to know about the experiments he was conducting, or the results would be skewed and the study would be worthless.

Sasser was only 14, but he knew the smell of ether from the time his tonsils were removed. So he recognized the odor when Mueller, his music teacher, allegedly sneaked up behind him during the experiment to render Sasser unconscious in the band room of Vianney High School.

According to the Kirkwood police report he filed in 2005, Sasser has no recollection of how long he was out, or what happened during that time. He kept the incident secret, just as Mueller had instructed, until the 1970s, when Sasser told his wife what had happened.

Suda's assistance also was requested in the band room. Mueller approached him one winter night in the halls of Vianney while Suda waited for his older brother to finish basketball practice.

Suda said in his deposition that he followed Mueller into the band room. Suda said Mueller locked the door behind them, had him lie on his back on a table and blindfolded him before rendering him unconscious with ether.

By his best guess, Suda said, he was out for 10 to 15 minutes. Suda awoke groggy, but unharmed. His clothes were intact.

Suda said his second and third encounters with Mueller were rougher.

The second episode began like the first, Suda said, in the locked band room with Suda blindfolded and Mueller anesthetizing him with ether. But something went wrong. Suda wasn't going to sleep. Instead, he got nauseous, so Mueller sent him on his way.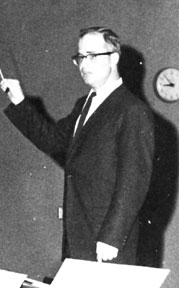 Brother William Mueller is shown directing the Roncalli High band in this photo from the 1970-71 school yearbook.



The third incident, Suda testified, took place in the spring of 1966. Suda was 15. Mueller took Suda back to the locked band room, where a blindfold and ether awaited. Suda said Mueller told him that he would need to use more ether this time because Suda hadn't been knocked out the time before. Suda woke up 10-15 minutes later, even sicker than before.

"I got sick to my stomach, started vomiting, throwing up," Suda testified. "When I awoke, (Mueller) was kind of loosening my pants."

Suda testified that Mueller explained rather casually to him that his physical reaction to the ether was not uncommon. Mueller said he had seen it before, Suda said. That's why he was loosening the boy's pants, so it would be easier for Suda to breathe.

"It seemed after that last encounter Brother Mueller was more, how do I say, aloof," Suda said.

Not long after the third incident, Suda broke the cardinal rule laid down by Mueller: He talked.

Suda testified that during a casual conversation, he mentioned to Vianney's principal, Brother Fred Weisbruch (now deceased), that he had been assisting Mueller. The principal didn't react with any outward concern, Suda recalled.

Suda said the conversation with Weisbruch was not in the context of reporting abuse by Mueller. Suda has made contradictory statements about whether he informed Weisbruch and the vice principal, Brother Jerry Bommer, that Mueller had used ether on him. Bommer was later transferred with Mueller from Vianney to Roncalli High School in Pueblo, where he served as superior of religious life and also taught classes.

In the police report Suda filed in 2005, he said that Mueller's use of ether was reported to one or both of the school leaders. However, in his deposition, Suda admitted that he does not remember mentioning ether to Bommer or Weisbruch.

Within a month of Suda's conversation with Weisbruch, Mueller inexplicably left Vianney High School. The present Marianist leadership declined to be interviewed about Mueller, but in a past interview with The Pueblo Chieftain, Marianist spokeswoman Diane Guerra said there is no evidence in Mueller's file to suggest that he left Vianney before the end of the 1965-66 school year.

Suda has testified that he distinctly recalls Mueller leaving before the end of his freshman year, because it was unusual for brothers to leave mid-year, especially in the waning weeks of the academic calendar.

What's not disputed is that the Marianists reassigned Mueller to teach music and religion classes at Roncalli High School in Pueblo, beginning when the school opened in the fall of 1966.

Years later, in the 1980s, Suda was troubled to hear from acquaintances familiar with the Marianist order that Mueller allegedly had been removed from St. Mary's High School in St. Louis for "inappropriate behavior with young men, which didn't surprise me at all," Suda testified. "I guess at that time, I thought, 'How could they keep, you know, put(ting Mueller) back in schools?' What he was doing was not right."

Still, Suda stayed silent until he filed the Kirkwood police report in the fall of 2005. Even that wasn't easy. Suda still feels a strong allegiance to his alma mater. He's served on the committees that oversaw several important physical improvements at the school, and has remained active with the Vianney alumni association for years. Plus, his brother, Thomas Suda, is a Marianist brother. In general, challenging the religious order has been quite awkward for Suda.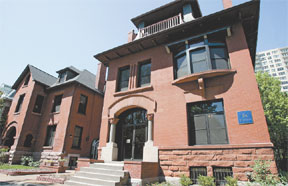 The Society of Mary, also known as the Marianists, has its national headquarters (shown here) in St. Louis.
Photo by Sarah Conrad


But when he read news of lawsuits filed by Mueller's accusers from Roncalli and the St. Louis high schools where Mueller taught in the 1980s, Suda discussed it with his wife and spoke up by going to police.

"I've been silent for 40 years," Suda testified. "I guess if we can help these guys out or whatever, you know, it was time to do something."

Mueller eventually would return to Vianney High School in the mid-1980s. His return came after alleged indiscretions involving students prompted Marianist leaders to remove him from St. Mary's High School and send him for treatment with the Servants of the Paraclete, a religious order that provided psychological treatment to troubled clergymen, in Jemez Springs, N.M.

Mueller's second stint at Vianney produced even more allegations of abuse than his first. The school where Mueller had begun his teaching career 24 years earlier would be the same place that it ended after a group of students reported his experiments to school officials.

ASPIRANT

The contact and the community discern together taking the next formal step of entrance into the aspirancy program. The candidate is required to complete a formal application process. Presently all aspirants live with a Marianist community for 10 months in Cleveland or San Antonio. The aspirancy program is an intense experience of ministry and community. The aspirant could minister in a grade school, high school, parish, social outreach or other ministries. The aspirant receives a small living stipend as part of this program. The program includes formal formation through active community participation, the reading and discussion of Marianist documents, and frequent meetings with the aspirancy mentor. The aspirancy program leads to a formal decision to enter the Society of Mary's novitiate program.

NOVICE

The novitiate is a 20-month experience divided into "two years." During the first year the novice's formation is both academic and spiritual. He participates in daily classes learning about the history, theology, and spirituality of religious life and the Marianist life in particular. The novitiate is an intense time of discernment, preparation for future ministry and learning community skills. It is during this time that the novice and the community discern about their future role within the Society of Mary concerning service and the possibility of ordained ministry. There are several evaluations during the two-year experience. The first four months of the "second year" are spent in an active ministry in some part of the province. The remaining six months conclude the final time of discernment before first vows as well as immediate academic preparation by attending the University of Dayton.

BROTHER

A brother is a man who has professed vows in a religious order but has not been ordained into the priesthood. A brother is committed to living a religious life in response to God and may be engaged in a variety of ministries that fit his religious order and model the person of Jesus through service to others.1957 - 1962

William Mueller begins his training to join the Marianist religious order and the first documented indiscretion with a student occurs in 1957. Mueller is "caught" in the chapel with a student. The student is expelled, but Mueller continues his quest to become a Marianist brother. A letter to the Marianist provincial superior, the Rev. J. Glennon McCarty, indicates that the highest echelons of the Marianist order were aware of the incident. In 1961, Mueller's first bid to take the perpetual vows of the order is rejected by the Marianist provincial council after other brothers noted his behavioral problems. Although similar problems are noted a year later, Mueller's second application for perpetual vows is accepted by the council and he becomes a Marianist in 1962.

1963 - 1966

Mueller is assigned to his first teaching job at St. John Vianney High School in St. Louis in the fall of 1962. Years later, two students file police reports accusing Mueller of conducting experiments on them under the guise of studying toward his master's degree in psychology. One student has testified that he told the school's principal about the experiments, and Mueller was removed shortly thereafter.

1967 - 1971

Mueller is transferred to Roncalli High School in Pueblo, a new all-boys school opened by the Catholic Diocese of Pueblo. Mueller teaches religion and music at Roncalli. To date, 24 former Roncalli students have filed lawsuits alleging that Mueller abused them using the same ruse he had employed at Vianney. Mueller remained at Roncalli until it closed in 1971.

1971 - 1981

Mueller is transferred to his alma mater, Central Catholic High School in San Antonio. Mueller's stay at Central is the longest of his Marianist career. A police report filed in 1994 accuses Mueller of fondling a male student during the 1972 school year. In the late 1970s, Mueller admits that he had been conducting unapproved experiments on students. He denies sexually abusing the boys. He is told to cease conducting the experiments, but left on duty at Central High.

1981 - 1983

Mueller is assigned to St. Mary's High School in St. Louis. Two former students accuse Mueller of conducting clandestine experiments on them. A group of popular student athletes report that Mueller was conducting experiments on individual students. For a second time, Mueller admits that he had conducted unapproved experiments on students. This time, he is removed from St. Mary's and ordered into treatment at a psychological center in Jemez Springs, N.M.

1984 - 1986

After eight months at Jemez Springs, Mueller is declared fit to return to a school setting. In the fall of 1984, he returns to St. John Vianney High School. In November 1985, student council members report that Mueller had commanded them to kneel before him and pledge allegiance to him. Mueller is sent back to Jemez Springs. During his four-month stay in New Mexico, more allegations of inappropriate behavior toward students are reported. In the fall of 1986, Mueller resigns from the Marianist order.

1987 - 2007

After leaving the Marianists, Mueller returned to San Antonio and continues to live there today. He worked at times in data entry and with the San Antonio symphony. In March 2005, Monsignor Mark Plewka, chancellor of the Catholic Diocese of Pueblo, called current Marianist Provincial Superior Brother Stephen Glodek to report an allegation of abuse against Mueller by a Roncalli alumnus. Within six months, the first lawsuits accusing Mueller of abuse were filed in Pueblo and St. Louis. To date, police reports and lawsuits have identified 40 former students who allegedly were abused by Mueller. The Survivors Network of Those Abused by Priests, better known as SNAP, considers Mueller among the 10 most prolific clergymen who committed abuse known today. Despite all of the allegations contained in lawsuits and police reports, Mueller never has been charged with a crime, and to date, none of the lawsuits has been settled. Criminal statutes of limitations in Colorado, Texas and Missouri have deterred prosecutors from pressing criminal charges against Mueller. Civil statutes of limitations in those states have posed obstacles to those who are suing over allegations that Mueller abused them.

EDITOR'S NOTE: This is the second in a six-part investigative series focusing on former Marianist Brother William Mueller. After his acceptance into the Marianist religious order in 1962, Mueller was assigned to St. John Vianney High School in St. Louis. It was his last stop before coming to Pueblo to teach at Roncalli High School in 1966. Twenty-four former Roncalli students have filed lawsuits accusing Mueller of abuse.