Diocese Settles Sex Suits for More Than $300k

By Bill Dries
The Daily News [Memphis TN]
June 20, 2007

http://www.memphisdailynews.com/Editorial/StoryLead.aspx?id=97640

The Catholic Diocese of Memphis has settled three lawsuits alleging child sexual abuse by a priest assigned to minister to the city's Vietnamese Catholic community.

The settlements, announced last week, are the first in any of the nine civil lawsuits filed beginning in August 2004 against the Memphis Diocese and five priests. All nine allege child sexual abuse and a cover-up by the Diocese.

The Rev. Joseph Nguyen, also referred to as Edward Nguyen, was named in three Jane Doe lawsuits filed in September and November in Shelby County Circuit Court. The lawsuits named the Catholic Diocese as defendant.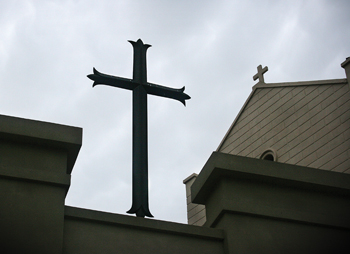 ACT OF CONTRITION: The Catholic Diocese of Memphis has settled three lawsuits alleging child sexual abuse for more than $300,000 and possible counseling for the plaintiffs.
Photo by Rebekah Hearn


They were filed by Memphis attorney Gary K. Smith and the Herman & Mermelstein law firm of Miami, which specializes in cases of child sexual abuse by clergy.

Specific terms of the settlement were not disclosed and the church admits no wrongdoing or liability.

Each of the women was awarded more than $100,000 and church officials also offered counseling separate from the financial settlement, said Adam D. Horowitz, an attorney at Herman & Mermelstein PA.

"Informally, they have offered counseling. That's still to be worked out," Horowtiz said as he talked about another goal still to be settled. "All of our clients are intent on ... not simply walking away with the settlement funds, but also pursuing their goal of having Father Nguyen permanently removed from the ministry."

Until proven guilty

Nguyen remains on administrative leave while a Diocesan review board evaluates whether he should continue to be a priest. The board will make a recommendation to Memphis Catholic Bishop J. Terry Steib.

"He performs no ministries for the church. He is not in contact at all with children," said the Rev. John Geaney, Diocesan spokesman.

"The Diocese is confident that the agreements reached are in the best interests of all concerned. As a church we continue to be as vigilant as humanly possible in creating safe environments for the children who come to us for ministry."

Two of the lawsuits involve girls who moved from New Orleans to Memphis with their Vietnamese-American families in the mid-1990s. The third girl lived in Memphis. She and her family were also part of the local Vietnamese community.

Nguyen was a priest at Our Lady of Perpetual Help in Germantown, St. Ann Church in Bartlett and St. Paul Church in Memphis.

He allegedly perpetrated "horrific acts of childhood sexual abuse" dozens of times with the two girls from New Orleans over a four-year period beginning when they were about 11 or 12.

The third girl became close to Nguyen after her brother died in 1996. With that bond, the lawsuit alleges, Nguyen sexually assaulted her dozens of times at her home over three years starting when she was 13 "as well as in the confession room of Blessed Sacrament Church where Father Nguyen was supposed to be hearing confession from (the girl)."

The lawsuits allege the children and their families "were misled by the Diocese with regard to the Diocese's knowledge of Father Nguyen's history and propensity for committing sexual abuse upon minors."

The theory of "fraudulent concealment" is key to pursuing civil cases that don't involve repressed memories, Horowitz said.

"If the Diocese conceals not that the abuse happened but that they knew about his history before he did it, then there is a legal theory called fraudulent concealment that allows us to get around the statute of limitations," he said. "Tennessee has a pretty restrictive statute of limitations."

Without the theory, there is generally a one-year statute of limitations in Tennessee in such civil cases.

'Fraudulent concealment' tack

The theory is being used in a John Doe civil suit filed by the same law firms against the Diocese alleging sexual abuse by the Rev. Daniel Dupree. In that case, the trial judge has denied motions by church attorneys to dismiss the lawsuit based on the statute of limitations. The ruling is being appealed.

The Dupree lawsuit, filed in September, accuses him of sexually assaulting a teenage boy numerous times over several years beginning in 1985 when the boy was a parishioner at Church of the Resurrection and a student at Christian Brothers High School, where Dupree was a chaplain and guidance counselor.

The first of the nine lawsuits was filed in August 2004 against the Rev. Richard Mickey by Blain and Blair Chambers. The twin brothers claim repressed memories of Mickey sexually abusing them in 1980 before Mickey became a priest. At the time, Mickey was a teacher at Bishop Byrne High School and they were students.

An internal Diocesan investigation cleared Mickey, who was returned as pastor to St. Mary Church in Jackson, Tenn., in February 2005 after a brief suspension.

However, Mickey took another leave of absence last year saying he needed more time to devote to fighting the allegations in the lawsuit. That came months after a deposition in the case from another man who said he and Mickey were a "dating couple" starting in 1989 when the man was a student at Memphis Catholic High School and Mickey was a priest and a teacher at the school.

No shortage of allegations

A lawsuit against former priest Juan Carlos Duran followed the Mickey lawsuit by days. The John Doe lawsuit, filed by attorney Smith, alleged Duran had sexually abused a teenager in 2000.

The boy's parents reported the abuse to Diocesan officials. Duran was sent to "an institution in Maryland for psychological counseling" after admitting to church officials that he exposed himself to the boy, according to the church's response to the lawsuit. Duran is no longer a priest and is believed to be living in Bolivia. Prosecutors in St. Louis, where Duran was a priest before coming to Memphis, issued a warrant for his arrest in 2004 on a sodomy charge.

The Rev. Paul W. St. Charles was youth director for the Memphis Diocese from 1971 to 1973, which included responsibility for the Catholic Youth Organization (CYO) chapters in each parish. He was also moderator of several of the city's largest CYO chapters before retiring because of ill health in 1986 and moving to Nashville.

St. Charles was suspended by Steib from all priestly duties in November 2004. A Diocesan review board found it "more likely than not" that he sexually abused a teenager in the 1970s. Now an adult, the man did not file a lawsuit. But three other men, Louis Taylor and brothers Gregory and Henry Baker, filed suits in 2006 claiming repressed memories of sexual abuse by St. Charles when they were teenagers in the 1970s and 1980s.