House Passes Landmark Child Abuse Bill, 41-0

By Beth Miller
The News Journal
June 20, 2007

http://www.delawareonline.com/apps/pbcs.dll/article?AID=/20070620/NEWS/706200394/1006/NEWS

Dover — Delaware's House of Representatives passed what one law professor called "the strongest bill for child sexual abuse victims in the country" by a 41-0 vote Tuesday.

Senate Bill 29 eliminates the two-year civil statute of limitations in cases of child sexual abuse. It also provides a two-year window during which claims previously barred by statute could be filed — opening the courthouse door to victims unable to seek justice because the statute of limitations had expired. Institutions that allowed the abuse to occur through gross negligence also could be sued.

The bill passed by unanimous vote when it was introduced in the Senate by its prime sponsor, Sen. Karen Peterson, D-Stanton.

Lawmakers noted in the bill it would cost the state a maximum of $200,000, or possibly, nothing.

It would go to the governor's desk but for a minor amendment attached Tuesday night by co-sponsor Rep. Deborah Hudson, R-Hockessin. That amendment, passed unanimously, simply says the law takes effect when the money is appropriated.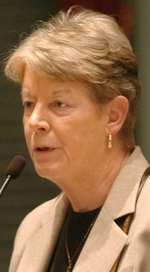 Sen. Karen Peterson, D-Stanton, received a standing ovation from supporters Tuesday.



Peterson said she hoped the Senate would suspend its rules to vote on the amended bill today. She believes it will pass easily there.

An amendment that would have removed the state's sovereign immunity protection from lawsuits in such cases, introduced by Rep. Greg Lavelle, R-Sharpley, was defeated after lengthy debate by a vote of 24-17.

Lavelle showed photographs of his two children and urged lawmakers to make the law apply equally to private and public institutions. "Let us stand for all victims," Lavelle said.

But Rep. Peter Schwartzkopf, D-Rehoboth, who had promised Lavelle he would vote for the amendment, saw a political problem emerging as the debate continued Tuesday. He believed the amendment would produce another lengthy debate in the Senate and probably kill any chance of changing the law before the session expired June 30.

"We're talking about two separate major, major issues," Schwartzkopf said.

Separate bill to be pushed

Lavelle said he would introduce legislation to remove sovereign immunity in such cases, and Schwartzkopf promised to support that bill instead.

"Now we've had the debate," Lavelle said. "If we stand for all children, I will file that bill Thursday, and let's do what we need to do for all children."

Among the people who spoke about the bill Tuesday were Robert Quill, 52, of Marathon, Fla., who said he was sexually abused by the Rev. Francis G. DeLuca starting when he was 13 years old. Quill grew up in the St. Elizabeth parish and graduated from St. Elizabeth High School.

DeLuca, now 77, is facing criminal charges in Syracuse, N.Y., where police say he abused a teen there over a period of five years. DeLuca served in parishes in the Diocese of Wilmington until similar allegations arose here and he was allowed to retire to Syracuse in 1993.

"The priest who sexually abused me is a prime example, perhaps the touchstone, of why this legislation is necessary," Quill said.

Diocesan spokesman Robert Krebs would not comment on the bill passage Tuesday night.

Pastor in favor

The Rev. Richard Reissmann, pastor of St. John the Baptist-Holy Angels parish in Newark, was delighted.

"This is the best thing in the world for the children of this state," Reissmann said. "This will drive the predators out."

Lawmakers also heard from plenty of lawyers Tuesday night, including Mark Sargent, dean and professor of law at Villanova University, who urged lawmakers to amend the bill, striking the two-year window during which old cases could be revived and leaving in place some limitation for filing lawsuits in the future. Sargent said the bill was "well-intentioned," but would "undermine the administration of justice and constitute bad public policy."

But Marci Hamilton, constitutional law professor at Yeshiva University's Cardozo School of Law in New York, strongly disagreed. Hamilton has represented plaintiffs in many cases of clergy abuse, especially on the West Coast, where California lawmakers in 2003 passed a one-year window during which old cases could be revived. More than 1,000 lawsuits were filed.

"This is twice as long," Hamilton said, "and it makes sense. A lot of victims didn't come forward in California. This will be the strongest bill for child sexual abuse victims in the country."

Standing ovation

Peterson, the bill's main sponsor, got a standing ovation from supporters of the bill as soon as she appeared in the House chamber Tuesday.

"This has been a long, hard battle," she said. "The diocese did everything in its power to sabotage and undermine this bill."

Hudson was jubilant.

"We now have a child victims act which matches Delaware's strong criminal code," she said. State lawmakers removed the criminal statute of limitations for child sexual abuse several years ago. "Delaware now is the leading state for fighting child abuse."

But John Sullivan, a co-founder of the Coastal Delmarva chapter of the lay Catholic group Voice of the Faithful, said the battle isn't quite over for those who support the change in the law.

"When the governor signs it, the battle will be done," he said.

Contact Beth Miller at 324-2784 or bmiller@delawareonline.com