Marianists Settle in Osborne Civil Suit
Former St. John Vianney Principal Had Been Accused of Sexual Abuse

By Don Corrigan Columnist
Webster-Kirwood Times [St. Louis MO]
June 29, 2007

http://www.websterkirkwoodtimes.com/1editorialbody.lasso?-token.folder=2007-06-29&-
token.story=68611.113117&-token.subpub

Despite a court settlement this week in a civil lawsuit involving sex abuse allegations against the Rev. Robert Osborne, the former head of Vianney High School, acrimony over the court case continues.

The Marianists Roman Catholic order settled the suit involving an 18-year-old boy, who accused Osborne, 74, of molesting him two years ago when he was a student there. Osborne left the school after the allegations of abuse became public.

"This is not an admission of guilt on the part of Father Osborne," said Diane Guerra, a spokesperson for the Marianist Province of the United States, regarding the settlement. "Criminal charges were dropped.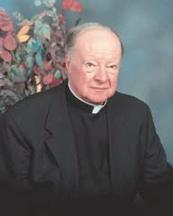 Rev. Robert Osborne



"The bottom line is that we did not initiate mediation," added Guerra. "The insurance company advised that mediation was the way to go in the civil case. If it were not for the insurance company's directive, we would have pursued the case in court."

David Clohessy of the Survivors Network of those Abused by Priests (SNAP) said "it's really a shame an insurance company is required to get the Catholic Church to talk and to mediate with a victim of predatory behavior by clergy."

SNAP members held a press conference on Tuesday outside the Marianist headquarters in the Central West End of St. Louis.

"Let's look at the facts," said Clohessy. "Osborne had to leave his Vianney post. He will never come back to that post. He has a number of accusers. He has settled a lawsuit that involves predatory behavior. People can weigh all this and draw their own conclusions.

"We encourage others who have been victimized to step forward," said Clohessy. "Often, after a predator is suspended, there's a sigh of relief that closure has been reached. That's not really the case. I wish the Marianists were responsive in these situations."

Guerra took issue with Clohessy and his charge that the Order does not respond to allegations of abuse.

"That's just not true," said Guerra. "We ask students to come forward if they feel threatened or abused. We have sexual abuse policies that all associated with the Order must sign. We have a sexual abuse advisory board to deal with any problems. We are open and cooperate with the media in all cases."

Until February 2006, Osborne was the president of, and a teacher at, the Kirkwood Catholic high school. That's when a lawsuit was filed stating that Osborne used "his positions to gain the trust" of a student, "coercing him to drink alcoholic beverages, making sexual comments to him, observing and attempting to observe and photograph him when he was undressed, hugging and kissing him, and making other overt and covert sexual contact with him."

Criminal charges were dismissed by the St. Louis County Prosecutor's Office for lack of evidence, but the civil case against Osborne ensued until this week's settlement. Financial terms of the lawsuit settlement are confidential, but non-monetary requirements include posting the Missouri Child Abuse Hotline phone number in work areas of Vianney and prompt surrender of child abuse reports to local law enforcement.