Records Show Vt. Church Knew of Child Sex Abuse

By Kevin O'Connor
Rutland Herald [Vermont]
July 1, 2007

http://www.rutlandherald.com/apps/pbcs.dll/article?AID=/20070701/NEWS/70628004/1003

The first warning came sometime in the early 1970s, when the head of St. Mary's Seminary in Baltimore, Md., called the director of priest development for Vermont's Catholic Church to report a potential worry.

"There might be a problem with Alfred Willis in regard to alleged homosexual conduct," someone wrote later in church paperwork. "Investigation failed to reveal substance to this concern … the vocation director judged it unnecessary to convey the matter to the bishop."

The last word came Aug. 16, 1985, when a secret church tribunal signed a 47-page document defrocking Willis as a clergyman.

"It should be pointed out that the Rev. Alfred Willis is an ecclesiastically convicted pedophile (and) a diagnosed sociopath," one priest said in the confidential report. "I do not see how anyone in their right mind, given Willis' history of pedophilia, can say that he should be allowed to return to the active ministry."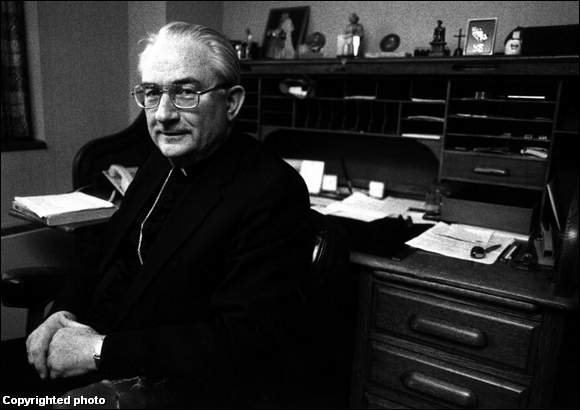 The late Vermont Catholic Bishop John Marshall, pictured in his office in 1991, was head of the statewide Roman Catholic Diocese of Burlington when he quietly transferred the Rev. Alfred Willis from a Montpelier church to a Milton parish after charges of child sexual abuse surfaced against the now defrocked priest.



In between those two dates, the statewide Roman Catholic Diocese of Burlington received dozens of reports of Willis acting out sexually in Burlington, Montpelier, Milton and places out of state. All went no further than a personnel file unseen by parishioners or police.

Until now. Diocesan officials found themselves in Burlington's Chittenden Superior Court last week facing charges by James Turner, a 46-year-old Northeast Kingdom native who alleges Willis performed oral sex on him when he was 16 and staying at a Latham, N.Y., hotel in 1977.

The civil lawsuit — one of 25 pending against the diocese and eight of its past priests — ended Monday in a mistrial. But court and church records show the diocese knew Willis was abusing boys long before it declared him "infamous" in 1981 and finally dismissed him four years later.

'Obviously traumatic'

Willis' church file begins with the basics: Born July 17, 1944, in Patchogue, N.Y., he joined the Marines at age 18 and earned a bachelor's degree in psychology and a master's in education before entering St. Mary's Seminary in 1972. There, the rector told the Vermont diocese's vocation director of Willis' "alleged homosexual conduct" and later, when a review "failed to reveal substance," asked that "the matter be dropped."

And so Willis became a deacon in May 1975 and began work at St. Anthony Church in Burlington that December. On June 18, 1976, Vermont Bishop John Marshall ordained Willis as a priest and assigned him to St. Augustine Church in Montpelier.

Diocesan paperwork shows the first recorded charges of Willis molesting boys came Feb. 27, 1978, when three parents complained to the bishop.

"The alleged incidents concerned families belonging to the St. Anthony Parish in Burlington where Father W. had served as a deacon, families he continued to frequent while now stationed in Montpelier," a 1981 church report says.

One parent charged Willis with fondling an unnamed 14-year-old boy in front of a 13-year-old friend on a camping trip in 1977.

"The effect on both boys was obviously traumatic," diocesan records say. "The agony experienced by these two families is amply documented."

Willis denied the charges. The bishop, in response, told the priest to seek psychological counseling and talk with the parents "to explain his behavior and lack of ill intent," church paperwork says.

"Subsequently, Father W. reported to the bishop that the psychiatrist was of the opinion that he was not homosexual but just had odd habits," records continue. "As for the accusing parents, Father W. did visit one couple, reporting to the bishop that he had done so, that they were wise and perceptive persons, that they pointed out actions which he needed to correct, but that all was well."

After, one family told the bishop it would "not pursue the matter as the explanation seemed plausible," diocesan paperwork says. But another parent believed Willis "was a degenerate liar — he incriminated himself by mentioning to them an incident with another son of which they had been unaware."

"Since the lying could not be proved," records continue, "nothing further was done."

'Sin of scandal'

In 1979, Marshall transferred Willis to St. Ann Church in Milton but told no one — not even the pastor — of the priest's past. A year later, the bishop received more reports of Willis molesting boys, records show.

One mother and father learned Willis had touched the genitals of two of their teenage sons and, on one occasion, took off his clothes and hugged and fondled the younger boy. Other Milton families, hearing rumors of earlier allegations in Burlington, began investigating if similar acts happened in Montpelier. They also talked to the state's attorney, who in turn contacted the bishop.

Church records say of the meeting: "The S.A. was — and continues to be presently — of the conviction that the harm, which would emanate through media notoriety about the civil prosecution, to the victims of the alleged molestation, to their families, to the church and society as a whole, could not outweigh his responsibility to prosecute Father W. and not to excuse him from due course of law simply because he is a priest."

"For his part, the bishop discussed with the S.A. options at the church's disposal in dealing with the situation," diocesan paperwork continues. "The bishop made no effort to influence the direction of the S.A.'s thinking."

But at least one lawyer at the meeting disagrees. Susan Via, a former deputy Chittenden County state's attorney, testified before last month's mistrial that Marshall tried to intimidate prosecutors in the late 1970s, with the bishop saying if they went forward, "this could be viewed by the church as … committing the sin of scandal."

Marshall, who served as bishop from 1972 to 1992, died in 1994. Former State's Attorney Mark Keller, in a telephone interview after Via's testimony, said he couldn't remember specifics of that meeting three decades ago.

But the state's attorney ultimately couldn't file a court case because no parent would cooperate. Church records point to one possible reason that families declined to prosecute.

"In almost every instance the alleged victims of Father W.'s misconduct were boys belonging to parents to whom Father W. was socially close, exceptionally so," records say. "Under the circumstances a transfer of Father W. to another parish would only further engender rumor — the ideal therapy seemed to the bishop to be that Father W. be helped by these very persons who protested to love him and appreciate his talents most."

'He will never change'

Marshall ordered Willis to receive "quite specific counseling therapy" from "a particular, respected psychiatrist," records show. But continued complaints from Milton parents forced the bishop to send the priest to the Missionhurst Retreat Center in Arlington, Va., and the Via Coeli treatment clinic in Albuquerque, N.M.

Willis entered the treatment clinic in November 1980. Back in Vermont, the diocese launched a secret church trial to decide the question: "Whether or not the Rev. Alfred Willis, on various and sundry occasions, committed a crime against the sixth commandment with minors under 16 years of age?"

The sixth commandment forbids sexual misconduct.

Willis left the treatment clinic in June 1981. Two weeks later, the closed-door tribunal found him guilty. Marshall told Willis the next month. But instead of defrocking him, the bishop suspended the clergyman and sent him back for more treatment in New Mexico.

On Feb. 3, 1982, Willis asked Marshall to lift his suspension so he could serve in the Archdiocese of Seattle. The bishop denied the request at the same time he received a letter from church officials in New Mexico.

The Rev. William Perri wrote Feb. 17, 1982: "It is the feeling of the staff members that Father W. has not really connected with the seriousness of his past behavior and that he is still in a state of denial. He appears to be manipulative. He has not responded to the request for continued therapy."

Two months later, Perri spoke with Vermont diocesan leaders on the phone.

"Father Perri is unhesitant in describing Father W. as manipulative, the typical sociopath," church records say of the conversation. "Father W. will exploit as far as possible every situation — sex and sexual offenses are viewed by him as trivial — he is incapable of a sense of objectivity — Father Willis cannot be trusted — it appears practically certain that he will never change — that he could not be safely reinstated in the priestly ministry — that sooner or later there would be trouble."

On July 14, 1983, Willis again asked Marshall to lift his suspension. The bishop again denied the request but added in a letter Aug. 8, 1983: "I see only one slim possibility of your return to the priesthood. If within the next four months you could find a bishop who, knowing all the facts (of which I would fully inform him), would still be willing to incardinate you at the same time that he accepts you as a priest of his diocese, I would be willing both to release you and then lift the canonical penalty under which you labor."

'Knowingly and willfully'

Marshall had a change of heart when the bishop of Brooklyn requested Willis' release in November 1983.

"I have become convinced," Marshall wrote his fellow bishop Dec. 6, 1983, "that (1.) Father Willis is a pathological liar and consummate actor; (2) … he is almost certainly a social psychopath; (3) he uses and manipulates persons and he is quite capable of doing so even with experts in the psychological field; (4) he cannot return presently to this diocese as a priest because the statute of limitations has not expired on the charges against him; (5) he should not be allowed to serve elsewhere as a priest, as long as he is associated with the Diocese of Burlington because this diocese (and the other diocese too) would be subject to civil suits that we had knowingly and willfully given him an opportunity ("cover") to continue to victimize minors."

Marshall denied the Brooklyn request and began church proceedings in 1984 to dismiss Willis as a priest. A secret church tribunal reviewed interviews with 30 witnesses before issuing a 47-page decision.

The document, dated Aug. 16, 1985, spills with accusations.

"One witness describes her having personally observed the defendant, immediately following the ceremony of his ordination to the priesthood, engaged in reciprocal touching of genitalia with a young man, perhaps about 18 years of age, who had just played the guitar during the ordination rites," page 24 reports.

One mother told the tribunal that she stopped by the apartment of Willis' mother one day to find the priest "quite drunk and so was this young boy." One nun said Willis told her that he shared ghost stories with a 10-year-old one night until the boy got scared, at which time the priest took off his clothes and joined the child in bed.

The report continues: "The witnesses universally testify to the defendant's constant preoccupation with sex as evident in his unabashed double-meaning language which often embarrassed hearers, his ready hugging and kissing of practically anyone (his habit of 'grab-assing,' i.e., placing his hand beneath or pinching the buttocks of others), his defense of pornography, his apparent use of alcohol to lower the inhibitions of minors, his insensitivity to the wonderment he was causing, his ability to lie and to 'con.'"

The tribunal report is so sexually explicit that a priest instructed to read aloud passages in court last month asked the judge if he could skip at least one especially lurid part.

'Prayers for everyone'

The six priests on the 1985 church tribunal ended their 47-page report: "The reverend judges are painfully aware of the number of civil suits pending against dioceses in the United States of America because of priests who are accused of the same crimes of which the Rev. Alfred Willis has been already convicted. With all of this in mind, their foremost concern must be the good of the Church in contradistinction to the good of an individual, in this case, the Rev. Alfred Willis."

They concluded: "We decree that the Rev. Alfred Willis is dismissed from the clerical state."

The report sat dormant in a church file cabinet for almost two decades. Then Burlington lawyer Jerome O'Neill began filing lawsuits against the diocese on behalf of men who allege Willis abused them.

The first plaintiff, Robert Douglas II of Burlington, settled his case in 2004 for $170,000. The second, Turner, will have to start court proceedings again because of last month's mistrial. Two more plaintiffs have pending lawsuits that have yet to be scheduled for trial. And the diocese faces 23 similar misconduct cases against seven other retired or deceased priests.

Vermont Catholic Bishop Salvatore Matano, who attended all of last month's trial, has limited his comments about the allegations against Willis and the diocese.

"I don't know all that was taking place," said Matano, who started work in Vermont in 2005. "I deeply regret the hurt that has been felt by anyone. I offer prayers for everyone."

Recent court testimony revealed Vermont's largest religious denomination has personnel records on 102 priests accused of sexual abuse as early as the 1950s. But the diocese's problems aren't confined to the past.

Matano just accepted the resignation of the Rev. Stephen Nichols, the 47-year-old former diocesan director of lay ministry training, who was sentenced to 30 days in jail after pleading guilty in April to fondling an 18-year-old man two years ago. And the diocese is one of only two in the nation yet to fully comply with a toughened policy adopted by U.S. bishops five years ago to prevent sexual abuse by priests.

The plaintiff's lawyers, for their part, are preparing for their next case. They'll again turn to church records such as the initial 1981 secret tribunal report. On page 19, one mother says she discovered Willis locked away with her teenager.

"Father Al was in the bathroom with my son, and when I knocked on the door he said, 'Oh we were just talking.'"

Church investigators spoke with her son.

"This particular boy," the 1981 report says, "when informed about the present trial before this tribunal, commented, 'It's about time.'"

Contact Kevin O'Connor at kevin.oconnor@rutlandherald.com