Is 5 Years Enough for Priest Who Abused Boys?
Rev. Daniel McCormack | Parents Believe Cleric, Who May Serve 2¾ Years, Received Special Treatment, While Archdiocese Says Perception of His Crimes Is Worse Than the Reality

By Eric Herman and Susan Hogan
Chicago Sun-Times
July 3, 2007

http://www.suntimes.com/news/metro/453329,CST-NWS-priest03.article

As a priest, the Rev. Daniel McCormack heard people confess their sins. On Monday, he stood before a Cook County judge and admitted his own — while the Archdiocese of Chicago said those sins could have been much worse.

McCormack, 38, pleaded guilty to five counts of aggravated criminal sexual abuse for molesting boys at St. Agatha Parish and Our Lady of the Westside School, drawing a five-year sentence from Judge Thomas Sumner. He immediately was taken into custody.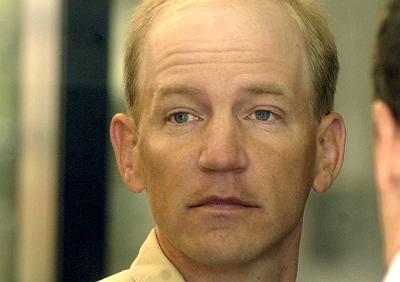 The Rev. Daniel McCormack stands in a security line Monday at the 26th and California courthouse. He pleaded guilty to molesting five boys.
Photo by Brian Jackson


While making no apologies for McCormack, archdiocese spokeswoman Colleen Dolan said the perception of McCormack's crimes was worse than the reality. The priest admitted he pulled down the pants and fondled the genitals of five boys, but prosecutors never accused him of sexual assault, or rape.

"He has not been accused of rape. Never," Dolan said. "There's a big difference between abuse and assault. It wasn't assault, which is a more egregious crime."

A national victims' advocate, however, said the difference doesn't matter when it comes to the boys McCormack abused.

"There's no distinction for the victims," said the Rev. Thomas Doyle, author of Sex, Priests and Secret Codes. "If it's a sexual intrusion on a victim by a priest, it's devastating."

Wearing a short-sleeved shirt and white pants, McCormack declined to speak when the judge gave him the chance. He stood silently as prosecutors described how, between 2001 and 2006, he abused the five boys.

The victims ranged from 8 to 12 years old. With one victim, the abuse occurred "on nearly a daily basis" between September 2005 and January 2006, said Assistant State's Attorney Kathleen Muldoon.

McCormack's father hung his head as the allegations were read. A victim's mother sobbed.

Victims' advocates slammed the plea deal, noting McCormack could serve as little as 2½ years behind bars. "I would have liked to see a much longer sentence. Look at the boys — their sentence is life," said Marc Pearlman, a lawyer for the families of two victims.

But Pearlman conceded it saved the boys from having to testify. "Putting young children through a trial, a criminal trial, is just grueling," he said.

Several parents with kids at Our Lady of the Westside said McCormack received special treatment.

"He molested all these children but has never been treated like a criminal," said Victoria Scarelli, who has a daughter at the school. "A guy right off the street would have been given the maximum sentence."

Assistant State's Attorney Shauna Boliker said that with time off for good behavior, McCormack would have served only eight months more if given the maximum sentence of seven years. Saving the victims from testifying made the deal a "no-brainer," she said.

McCormack taught and coached basketball at the West Side school. The January 2006 charges against him unleashed furious criticism of the archdiocese and Cardinal Francis George.

George will seek to have McCormack removed from the priesthood, the archdiocese said. The decision, which must come from the Vatican, could move faster since McCormack has admitted guilt. The cardinal, who was on vacation, said in a statement: "The sexual abuse of children is a sin and a crime...Such misconduct by a priest or anyone else associated with the archdiocese cannot be tolerated."

Some sources claim McCormack has many more victims, and the archdiocese has documented abuse allegations against him that date back to his seminary days. But prosecutors believed they could only prove cases involving five victims.

McCormack was to be held in protective custody in the Cook County Jail Monday night and shipped to a downstate facility as soon as today, said a spokesman for the Cook County sheriff.

Contact: eherman@suntimes.com, shogan@suntimes.com.