Alleged Sexual Abuse Victims Sue Dallas Diocese

By Brett Shipp
WFAA
July 13, 2007

http://www.wfaa.com/sharedcontent/dws/news/localnews/tv/stories/wfaa070710_mo_diocese.66a0ef87.html

Dallas - Three men, all victims of alleged abuse by a former Dallas priest, have come forward with allegations against the Catholic Diocese of Dallas.

The men say for years diocese officials have protected a pedophile priest, whom they have now allowed to comfortably retire.

Over the past two decades, the Dallas Catholic Diocese has weathered a troubling legacy of shame. More than 20 priests or church employees were either fired, defrocked or jailed for abusing untold numbers of children. And some say diocese officials either knew or should have known pedophiles presided over some of its churches.

The most recent example involved one of the highest ranking priests in the diocese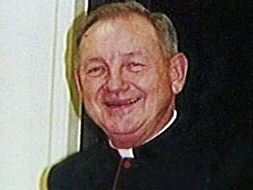 Three men have come forward accusing Father Richard Johnson (pictured) of sexually abusing them when they were children.



Jonathan was a 14-year-old alter boy at Saint Lukes in Irving when Father Richard Johnson would take him out to restaurants and movies on what he called "dates."

"And over the months, Father Johnson would turn the conversation after our date to the possibility of having a sexual relationship with him," Jonathan said.

Another former alter boy from Saint Bernard's in Dallas, who is now in his 40s, was 12-years-old when he said Father Johnson began abusing him.

"The abuse with me occurred both at St. Bernard's rectory [and] also at a private ranch," said John Doe One.

And yet another former parishioner at Saint Bernard's, also now in his 40s, said he was 10-years-old when Father Johnson would give him drinks and then molest him.

"[It was] probably the third or fourth time...when the abuse first started with the alcohol and me being so inebriated that, really, I had no control over my anything," said John Doe Two.

All three men harbored their secret for years, until January of 2001, which was when Jonathan said he decided to confront his demons.

He began with a handwritten confession, which he delivered to Dallas Diocese Chancellor Mary Edlund. In explicit detail, he recounted the "dates" with Johnson, the "years of seduction" and at least two occasions of mutual "touching."

Later that same month, Jonathan confronted Father Johnson in a face-to-face meeting.

'"He did not deny my allegations," Jonathan said. "He further wanted to thank me for forgiving him because, and I quote, 'I don't want to go to hell.'"

At that point, Jonathan said he left it up to diocese officials to act, believing they would investigate "any hint, rumor or suspicion of any kind of abuse." It was a pledge the diocese made following the 1997 landmark civil judgment against Father Rudy Kos.

After learning about Father Johnson in 2001, diocese officials said they "followed protocol and immediately notified civil authorities, but they also "determined that the allegation did not merit removal."

Jonathan said the diocese never fully investigated.

"I was never contacted by the diocese after that, nor was I contacted by their attorney or child protective services," he said.

Monsignor Johnson remained at Saint Patrick's Parish unchallenged until 2006, which was when John Doe One filed suit accusing Johnson of molestation and the diocese of protection.

"The tragic thing is that is the only language this diocese seems to understand," John Doe One said. "They've shown time and time again that they cannot police themselves with a victim coming forward to them directly."

At that point, the diocese allowed Johnson to resign.

Then just days later, John Doe Two emerged saying he attended dinner parties at the rectory at Saint Bernard in which other priests and boys would get together. John Doe Two said while everyone else was upstairs in the bedrooms after dinner, Johnson and him would engage in sexual acts. He also said dozens of people knew about the incidents.

John Doe One and Two have joined Jonathan in suing the diocese claiming it protected Johnson. Diocese officials deny the allegation.

But victims say look no further than Johnson's home in northeast Dallas, which is where he has retired, as proof of the diocese's disregard to the problem.

Johnson declined to speak on advice of his attorneys. The diocese declined an interview citing ongoing litigation, but they point out that in 2005 a Dallas grand jury declined to indict the diocese for improperly handling abuse cases.

Diocese officials also pointed to their adherence to a Safe Environment Program for dealing with sexual misconduct, which includes screening of clergy and employees, awareness training and outside audits.

But by not acting on the allegations five years ago, the plaintiffs doubt the diocese's vows to reform.

"It would appear that the denial is rampant," Jonathan said. "It's institutionalized denial. Can the diocese ever be trusted, not now, not now."

All three said they are hoping that by going public they will inspire others to finally step up and speak out.