'I'm Blessed. I'M Happy It's Over'
Jim Dunlap Says Record Settlement Will Help Him Heal

By Gwendolyn Driscoll
Orange County Register
July 16, 2007

http://www.ocregister.com/ocregister/homepage/abox/article_1769247.php

Jim Dunlap says he was 12 years old in 1972 when Theodore Llanos, a deacon at St. Barbara's Church in Santa Ana, began making sexual advances toward him.

Dunlap says his "relationship" with Llanos, who was ordained as a priest in 1974, endured until 1976. The alleged abuse left Dunlap feeling despondent and abandoned by family and friends who he says refused to believe him.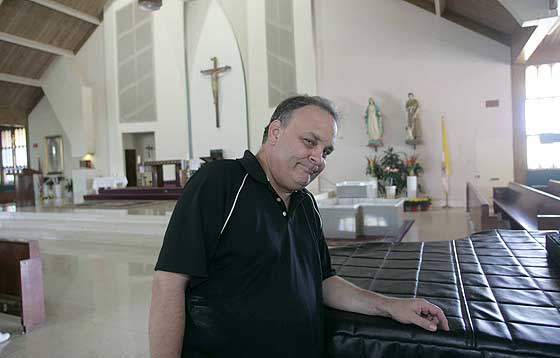 'I'm blessed. I'm happy it's over'
HAUNTING MEMORIES: Jim Dunlop is one of hundreds of plaintiffs who received a settlement from the Los Angeles Archdiocese for alleged sexual abuse. "You gotta take the money and no trial, it would just prolong the agony," he said.
Photo by Rose Palmisano, The Orange County Register




Jim Dunlap

Age: 47

Profession: Radio host – KCAA "The Many Moods of Vince Daniels"

Family: Single

On the church and faith: "I've never lost my faith in God but I certainly have no faith in the Catholic Church."


Related links

• Sex abuse plaintiffs thanked for resolve, courage

In 1994, Dunlap and other plaintiffs who alleged similar abuse by Llanos sued the Archdiocese of Los Angeles. In 1997, Llanos committed suicide. On Monday, Dunlap's claim of sex abuse was one of 508 to be settled for a record-setting $660 million.

What is your reaction to the settlement?

This is profound; this is a public policy statement. I'm grateful, I'm blessed, I'm happy it's over.

This settlement means that there will be no trial – and thus no convictions – of church leadership. Does this bother you?

This (case) had to be put to bed because it had been five long years and it was taking an emotional toll. (At the plaintiffs' press conference Monday) I saw people I hadn't seen in 13 years. Back then we joked about how we were going to be old men before this was settled. Well, we're not old men but we are considerably older.

(Also) we had started to do the work to prepare for trial. It's not fun. It's hard work to answer 200-plus really personal questions. The other side wanted us to dig up old diaries; they wanted to know the name of every person we ever talked to about this. I didn't want to relive that again. Believe me, I relived a lot of this when I first came to the awareness of my abuse at the age of 34.

Why were you not aware of the alleged abuse before the age of 34?

A lot of people call it repressed memories. I call it traumatic amnesia. When you're a kid you know it's wrong to steal or drink beer or take down your pants for a priest. But a part of you rationalizes that it's a priest telling you so it must be OK. It's like God himself telling you. (Forgetting) is a coping mechanism. Some denial is good until your mind is mature enough to where it can make sense.

What did you do when your memory returned?

I was on the 55 (freeway) in December of 1994. I heard (Llanos') name on the radio in connection with another abuse case. Oh my God, I almost slid off the freeway. I thought I was the only one. That was when my life changed. I went to talk to my family about it. They didn't want to believe it. But (my dad) got turned around about 11 months later when he met the families of other victims. We filed a lawsuit that got tossed out by the Supreme Court because it (exceeded) the statute of limitations. But we were able to revive it.

How has the alleged abuse affected your life?

When I came to the awareness of my abuse … I went into a funk from 1995 to 2000 where I closed myself off. I went from a high-paying government job to a job in a warehouse doing piecework. I just gave up on myself.

How have people in the Catholic faith reacted?

I don't think people believed us 13 years ago. They were apt to blame us. But now they're starting to know more and more that this is a huge problem.

Contact the writer: 714-704-3705 or gdriscoll@ocregister.com