Clergy Sex Abuse Victims Still Scarred

By Tony Castro and Susan Abram
LA Daily News
July 17, 2007

http://www.dailynews.com/ci_6391767?source=most_viewed

The Valley girl innocence that accompanied Esther Miller through childhood and adolescence in Reseda came to an end on a day she wishes she could erase from her memory.

It was the day her own father began lessons to convert to Catholicism - the day she met the deacon who she says soon went on to molest her over a period of two years.

"He told me that if I didn't do the things that he asked of me that my father wouldn't be allowed to be converted," said Miller, 48. "He also told me that if I ever said anything about this, that he would make sure that my father was damned to burn in hell forever."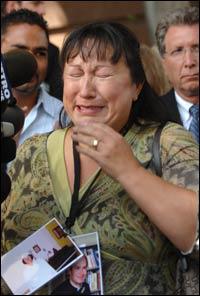 Esther Miller, 48, wipes away tears Monday outside the courthouse. She said clergy abuse, which began when she was 16, wrecked her life and led to thoughts of suicide.
Photo by Michael Owen Baker


Among other things, she said he forced her to simulate sex acts with an Easter vigil candle and other religious objects.

On Monday, Miller's long legal ordeal against the Archdiocese of Los Angeles finally came to an end as part of the $660 million settlement for her and 507 other victims.

Standing outside the Los Angeles County Courthouse, Miller carried photographs of herself at the age of 16 and of the deacon at the same time. They hung from a thin silver chain around her neck, like an albatross yanking her back to the most traumatic period of her life.

"It's over - I won't have to

testify," said Miller.

But, unfortunately for Miller, she will never have the public forum to tell her story of the abuse she suffered.

"He would say religious things to me as he would put (religious) scapular over me, as he would put his vestments on me," said Miller.

"He would do horrific ritual abuse to me. He would practice with the (communion) host, saying he would have to emulate the host and put it on my body in various places.

"He abused me in church, in the rectory, in the sanctuary, in the pews."

Miller said the abuse has wrecked her life, including a string of failed marriages, and led to thoughts of suicide.

"I still don't have the coping skills to deal with this."

Sadly, Miller's account is not isolated, though she is one of the few victims willing to go into such graphic detail.

Mark Gallegos, 36, said he was raped by a priest in Pomona, when he was an 8-year-old altar boy.

"That memory is always there," Gallegos said, pushing his long-sleeve shirt up to reveal deep scars on his right wrist, a result of trying to commit suicide.

Gallegos' arms, chest and neck carry the tattoos from a life of gangbanging and jail time. He said he was forever haunted by the priest's abuse.

Now married and the father of three, Gallegos said many people say he is overprotective of his two daughters and son. Though he raises them Catholic, he makes his daughters wear shorts under their dresses.

"Some people had relationships with their priest," he said. "Not me. He raped me. That's what he did."

A teary-eyed Steven Sanchez of Glendale spoke with reporters outside the courtroom moments after the settlement was finalized by attorneys for both sides.

"The $660 million is an admission of guilt and now maybe they can start referring to us not as 'alleged victims' but as 'victims,"' Sanchez said. "I can finally start getting on with my life. I'm a lapsed Catholic.

"I believe in God. I'm just leaving out the middle man."

During a news conference held after the hearing, three giant quilts featuring the photographs of the dozens of young victims were held by members of Survivors Network of those Abused by Priests. And one by one, victims stepped up to express the pain that time could not take away.

"Some of us feel a great deal of validation today," said Carlos Perez-Carrillo, 41, of Sylmar, who said he was sexually abused by a priest when he was a child attending church in Playa del Rey.

"We've been told for almost all our lifetime that this hadn't happened to us, that we lied."

For some victims, Monday marked only one step toward closure of events that forever traumatized them and changed their lives.

Joanne Cardona of Arcadia was too emotional to go inside the courtroom and waited outside the hearing with her sister, tearfully talking to friends and reporters.

"I'm glad Cardinal (Roger) Mahony made his apology Sunday, but it comes several years after it should have been made," she said, wearing a silver crucifix around her neck. "I've lost all faith in him. I could never trust him again.

"I'm still a practicing Catholic. It's because of my upbringing and my faith. That remains unshaken."

Her sister, Rosemarie Mungaray of Whittier, was also a molestation victim, as was their brother, who now lives in Oregon - all victimized by the same priest at their Bellflower church and school.

"For me, it has not been as easy to forgive," said Mungaray, holding a poster with photos of herself and her two siblings at the age when they were abused. "I'm still a Catholic, but I don't go to church.

"There is a lot of healing to be done."

For Miller, the settlement is bittersweet.

"It means I'll be able to pay for therapy and inpatient treatment," she said. "I'm a mess.

"Sometimes I can't get out of bed. I can't work right now. I'm on my fourth marriage. I've had 19 jobs. These are just some of the effects."

And as for Mahony's apology?

"I feel it's disingenuous," she said. "Mahony should resign. He's culpable. He did a cost-benefit analysis to say how can I not get on the stand, testify and how can I get away cheaper than ever?"

Two years ago, Miller said, she finally took what she believes was the first step to regaining her religious and spiritual life. Her father remains a Catholic, as does her mother, but Miller had a conversion of her own.

"I'm not a Catholic any more," she said. "I'm a practicing Jew."

Contact: tony.castro@dailynews.com or (818) 713-3761.