Six Priests Face Sex Abuse Suits
New Lawsuits Alleging Sexual Abuse Were Filed against Six Catholic Priests, and a Separate Suit Involving a Priest Linked to Mark Foley Was Settled.

By Oscar Corral
Miami Herald
July 19, 2007

http://www.miamiherald.com/367/story/175066.html

Miami (FL)— A sexual abuse case involving the same Catholic priest who admitted having an inappropriate relationship with former U.S. Rep. Mark Foley was settled by the Archdiocese of Miami, the victim's lawyer announced Wednesday.

Miami lawyer Jeffrey Herman would not disclose the amount of the settlement between the church and the victim, described only as John Doe 26, although the original lawsuit had sought more than $10 million.

The priest in the case, Father Anthony Mercieca, allegedly took the boy, then a 13-year-old altar boy at St. James Church in North Miami, on a bicycle ride and afterward molested him in the church's bell tower in the 1970s.

That lawsuit was filed in October 2006, about a month after Foley resigned from office after reports surfaced that he sent sexually explicit e-mails to male pages. Foley later said through a lawyer that Mercieca had abused him when he was a boy.

Mercieca, who is now living in Malta, told several media outlets last year that he fondled Foley and they swam naked together, but he denied having sex with the former lawmaker.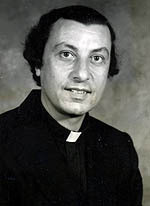 The Rev. Anthony Mercieca



Herman also announced new lawsuits against the Archdiocese of Miami, alleging sexual abuse by six Roman Catholic priests in South Florida.

"This whole scandal is far from over," Herman said. "We're still in the heart of people coming forward."

The announcement comes days after a judge in California accepted a $660 million settlement between the Catholic diocese of Los Angeles and 508 victims of alleged sexual abuse, the largest settlement of its kind in the United States.

The new suits filed in South Florida this summer named these priests as alleged sexual abusers:

• Father Joseph Calimari at Christ the King Church in Perrine.

• Father Gustavo Miyares at Immaculate Conception in Hialeah and St. Vincent de Paul Seminary.

• Father Gus Griffin at St. Bernard Church in Sunrise.

• Father Rolando Garcia at St. John Bosco Church in Miami.

• Father Donald Walk at St. James Church in North Miami.

• Father Neil Doherty at St. Anthony Church in Fort Lauderdale.

Only one of the priests, Garcia, is still active in the Archdiocese of Miami, Herman said. The Archdiocese of Miami lists a Rolando Garcia on its website as a priest at St. Agatha Church in West Miami-Dade County. A woman who answered the phone at St. Agatha said Garcia was on vacation and could not be reached for comment.

The allegations represent "a sad day for the Catholic Church," read a statement issued by the archdiocese, which encouraged any victims of sexual abuse at the hands of church officials to come forward.

"Every allegation is taken seriously by the Archdiocese of Miami," said the statement issued by spokeswoman Mary Ross Agosta. "Our policy on sexual abuse is very clear: reports of these allegations are made to the state attorney's office, and our internal Archdiocesan Review Board reviews the allegations.... In this time of healing for the Catholic Church, we ask for prayers for any victims of sexual abuse."

Court filings gave the following accounts:

CALIMARI

The lawsuit alleges he abused "John Doe 38" and the boy's brother, while the boy was between 2 and 4 years old, in the church office, a bedroom and a school bus at Christ the King Church in Perrine in the 1960s. The boy's older brother also remembered the assaults, but killed himself last year, Herman said.

"The boy was a young boy, and Father Calimari along with another priest had this boy in the rectory with his brother and they took a cot and locked him in it with his head sticking out and did despicable things to him," Herman said.

GRIFFIN

The lawsuit alleges he sexually abused "John Doe 29," a 16-year-old member of the Catholic Youth Organization at St. Bernard Church in the 1970s. The boy's parents had asked Griffin to counsel their son when they had problems.

MIYARES

One lawsuit alleges he sexually abused "John Doe 36" in the late 1970s after meeting him at an archdiocese summer camp at St. Vincent De Paul Seminary and gaining his trust. A separate suit filed by "John Doe 37" said Miyares gained another boy's trust by taking him to dinner and sporting events while he was a priest at Immaculate Conception, and sexually abused him around 1990.

GARCIA

The lawsuit alleges he sexually abused an 11-year-old boy, "John Doe 32," in 1989 at St. John Bosco Church in Little Havana. Garcia allegedly gave the victim, who was an altar boy, gifts and money, and then abused him after gaining his trust.

WALK

The lawsuit alleges he sexually abused "John Doe 33," the only son of a widowed mother, while the boy was considering a life in the priesthood between the ages of 14 and 16 in the late 1970s. The suit says Walk took the boy out for ice cream, dinner and a Miami Dolphins football practice to gain his trust.

DOHERTY

The lawsuit alleges he sexually abused "John Doe 39" at St. Anthony Church after meeting him when he was a 12-year-old boy in 1974. Several previously filed lawsuits have accused Doherty of abuse and he is facing criminal abuse charges. Doherty worked for the archdiocese for more than three decades before being put on administrative leave about five years ago.

Under Florida law, there is no statute of limitations if the sexual abuse victim is 12 or younger. Herman did not know if the new allegation involving the preteen boy had led to a criminal investigation.

David Bogenschutz, who is representing Doherty in the criminal lawsuit, said he hadn't seen the new civil lawsuit Wednesday but had read a news account. "I don't think these accusations hold any more water than the criminal accusation," he said.

Doherty, who lives in Palm Beach County, has his next court hearing in the criminal case Oct. 5.

"He maintains that he is not guilty of all these cases -- even the cases the church has decided on [its] own to settle," Bogenschutz said. "These are business decisions by the archdiocese."

Miami Herald staff writer Amy Sherman contributed to this report.

Contact: Oscar Corral ocorral@MiamiHerald.com