For Me, It's Not Over': Abuse Victim Not Satisfied with Archdiocese Settlement

By Andrew Gant
Northwest Florida Daily News
July 19, 2007

http://www.nwfdailynews.com/article/7213

Fort Walton Beach — A local plaintiff in the class-action lawsuit against the Roman Catholic Church isn't satisfied with its recent settlement and public apology.

"For me, it's not over," said Cynthia Falter of Fort Walton Beach. "It's only just begun."

Falter, now 49, was in the third grade when she says she was repeatedly abused by the Rev. George Neville Rucker, a priest at St. Anthony School in El Segundo, Calif.

A Los Angeles judge on Monday approved a $660 million settlement between the Roman Catholic Archdiocese of Los Angeles and more than 500 alleged victims of clergy abuse, including Falter.

The deal came after more than five years of negotiations and is by far the largest payout by any diocese since the nationwide scandal emerged in Boston in 2002.

But Falter said the money wouldn't pacify victims of the abuse.

"I was disappointed we didn't go to trial," she said. "It was important to me that the details come out."

"It's soul murder," Falter said, recalling the years of abuse she says she and her sister endured at the parochial school.

"I'm concerned that some other child is going to have to go through some of the horrific things that I've gone through."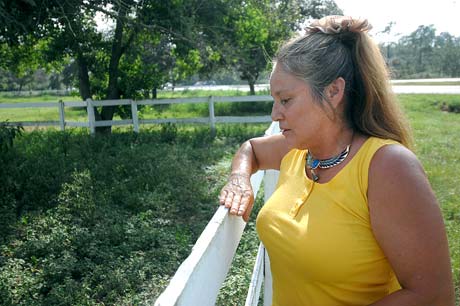 Photo by Nick Tomecek


Cynthia Falter recalls recently in Fort Walton Beach the way she feels as a victim of clergy abuse when she was a student in elementary school in Los Angeles, Calif.

Falter says she battled post-traumatic stress disorder and lost custody of her 9-year-old son while the church withheld information about several priests who had been reassigned after accusations of abuse.

"I don't see where the God-mindedness or the mercy for the victims comes," she said.

Rucker was removed from the ministry in 2002, the same year the Los Angeles Police Department obtained a warrant for his arrest.

At the time, he was accused of sexually abusing 12 girls under 14 years old between 1947 and 1977, according to media reports.

The Supreme Court's statute of limitations prevented Rucker from being prosecuted.

Los Angeles Cardinal Roger Mahony issued a broad public apology earlier this week, telling victims the widespread abuse "should not have happened, and it should not ever happen again.

"Your life, I wish were like a VHS tape we could put inů and delete these years of difficulties and misery," he told victims.

But some plaintiffs have called the apology "disingenuous," suggesting the settlement only saved the church from having to face questions in front of a jury.

As a condition of the settlement, the archdiocese will no longer oppose the release of confidential personnel files that track accused priests and the church hierarchy's reaction to them.

The archdiocese itself will pay $250 million in the settlement, with sexual abuse insurance carriers covering a combined $227 million. Several religious orders will chip in $60 million. The remaining $123 million will come from litigation with religious orders that chose not to participate in the deal.

It's not clear how much money individual plaintiffs will receive, but the average payout hits at about $1.3 million before lawyers' fees and cuts for taking the case on contingency.

Falter's attorney, Kathy Freberg of the Irvine, Calif.-based Freberg and Associate, said each victim would be paid in proportion to the abuse she or he experienced. The exact amounts will determined by mediators in coming months.

She said many of her clients were "conflicted" about the agreement — "money's not the cure-all," she said — but most plaintiffs recognized what such a sweeping settlement could do for the lives of fellow victims.

"They have big hearts toward one another," said Freberg, who added that the settlement relieved at least one complainant who was in danger of having her case against Rucker dropped.

Monday's settlements push the total amount paid by the U.S. Roman Catholic Church to more than $2 billion since 1950, with about a quarter of that amount coming from the Los Angeles archdiocese.

At home in Fort Walton Beach, Falter repeated that the payments wouldn't soften her campaign against the church.

"All they've done is allow me a bigger soapbox."

The Associated Press contributed to this report. Daily News Staff Writer Andrew Gant can be reached at 863-1111 ext. 1432.