Mercer Island Pastor Placed on Leave

By Molly Shen
KOMO
July 30, 2007

http://www.komotv.com/news/8816862.html

Mercer Island - Sunday Masses at St. Monica Catholic Church on Mercer Island brought two surprises.

The first: the presence of Archbishop Alex Brunett to deliver mass.

And second, his announcement that their pastor is on leave because of allegations of inappropriate behavior with a 12-year-old boy, who is a church member.

"The Archbishop was very concerned about the effect on the parish of this announcement," said Seattle Archdiocese spokesman Greg Magnoni. "Clearly it was a very difficult liturgy for the parishioners here at St Monica. He wanted to be here and present with them himself."

Father Dennis Kemp has been with St. Monica for five years. The Archdiocese says this is the first time anyone's accused him of misconduct.

The prosecutor's office says the police investigation did not turn up proof of sexual contact. But there is clear concern.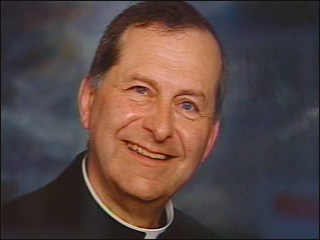 Father Dennis Kemp



"It's a variety of allegations that occurred over about six months in connection with church activities. A variety, not a specific type of behavior that was repeated," explained Mercer Island Police Commander Leslie Burns. "I don't think the family jumped to any conclusions to label anything grooming. It was a series of events taken together that raised the concerns of the family and then through another party contacted the church and asked for an investigation."

Archbishop Brunett told parishioners he came to them "with a most heavy heart," and that while Father Kemp's leave "does not presume his guilt or innocence ... there may have been serious violations of church law."

"It's his responsibility to ensure that parents and children can fully trust any member of the Archdiocese of Seattle," said Magnoni. "And that's why he's taken this action and will continue to see to it that children are protected and safe when they're in our care."

The church investigation is now under way. When it's finished, the Archdiocese says it will release its findings.

The Archdiocese of Seattle has a hotline for allegations of inappropriate conduct by a member of the clergy, an employee or volunteer. It is 1-800-446-7762.

To read Archbishop Brunett's remarks to the parish, go to www.stmonica.cc and click on "Parish News."

Contact: Molly Shen mshen@komotv.com