Naugatuck Pastor Arrested

By Hilda Muñoz
The Hartford Courant
August 2, 2007

http://www.courant.com/news/custom/topnews/hcu-naugatuckpastor0802,0,722461.story

Naugatuck - The pastor of a two local parishes was arrested this morning on charges that he sexually abused a 15-year-old boy, police said.

Rev. Robert J. Grant, 63, is charged with second-degree sexual assault and risk of injury to a minor. He is free on $200,000 bond and is scheduled to appear in Superior Court in Waterbury Aug. 8, police said.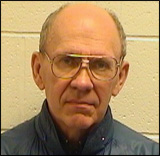 Rev. Robert J. Grant



Grant is currently assigned to St. Mary's Church at 338 North Main Street and St. Hedwig Church at 32 Golden Hill Street. Grant is also the director at St. Hedwig Parish School, according to the school website.

Police started investigating Grant in July after someone reported inappropriate sexual contact between Grant and a minor, police said.