Priest Faces Abuse Charges

By Elizabeth Hamilton
Hartford Courant
August 3, 2007

http://www.courant.com/news/local/hc-ctpriest0803.artaug03,0,3366637.story

A Catholic priest who oversees two Naugatuck parishes and a parochial school was charged Thursday with sexually assaulting a 15-year-old boy.

The Rev. Robert J. Grant, 63, was placed on administrative leave by the Hartford Archdiocese shortly after he was released on $200,000 bail. The priest was charged with second-degree sexual assault and risk of injury to a minor.

Grant has been the pastor of two churches - St. Hedwig and St. Mary's - in the Union City section of Naugatuck since June. He was appointed administrator of St. Mary's in 2005, and he served at parishes in Windsor and East Hartford prior to that appointment. He also served as chaplain of St. Mary's Hospital in Waterbury.

Naugatuck Police Chief Christopher Edson would not say Thursday whether the juvenile who brought the complaint against Grant was a member of either church or a student at the school. He also declined to describe the complaint against Grant, citing the age of the complainant.

Police received the complaint against Grant last month, he said.

"We have no indication at this time that this involved anything other than a single victim," Edson said.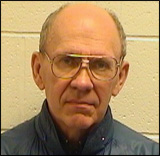 Rev. Robert J. Grant



Thomas Clifford, a deacon at St. Hedwig parish, said the news about Grant's arrest was just filtering out to parishioners Thursday afternoon.

A spokesman for the diocese said church officials do not know yet whether the complaint involves a parishioner or student at St. Hedwig Parish School or whether the alleged offense occurred on church property. There have been no other complaints of a sexual nature against Grant during his 14-year tenure as a priest, church officials said.

Grant is not allowed to function as a priest or live in the rectory while he is on administrative leave, the Rev. John Gatzak said. The diocese has not yet chosen a priest to replace Grant.

"Considering all that the archdiocese has done in terms of being committed to protecting children and young people ... it almost seems inconceivable in this day and age that such an incidence of sexual abuse could happen," Gatzak said.

What is unusual, in Connecticut at least, is the arrest of a priest on sexual abuse charges. The vast majority of cases involving the sexual abuse of minors by clergy are reported long after they occurred and well after the statute of limitations for criminal charges has expired.

New Haven lawyer Thomas McNamara, who is representing a man who filed a lawsuit July 18 against another priest in the Hartford Archdiocese, called the arrest of Grant "surprising."

"And it's a great day because now there's at least a chance [he] can be kept off the street and not ruining someone else's life," McNamara said.

According to the July 18 lawsuit, McNamara's client - identified in court papers as "Michael Doe" - was an 11-year-old altar boy when he was molested by the Rev. Daniel McSheffery in 1974 at St. George Catholic Church in Guilford.

When Doe fled the sacristy during the last alleged incident of abuse, McSheffery later dismissed him as an altar boy, the lawsuit contends.

This "gave the plaintiff the message that he was no longer welcome in the Catholic Church if he did not allow himself to be sexually abused by Daniel McSheffery," the lawsuit states. The plaintiff, who was a baptized, practicing Catholic, suffered "spiritual damage" and left the Catholic Church.

Gatzak said it is the church's policy not to comment on sexual abuse lawsuits because they involve minors.

At least eight lawsuits have been filed against McSheffery since 2002, not including this most recent allegation. McSheffery, now 76, lives in Florida and no longer functions as a priest. The Hartford Archdiocese reached a $22 million settlement in 2005 with 43 alleged victims of sexual abuse involving 14 priests, including McSheffery.

As part of that settlement, the archdiocese bought McSheffery's beach cottage in Old Saybrook from him for $525,000 - which was used to pay taxes and liens on the property - and then turned around and sold it at a profit estimated as high as $300,000. That profit was included in the church's payment to victims.

Contact Elizabeth Hamilton at ehamilton@courant.com.