Lawsuit Says Buffalo Diocese Sent Pedophile Priest to San Diego in 1978

By Jay Tokasz
The Buffalo News
August 3, 2007

http://www.buffalonews.com/home/story/133105.html

Buffalo (NY) — The Catholic Diocese of Buffalo is accused of transferring a sexually abusive priest to San Diego, where the priest then allegedly molested a 7-year-old boy in the late 1980s.

A lawsuit filed in California claims that the Rev. James H. Cotter, a Buffalo native ordained to the priesthood in 1950, was a known pedophile whom the Diocese of Buffalo sent to San Diego in 1978 as part of an arranged early retirement.

But a spokesman for the Buffalo Diocese denied the claim and said Thursday that the diocese learned of accusations against Cotter only after he died in 1991.

"In 1978, when Father Cotter retired and chose to leave the Diocese of Buffalo and move to San Diego, to the best of our knowledge, no accusations of abuse had been made against him," Kevin A. Keenan said.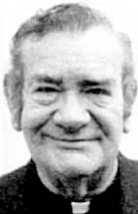 The Rev. James H. Cotter



Allegations against Cotter surfaced in the Buffalo Diocese in the mid-1990s, and counseling was offered to the victim, Keenan said.

Diocesan officials in San Diego also identified Cotter as one of 38 priests in San Diego against whom "credible allegations" had been made.

Plaintiff Alex Horning, who is now 26, accused Cotter of sexually molesting him several times over the course of four years, between ages 7 and 11.

The abuse occurred during private counseling sessions with Cotter, who told Horning to keep their activities secret, according to the complaint.

Horning kept the abuse hidden until 1995, when he was so tormented that he tried to hang himself in the garage of his parents' home, the complaint said.

In 2003, he sued under a provision in California law that allowed victims of sexual abuse to bring legal claims that previously were barred because the statute of limitations had run out.

Horning's case is among 140 lawsuits now facing the Diocese of San Diego, which is in Chapter 11 bankruptcy proceedings and has offered to settle the cases for $95 million. What impact the case will have on the Diocese of Buffalo, which has largely avoided the kinds of lawsuits plaguing other dioceses, is still unclear. The Buffalo Diocese's lawyers responded

to the complaint by filing a motion that challenges the California court's jurisdiction. That motion hasn't been ruled upon.

Horning's case is now in settlement proceedings with a federal magistrate judge. If it is settled without trial, the deal would apply across the board and include the Diocese of Buffalo, according to Horning's lawyer, Joseph G. Dicks.

The two dioceses could decide between themselves how they will pay the settlement, Dicks said.

The plaintiff believes the Buffalo Diocese bears some responsibility for the abuse he allegedly suffered. "The Buffalo Diocese, we believe, knew that it was sending a dangerous pedophile across the country and not taking the adequate precautions . . .," Dicks said.

Discovery — the phase in a civil court proceeding when lawyers seek documentation and ask questions of potential witnesses — has been put on hold during settlement hearings.

Based on what has occurred in other dioceses, Dicks believes discovery in the Horning case would bear out their claims.

A veteran of World War II and former Buffalo high school teacher, Cotter was ordained in 1950 and was active in the Boy Scouts for most of his life, according to his obituary.

In the Diocese of Buffalo, he served as pastor of Our Lady of Lourdes Parish in Bemus Point, Chautauqua County, from 1965 to 1978. He also had served at St. Mary Church in Little Valley and was a teacher at Notre Dame High School in Batavia.

He moved to San Diego in 1978 at age 62, retiring from full-time ministry due to chronic arthritis, said Keenan.

The Buffalo Diocese also was a defendant in a 2003 lawsuit filed in Pinellas County, Fla., involving a former Dunkirk pastor, the Rev. Timothy Kelley. The lawsuit was dismissed in 2004.

Kelley, ordained in Buffalo in 1978, was accused of sexually abusing a 13-year-old boy at St. Elizabeth Ann Seton Catholic School in Dunkirk while they were on a vacation together in Florida in 1983.

Kelley, 60, was serving at a Tampa parish at the time of the lawsuit and denied the allegation.

He resigned his ministry after another allegation surfaced in Buffalo, according to an official with the Diocese of St. Petersburg.

Contact: jtokasz@buffnews.com