Arrest Wasn't First Run-In for Nude Jogging Priest

By Alan Gathright and Hector Gutierrez
Rocky Mountain News
August 10, 2007

http://www.rockymountainnews.com/drmn/local/article/0,1299,DRMN_15_5667254,00.html

Colorado — A Catholic priest who was arrested for jogging in the buff nearly two months ago in Frederick was investigated by the Archdiocese of Denver more than eight years ago for "inappropriate personal behavior," a church official acknowledged Thursday.

The Rev. Robert Whipkey was placed on administrative leave as of Wednesday from the three parishes he serves: St. Theresa in Frederick; Guardian Angels in Mead; and St. Scholastica church in Erie.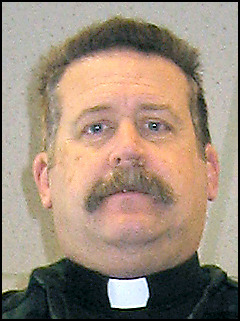 Robert Whipkey has been placed on administrative leave.



For the past eight years, the archdiocese had received no complaints about Whipkey's behavior, said Monsignor Thomas Fryar, moderator of the Curia for the Archdiocese. The curia is a group that helps govern the church.

However, about eight years ago, when Whipkey was pastor of St. Anthony's parish in Sterling, he began several years of therapy concerning unspecified "personal issues," according to Fryar's statement.

Independent medical health professionals evaluated Whipkey as part of his therapy but determined he was not a danger to others and that he should not be removed from the ministry, Fryar said.

When the archdiocese found out about Whipkey's behavior, it immediately brought the issue to local authorities. However, no charges were brought against him, according to Fryar's statement.

The archdiocese also mobilized its conduct response team, which went to Sterling to investigate and interview people who had raised concerns about Whipkey's conduct, Fryar said. However, Whipkey's conduct did not involve any physical or sexual contact with another person, Fryar said.

Archdiocesan spokeswoman Jeanette De Melo declined to clarify any statements made by Fryar, saying, "The story's over."

Whipkey, 53, now faces a misdemeanor indecent exposure charge after a Frederick police officer encountered the naked cleric walking down the street at 4:35 a.m. on June 22.

The officer said that when he shined his flashlight at the man, the priest covered himself with a piece of clothing he was carrying, according to a police report.

The priest told officers he runs in the nude because his large size makes him "sweat profusely" if he wears jogging clothes, according to the report. Whipkey said he'd jogged around the high school track in the predawn darkness because he didn't think anyone would see him at that hour.

"I know what I did was wrong," he allegedly said.

De Melo said that the archdiocese was not notified about the indecent exposure allegation until a week after the incident in the Weld County town about 30 miles north of Denver.